Motorola DP3441e Digital Radio
The DP3441e is designed for mobile professionals who need effective communications, with a compact design and high-performance integrated voice and data.  The radio is tested to military standards for extreme ruggedness and is rated IP68 for almost complete immunity to dust and water. The prominent orange emergency button on the DP3441e summons helps with one touch, using Transmit Interrupt to clear a channel when necessary. An integrated accelerometer senses if you've fallen and can automatically call for assistance.
Bluetooth audio lets you talk without wires, integrated Wi-Fi enables remote software updates, and indoor and outdoor location-tracking capabilities give you total visibility of your resources. With support for trunking and legacy analogue technology, you can keep your organisation connected as it grows.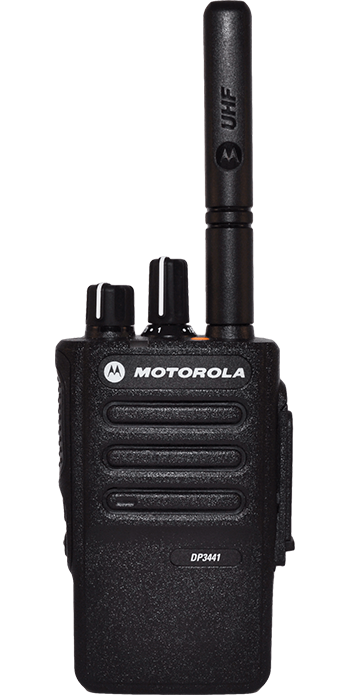 MOTOROLA DP3441e RADIO PACKAGE
DP3441e Digital Radio
Battery Options
Single Unit Charger Options
Antenna Options
Compact Holster Option
Dust Cover
In-box Documentation
---
MOTOROLA DP3441e MAIN RADIO FEATURES
VHF (136-174MHz); UHF (403-527MHz)
32 channels
Compact and rugged form factor
Large, textured push-to-talk button for ease of use
2 programmable buttons to improve ease of use and increase operator efficiency
Tri-colour LED for clear visual feedback on radio operating status
Analogue & Digital Compatible
Emergency button to help ensure rapid response to critical incidents
Quick, easy-to-use Group, Individual and All-call capability
Digital Phone Patch capability
Sophisticated Emergency Calls help ensure employee safety
PTT ID helps improve communications efficiency and system discipline
Remote Monitor features
Elegant channel scanning schemes
Basic / Enhanced Privacy
AES256 Encryption via Software Purchase
VOX Capability
Transmit Interrupt
SINC+ Noise Cancellation
Mute Mode
Received Audio Levelling
Text To Speech
Lone Worker
Over the Air Programming (OTAP)
5 Tone Signalling
Option Board Capability
Integrated GNSS (GPS and GLONASS)
Integrated Bluetooth 4.0 LE for wireless and data
Integrated Wi-Fi (OTA Software Updates and ADK)
Integrated man-down
Indoor Location Tracking
Intelligent Audio allows the radio volume to adjust automatically to compensate for background noise
IP68
Direct Mode (including Dual Capacity Direct Mode)
IP Site Connect (Single and Multi-Site)
Capacity Plus (Single and Multi-Site)
Capacity Max via Software Purchase
Connect Plus via Hardware and Software Purchase
Memory (128MB RAM & 256MB Flash memory)
---
VHF MODEL
DP3441E 136-174M 5W NON KEY-PAD GNSS BT WIFI
---
UHF MODEL
DP3441E 403-527M 4W NON KEY-PAD GNSS BT WIFI
---
WARRANTY
A 24-month warranty applies to the physical radio only and does not apply to the batteries or accessories shipped within the package.
---