Large business end to end voice & data solutions for teams
Discover our robust large business solutions, designed to optimise voice, data, and connectivity for enterprises. Benefit from our managed services that streamline operations and drive growth.
Optimise your large enterprise with Airacom's scalable UCaaS and real-time telematics solutions, boosting productivity, efficiency, and profits. Benefit from advanced cloud telephony, connectivity, cybersecurity, and instant group communications. Ensure seamless collaboration and data-driven decisions for remote, office-based, or hybrid teams with our secure communication systems.
We empower corporate clients with secure, scalable, and efficient unified voice and data solutions, boosting productivity while reducing costs. Our UCaaS solutions ensure reliable connectivity and advanced security while real-time location services and telematics optimise asset tracking and workforce management for a strategic edge.
Hosted VoIP business PBX
Secure, scalable, and cost-effective: Hosted VoIP for large business communications more cost effective vs a traditional PBX.
Digital Transformation
Enhance the productivity of large corporate with faster, more secure broadband and SD-WAN services.
Managed Mobile Estates
Optimise your business mobile fleet with our managed business mobile services, allowing us to take care of your account.
Corporate cyber security
Protect your company and IP from cyber threats with our advanced suite of managed security and cyber services.
Business Fleet Tracking
Streamline your fleet management with advanced IoT fleet tracking to provide real-time contextual data front and centre.
Group Communications
Connect your geographically dispersed frontline workers with Airacom PTT and benefit from near global coverage.
Large business managed services
Expert managed voice & data services to boot large enterprise
Airacom, a global leader in managed services, helps large corporate clients maximise productivity and efficiency by providing outstanding voice and data solutions. With a robust, scalable infrastructure, Airacom delivers seamless business-critical services that drive success and growth, whether you are a corporate entity or a large multinational organisation.
Managed Business Mobile Services
Large Business Professional Services
Hosted VoIP business PBX systems to connect your remote & hybrid workforce
Large-scale corporations depend significantly on phone systems to sustain communication with customers, partners, and employees. Our cloud-hosted VoIP phone systems are reliable and cost-effective communication platforms, fostering connection and productivity across expansive teams. Trust us to provide phone system solutions that guarantee seamless and efficient operations for your extended enterprise.
Cloud-Hosted VoIP Phone Systems
Microsoft Teams Direct Routing
Accelerate your network with high-speed fibre connectivity & SD-WANs
High-speed fibre broadband is essential for large enterprises to operate mission-critical cloud services like CRMs, ERP systems, video conferencing, and connecting to remote or hybrid workforces. Investing in our accelerated fibre broadband and SD-WAN solutions bolsters your corporation's performance and pave the way for enduring growth. Opt for our connectivity solutions to unleash your organisation's full capacity.
Full Fibre Broadband Connectivity
Effortless business mobility through managed mobile services
Relieve the stress of managing your corporation's mobile infrastructure by delegating this responsibility to us. In collaboration with Vodafone, O2, and Three networks, we deliver flexible and reliable mobile solutions tailored to the needs of large enterprises. Our mobile services encompass SIM-only plans, bundled minutes, SIM management, international roaming, SIM swaps, assistance with lost phones, and tariff optimization to simplify mobile administration.
Mobile Connectivity Solutions for SMBs
Mobile Airtime for Mid-Sized Businesses
Comprehensive cybersecurity management for big business
Large corporations necessitate strong security defences to counter advanced cyber threats. Our managed cybersecurity services and mobile threat detection shield confidential information, preserving your organisation's operations and reputation. Collaborating with our cybersecurity experts allows you to proactively address potential security breaches, ensuring your enterprise remains protected.
Protect your Business Mobile Devices
Large Business Managed Security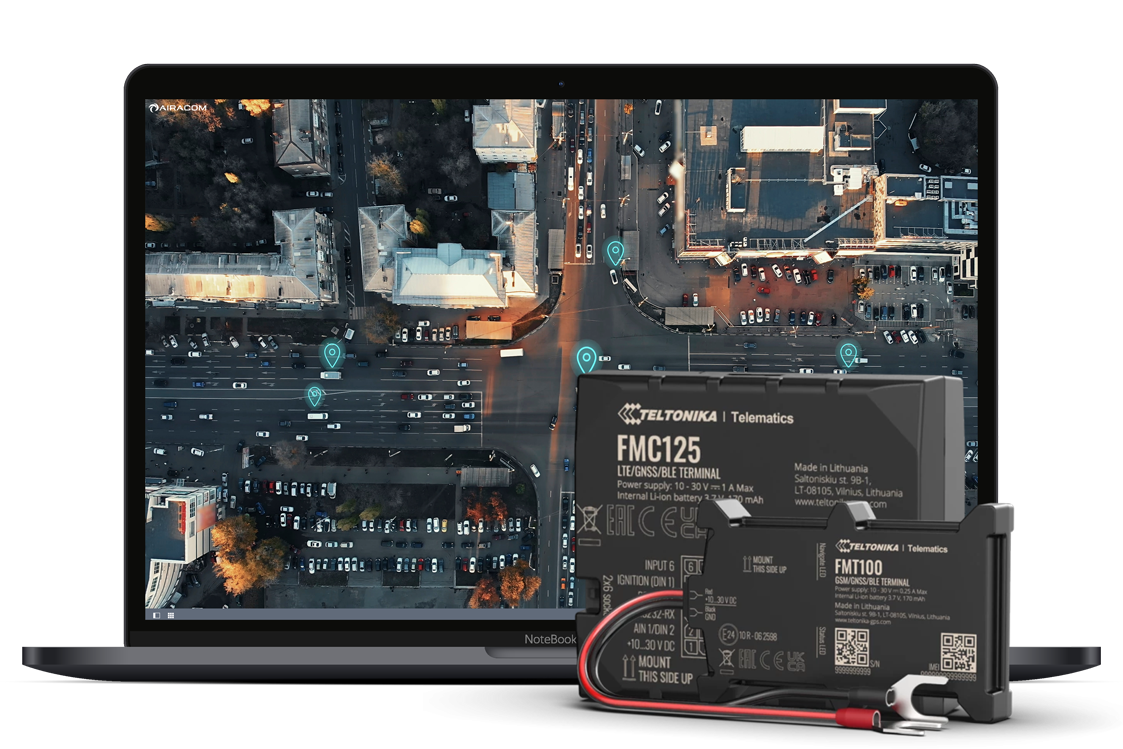 IoT telematics to elevate your fleet management
Our vehicle and fleet tracking solutions provide real-time monitoring, driver behaviour analysis, fuel usage tracking, and route optimisation, enabling large corporations to manage their fleets effectively. Collaborate with our telematics team to outpace the competition and enhance your profit margins. Boost your organisation's efficiency by investing in our state-of-the-art vehicle and fleet tracking solutions.
Track and Monitor your Vehicles
Managed print services & office printers tailored for large enterprises
Our Managed Print Services (MPS) solutions are tailored to assist large enterprises in saving time and money while boosting workflow effectiveness. We deliver personalised, economical print solutions catering to growing corporations' print requirements and financial plans. Rely on us to supply managed print solutions that are more eco-friendly and deliver exceptional service with significant cost reduction benefits.
Airacom push to talk: Expansive national coverage across All IP networks
Our push-to-talk solutions offer extensive coverage, eliminating the necessity for two-way radios. Ideal for large enterprises, our group communication solutions deliver instant, secure connections, cutting-edge features, and optimized operations.