Supermarkets overcome legacy system challenges with Airacom's UCaaS solutions
The supermarket industry plays a crucial role in the UK and global markets, accounting for a significant portion of the retail sector's revenue. In the UK, supermarkets generate over £190 billion annually and employ over 1 million people. Globally, the industry is worth $4.4 trillion and is expected to reach $7 trillion by 2026.
To remain competitive in an increasingly digital world, supermarkets are adopting unified communications and digital transformation technologies. By doing so, they are streamlining processes, increasing efficiency, and improving the customer experience. This includes e-commerce, data analytics, digital signage, inventory management, and unified communications.
Airacom's push to talk technology is helping supermarkets improve communication and collaboration on the shop floor to warehouse picking and packing, enabling instant, hands-free, and real-time collaboration. The industry is undergoing a digital transformation, and technology plays a crucial role in increasing efficiency in a competitive sector.
Supermarket Industry Challenges
Legacy Systems:
Supermarkets often face challenges with legacy systems, including outdated technology, limited data access, and high costs. To overcome these challenges, supermarkets are increasingly adopting new technologies such as cloud computing, IoT, and digital transformation solutions. By doing so, they are improving efficiency, reducing costs, and enhancing customer experience. Airacom is helping supermarkets with UCaaS solutions by providing secure and reliable communication channels, improving team collaboration, and boosting productivity.
Security Issues:
Supermarkets face physical security challenges such as theft, vandalism, and safety hazards. Additionally, cyber threats such as data breaches and ransomware attacks pose a significant risk to the industry. These challenges impact supermarkets by increasing costs, damaging reputations, and threatening customer safety. To overcome these challenges, supermarkets are adopting advanced technologies such as CCTV, access control, and mobile threat defence solutions. Airacom's UCaaS, secure PTT, and mobile threat defence solutions provide secure communication channels and enhanced safety for supermarket employees, increasing response times and reducing risk.
Collaboration:
From the shop floor to the back office and warehouse operations, supermarkets face communication and collaboration challenges due to the size and scale of retail operations. These challenges impact customer service and deliveries, causing delays, inefficiencies, errors poor customer service and can affect perishable goods, which ultimately affects a supermarket's bottom line. Airacom's unified communications solutions provide secure and reliable communication channels, enabling real-time collaboration and decision-making across all levels of the organisation. Our push-to-talk technology and location tracking solutions improve response times and enhance safety, increasing efficiency and customer satisfaction.
Multiple Sites:
Operating supermarkets across multiple sites presents challenges such as communication and collaboration difficulties, supply chain logistics, and managing inventory. Large retail chains overcome these challenges by adopting technology such as IoT, cloud computing, and unified communications solutions. Airacom's UCaaS solutions provide real-time communication and collaboration across all locations, streamlining processes and enhancing efficiency. Our location tracking and inventory management solutions improve supply chain logistics and increase productivity, ultimately improving customer service delivery.
Enhancing customer service, safety and response times in supermarkets
Supermarkets use push-to-talk (PTT) communication solutions to enhance collaboration and improve operational efficiency. Airacom's PTT technology provides secure, instant, and reliable communication across all departments, enabling real-time decision-making, and enhancing safety. By adopting Airacom's PTT technology, supermarkets can benefit from:
Improved Response Times: PTT communication enables faster response times, reducing delays and improving customer service delivery.
Enhanced Safety: Airacom's PTT technology enables location tracking and emergency alerts, improving safety for employees and customers.
Streamlined Operations: PTT communication enables quick and easy coordination between departments, improving supply chain logistics and reducing errors.
Increased Efficiency: PTT communication enables hands-free communication, freeing up employees' hands to perform other tasks, increasing productivity, and efficiency.
Improved Customer Satisfaction: By improving response times, enhancing safety, and streamlining operations, PTT communication ultimately improves customer satisfaction.
Supermarket Enterprise mobility
PoC Radios
POC radios offer instant collaboration using any IP network, improving safety and productivity for supermarket operations.
Assisted reality headsets for supermarket remote auditing and compliance checks
Supermarkets are using assisted reality headsets to conduct remote store audits and manage stock checks to maintain compliance and consistent standards across the organisation. With the COVID-19 pandemic, remote technologies have become increasingly important to streamline operations and minimise travel. By using RealWear headsets with Airacom's remote collaboration software, management teams can efficiently audit multiple supermarket locations in a single day without leaving their office, reducing time and improving operations.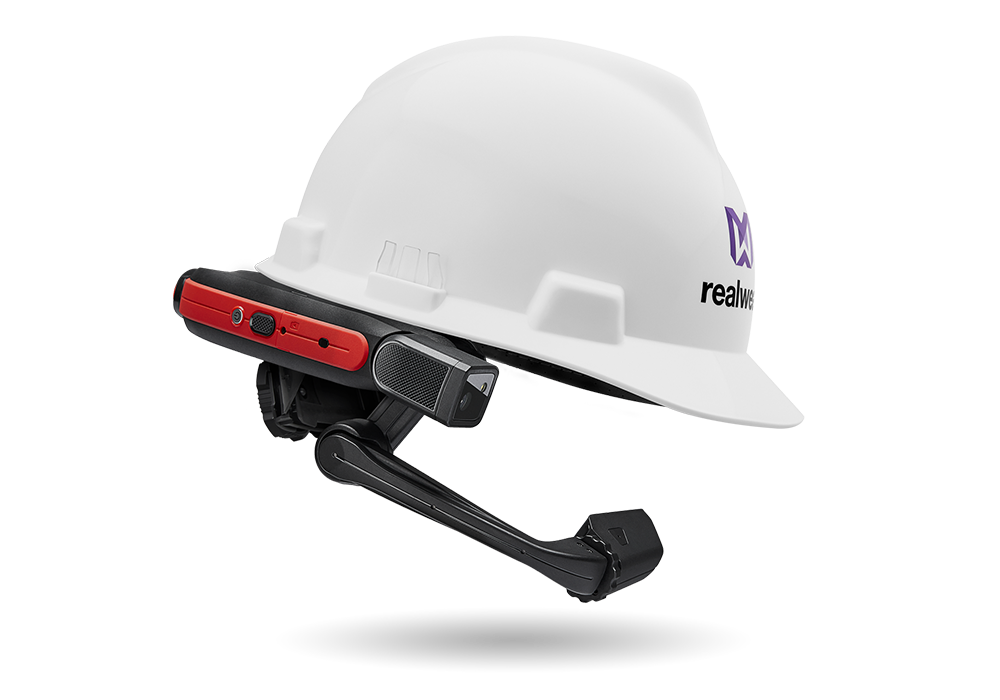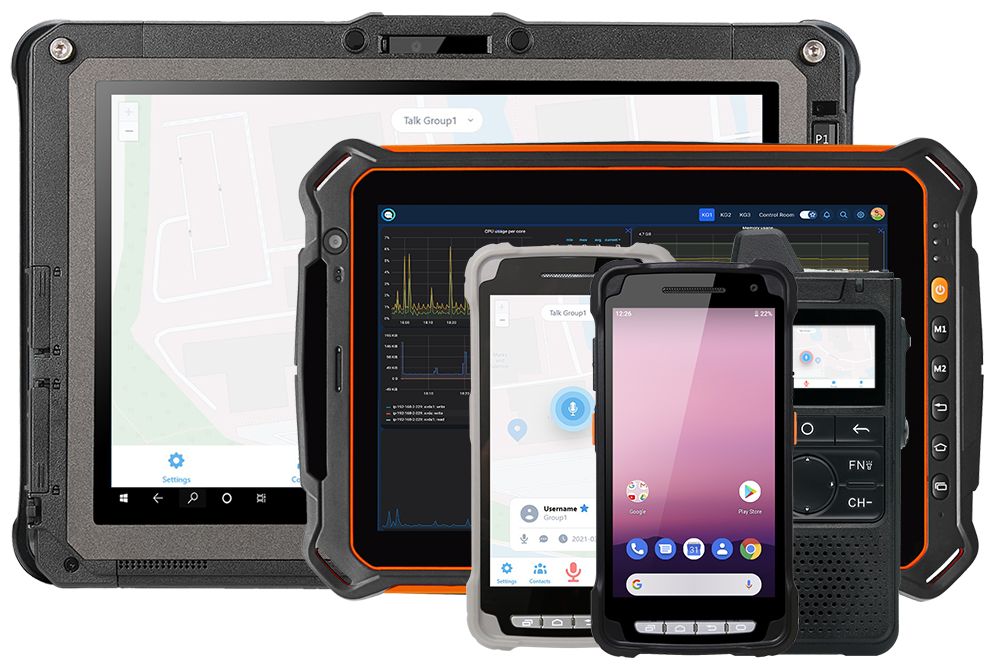 Boosting efficiency and productivity with Airacom's rugged devices for supermarkets
Rugged smartphones and tablets offer numerous benefits for supermarket retail and warehouse staff, including increased durability, reliability, and security. Airacom's rugged devices provide superior performance in tough environments, allowing employees to operate efficiently and stay connected. With advanced features like barcode scanning and inventory management, Airacom's rugged devices enable supermarkets to streamline operations and enhance productivity.
Don't let mobile threats compromise your business
Phishing attacks via mobile devices have become a significant threat to the retail industry, including supermarkets. According to the 2020 Verizon Mobile Security Index report, 33% of data breaches involved mobile devices, while a 2020 report by Lookout found that 46% of organisations experienced a mobile phishing attack in the past year. These statistics highlight the importance of implementing robust mobile threat defence solutions to protect against cyber threats and data breaches.
Airacom's mobile threat defence solutions provide advanced security features such as malware detection, data encryption, and remote wipe capabilities, ensuring the safety and confidentiality of sensitive information. By implementing MTD for company-issued mobile phones and BYOD, supermarkets can enhance security and compliance, protecting against the risks associated with mobile device usage.
Explore Cyber Security for Supermarkets
Explore Managed Security Services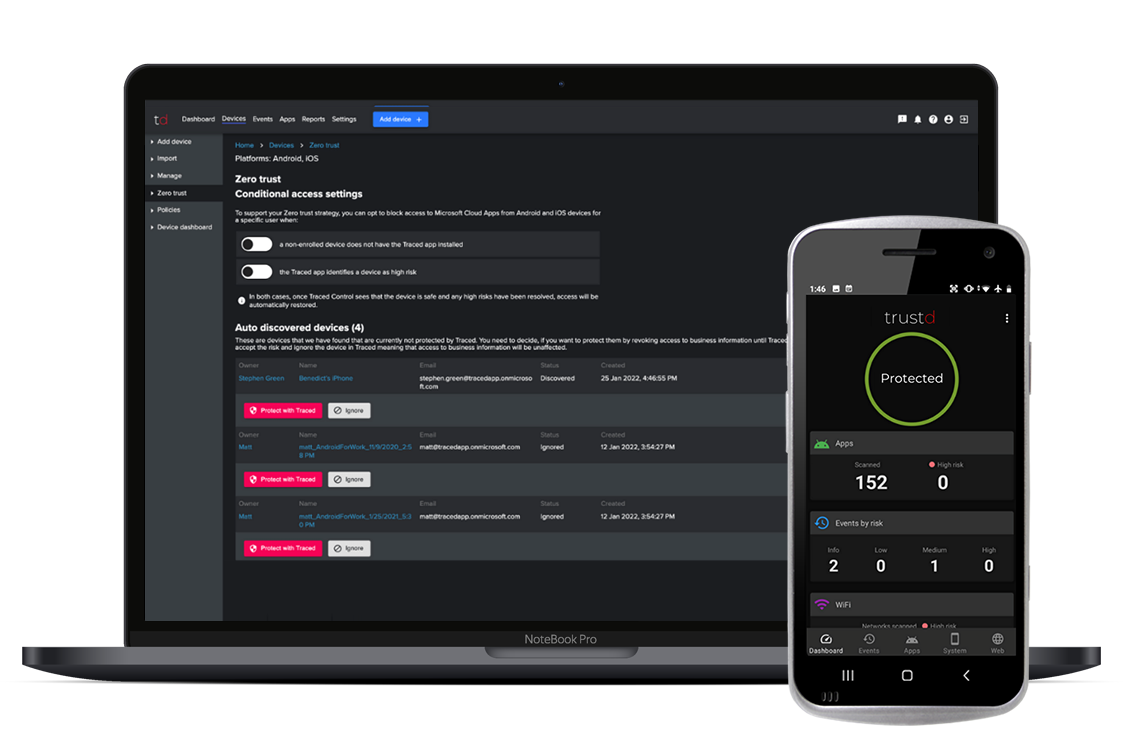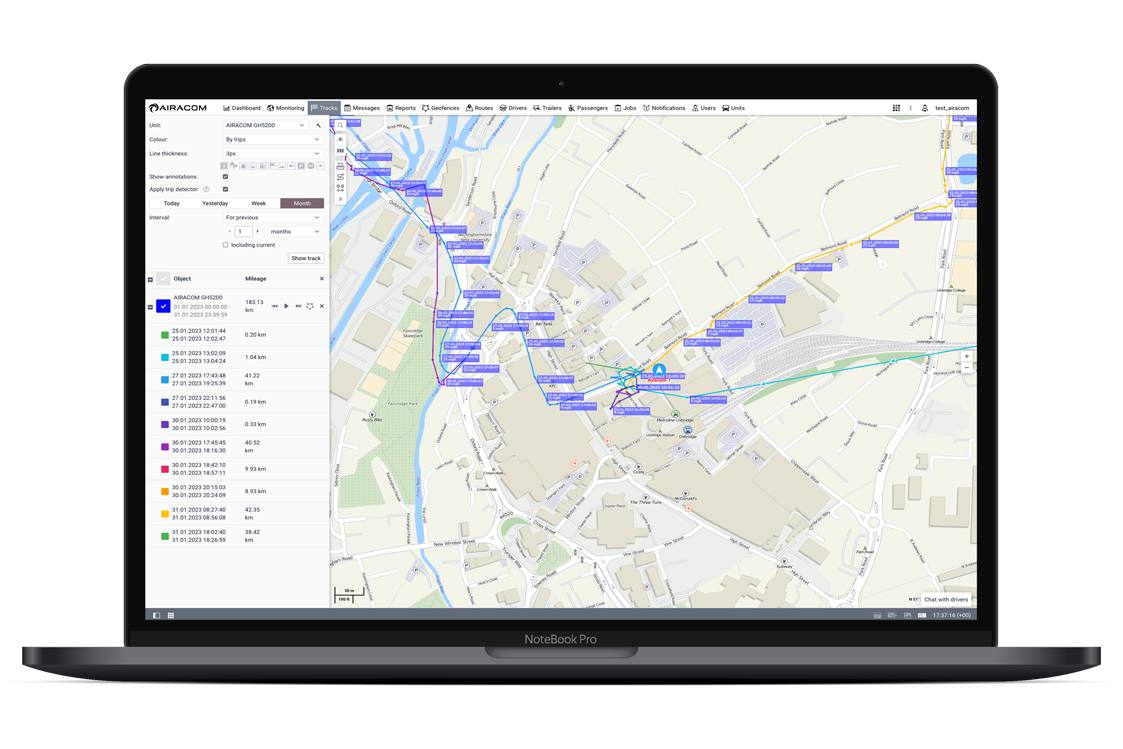 Improve vehicle operations in supermarket logistics with advanced telematics
Vehicle fleet tracking is essential for supermarkets to optimise delivery routes, enhance driver safety, and improve customer service. With real-time fleet visibility, supermarkets can streamline dispatch operations, ensure on-time deliveries, and reduce fuel costs. By adopting vehicle fleet tracking, supermarkets can benefit from increased operational efficiency and reduced environmental impact.
Track your supermarket fleet vehicles
Delivery monitoring software for takeaway services
Real time location tracking and panic alarms for supermarket lone workers
Tracking and monitoring supermarket employees who work alone, in dangerous locations or travel on behalf of the organisation is essential for ensuring their safety and well-being. With Airacom's Lone Worker solutions, supermarkets can benefit from real-time location tracking, panic alarms, and automatic check-in features. This ensures that employees are safe and accounted for while reducing the risk of accidents and injuries.
Employee people tracking solutions
services for supermarkets
Professional voice and data services for supermarkets
Push to Talk
Replace two-way radios with Airacom APTT push to talk offering near-national coverage over any IP network.
Workforce Management
Enhance frontline safety with location monitoring, geofence clock, clock out, incident reporting, and job allocation.
Cloud VoIP
Reliable cloud-hosted phone systems to connect all of your supermarket teams and remote workforce with leading business critical communications.
Connectivity
Get superfast business broadband to run your supermarket sites, cloud applications and enterprise SD-WAN services.
Business Mobile
Improve site productivity with the right mix of rugged devices using a business-only 4G and 5G superfast network.
Supermarket WiFi
Business WiFi packed with the security and flexibility your supermarket operation needs with built-in failover and redundancy.
Featured resources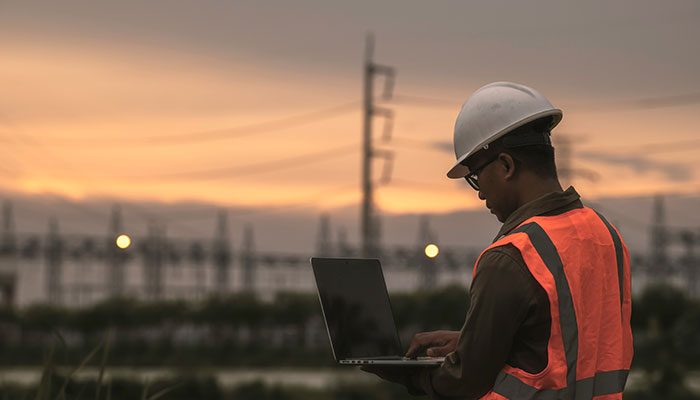 Mobilise your workforce
Replace two-way radios with Airacom push to talk offering near national coverage over any IP network.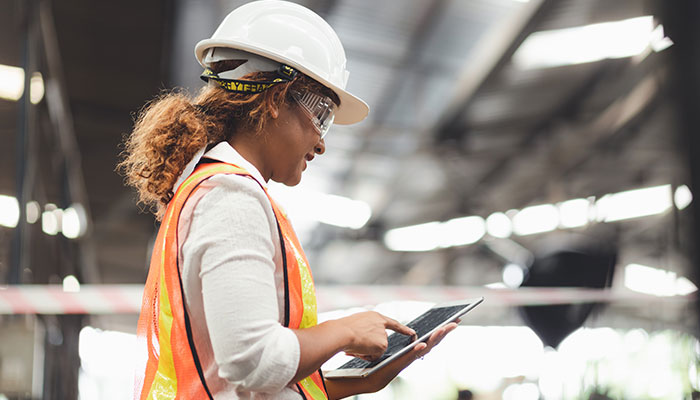 Connect your project site
Utilise IoTs and Sensors to gain real-time data analytics across your sites to make informed business decisions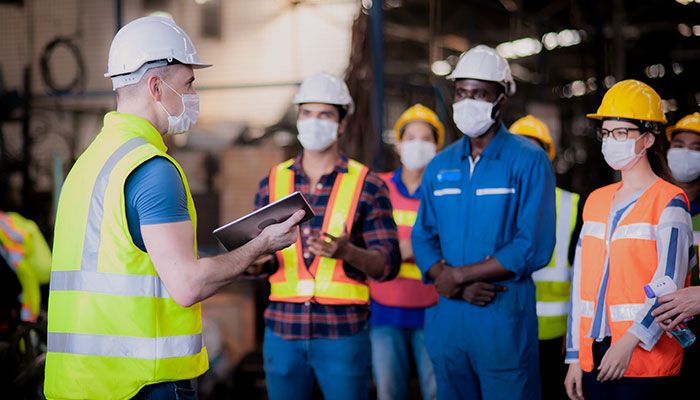 Protect your team
Enhance workforce safety with location monitoring to better manage employees operating remotely or alone