Cloud contact centre making it easier for your customers to engage and your business to scale
Simplify your customer engagement with Horizon Contact Centre and make it easier for your customers to engage with your organisation.
Does your business need an intelligent, fully integrated communications and contact centre solution to help simplify customer integrations and boost team performance? Our fully featured self-service contact centre solution has been designed to empower dynamic teams in the office on the move or working from home.
Horizon contact centre supports inbound and outbound voice channels, web chat, and email, enabling highly personalised customer experiences to delight your clients every time.
Give your clients a clear, concise and consistent user experience to drive customer service
Agent Interface
Agents can view all the queues that they have been given access to view. Agents can take calls via a Horizon handset or a softphone using the Horizon Contact portal.
Supervisor Interface
The Supervisor user has full agent functionality but can manage all agent users. Within the Horizon Contact Portal, the Supervisor's main screen shows live data for both the queues and the agents that they manage.
Admin Interface
Horizon Contact is managed using its own web interface, which provides information and management control to authenticated operations users.
The Administrator Portal part of the interface allows users logged in at the Administrator level to customise their Contact Centre features and functionality.
Wallboard
When an agent has classified an interaction, the classifications are logged and analysed by the Contact Centre for display via the wallboard and inclusion in regular reports.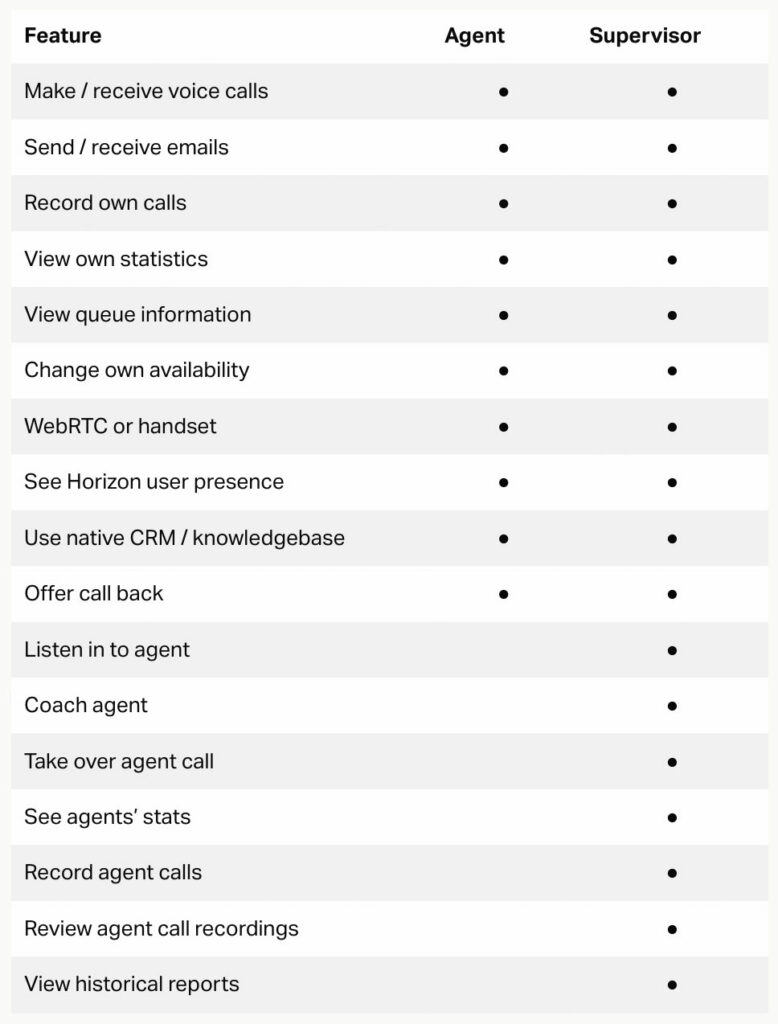 Three user licenses to keep your contact centre flexible & supported
Administrator
Administrator licences can be applied to any Horizon user. They can manage back-end functionality, such as queues and interaction flow design, but cannot receive calls or manage agents.
Agent
Agents can view all the queues that they have been given access to view. They can also set their status and indicate if they can handle new inbound requests.
Supervisor
The Supervisor user has full Agent functionality but can also manage all agent users.
Provide a consistent omnichannel solution to your employees & customers
The cloud contact centre interface gives agents a master view of customer communication across all channels. Ensure every call receives a seamless and exceptional client experience every time.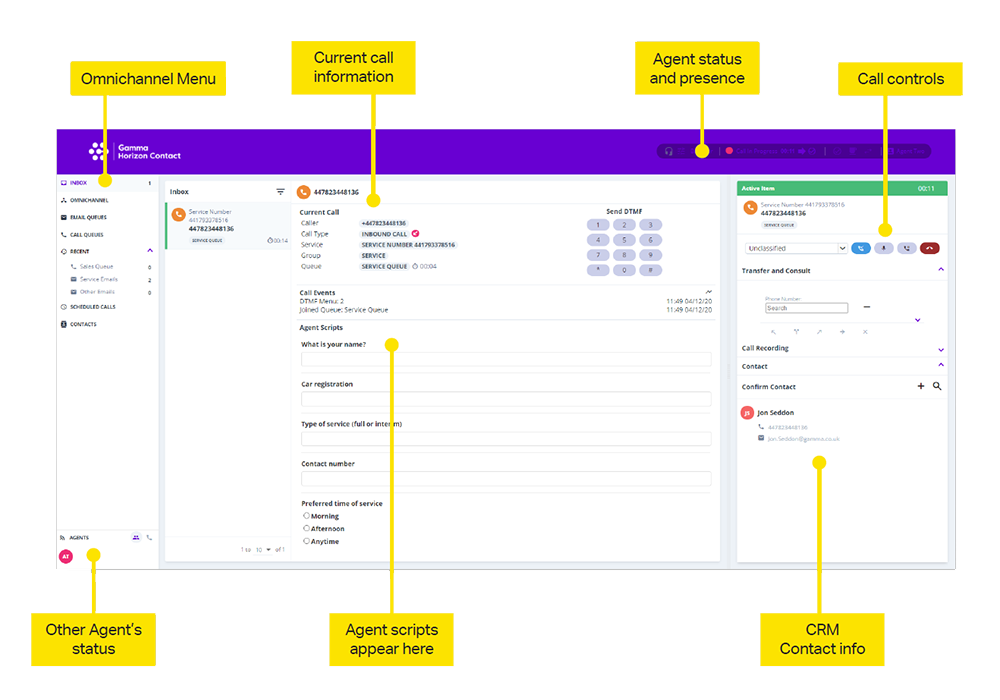 Deliver better customer experiences with Cloud Contact Centre
How quickly can Contact Centre be set up?
Our team can deploy your Contact Centre extremely fast with all configurations actioned via an intuitive management interface.
Can we prioritise calls and emails to our best-performing agents?
Yes, you can. You can prioritise both voice and email channels which can be queued and managed all within the contact centre environment. You can prioritise VIP queues which can be handled by skill-ranked agents, based on either the customer's telephone number or email to ensure they are provided with a premium service.
Do we need to purchase additional software or hardware?
No, you do not. With Horizon Contact, there are no financing costs, no major hardware to purchase and no software to roll out. You simply need a Horizon Premium Subscription and then either an Agent or Supervisor Licence. Admin Licences are provided free of charge.
Can my employees work anywhere?
Yes, they can. Horizon Contact is cloud-based meaning your agents can log into any internet-connected device and work anytime, anywhere. Compatible with a wide range of desk phones, or your agents can work seamlessly with just a laptop and a headset.
Can we record calls?
Yes, you can. With Horizon Contact, you can choose if you want to record inbound, outbound or internal calls for customer service, training or audit purposes. Callers can also be provided with the choice to opt-out of their calls being recorded; however, the Agents can still select to record their part of the call. The administrator can set the percentage of calls that will be recorded on the queue from 0% to 100%, as well as the length of time that the calls are stored for. Calls are also stored in a secure encrypted environment with other GDPR compliant features such as retention deletion, restricted user access and full user auditing.
How is Horizon Contact integrated with Horizon, and are there any inbound call charges like other cloud platforms?
Quickly configured alongside your Horizon deployment and designed to work seamlessly with Horizon, agents and back office staff can work collectively on the same telephony platform and as part of the same company directory, allowing you to share presence information and deliver exceptional customer service.
Unlike other CCaaS services, terminating inbound calls into the platform does not attract a pence per min charge. Likewise, when an agent receives a call on the Horizon endpoint (handset or softphone) or via the native webRTC browser phone, there is no charge.
How can I manage staff performance?
There is a comprehensive reporting tool built into Horizon Contact that enables multiple different reports to be created and viewed with the Horizon Contact Portal. Reports can be scheduled and delivered to managers as and when they need them
What communication channels does Horizon Contact Support?
Horizon Contact provides a consistent quality Omnichannel solution. The interface gives agents a master view of customer communication across all channels, ensuring a seamless experience. Horizon Contact supports inbound and outbound voice channels, web chat, and email
How can I keep a record of customer interactions?
The Contact Centre has a built-in Customer Relationship Management (CRM) database that may be used to keep track of customers' interactions with the Contact Centre. The CRM is based on contact records where customer details and contact histories can be stored.
Can Horizon Contact be used with my own CRM?
Currently, we can provide integration with Microsoft Dynamics and Salesforce, with more CRMs coming soon
Is Horizon contact Secure and resilient?
It has never been so important to communicate with your customers digitally and without interruption. Horizon has a system architecture that will deliver at least a 99.99% uptime SLA. Built across four data centres, the distributed architecture means loss of any single site won't impact the ability to service customers
Reporting
Complete reporting tool enabling multiple reports to be created across all channels.
Cloud Based
Agents can log into any device and work from anywhere using internet-connected WebRTC.
Scale Quickly
Scale from 2-500 seats with the option to add licences anytime as your business grows.
CRM Compatible
Horizon Contact with integrated CRM. One database to manage all client interactions.
High Service Availability
99.99% uptime SLA & guaranteed distributed system architecture with redundancy.
Agent Interface
Agents can view all the queues, and take calls via desk phones or a softphone using the Contact Portal.
Supervisor Interface
Full agent functionality to manage agent users and live call queue data.
Admin Interface
Web portal interface to fully customise Contact Centre features and users.
Related Products
Horizon Collaborate
Get a complete business unified communications experience for your business.
Business leased lines
Dedicated Leased Lines offer the fastest speeds with consistent bandwidth for data hungry businesses.
Fast Fibre Broadband
Essential high-speed business fibre broadband for UK companies. Compare our reliable fibre broadband deals.
SoGEA Broadband
Find out if you can get SoGEA in your area and benefit from low cost, fast business broadband.
IoT SIM Data Services
Connect your IoT sensors, connected objects, devices and remote and hybrid teams with 4G/5G LTE.
Cloud PBX Systems
Find out why more and more businesses are moving away from a standard PBX to cloud hosted telephony.