Transform your business operations with powerful IoT telematics solutions
Airacom's advanced telematics system utilises cloud-based GPS monitoring software and IoT tracking solutions to provide live location tracking for your employees, vehicles, and assets. With browser-based access and mobile applications for Android and iOS, you can access your tracking data anytime, anywhere and on any device.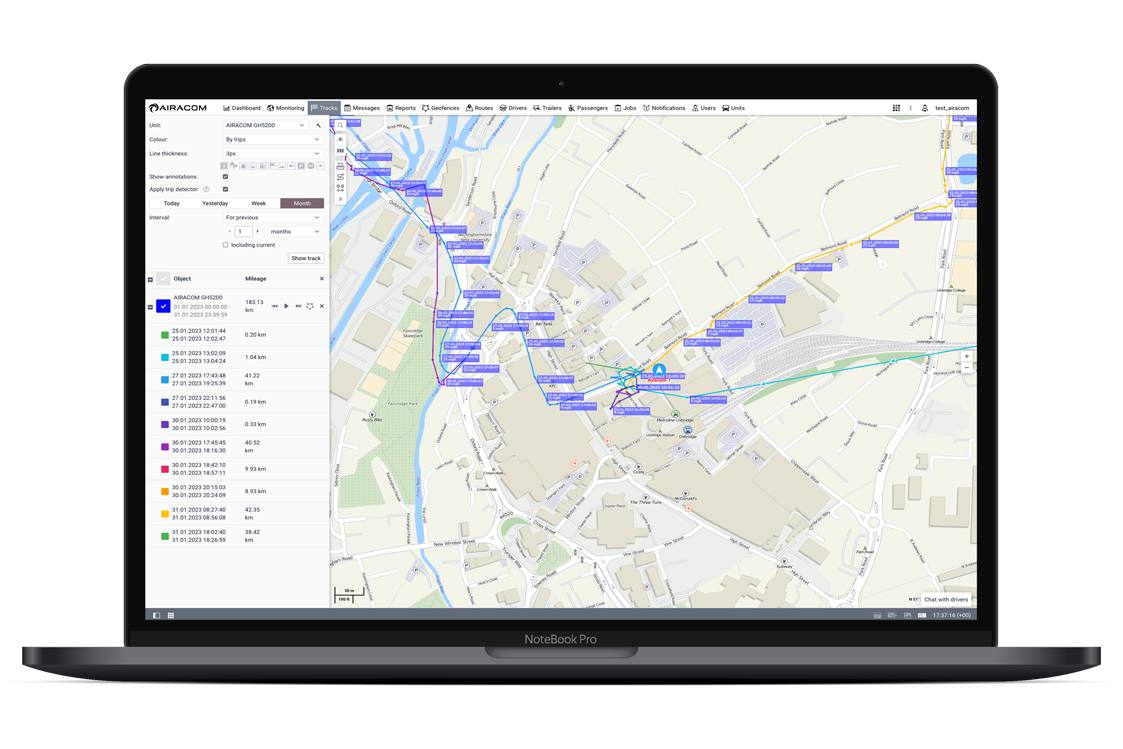 Enhanced IoT telematics to track people, assets & vehicles everywhere
In today's competitive world, businesses must use all the tools available to remain competitive while delivering exceptional customer service. Advanced telematics from Airacom enables you to track your personnel, assets, and vehicles in real-time, optimising your operations while increasing the safety of your remote and field personnel.
With enhanced IoT telematics technology, companies can track their assets and personnel anywhere, anytime, and gain valuable insights into their operations to make informed decisions. Implementing online GPS monitoring can significantly improve fleet and workforce efficiency and productivity. Companies with mobile assets not utilising online GPS tracking often experience difficulties, including inefficient vehicle use, fuel theft, and unfair expense claims. These issues can be mitigated by online GPS tracking, resulting in smoother operations and increased productivity.
Stay connected to your assets and personnel with Cloud-Based GPS monitoring and IoT tracking
People Tracking
Improve workforce productivity, safety, and security with Airacom's employee tracking solutions with real-time location.
Fleet Management
Optimise your fleet efficiency and increase driver safety and accountability with our advanced fleet tracking services.
Vehicle Tracking
Maximise efficiency, reduce costs, improve safety and improve vehicle security with Airacom's advanced vehicle telematics.
Asset Tracking
Protect your plant equipment and assets with our advanced tracking system, providing real-time location updates and usage insights.
Driver Monitoring
Gain real-time visibility into driver behaviour, reduce risk, and improve safety and compliance with Airacom's driver monitoring software.
Online Tracking
Our online tracking system provides real-time visibility of your vehicles, assets and people enhancing safety, security and optimising productivity.
Delivery Monitoring
Delivery management software for logistics and route planning with cost savings and a web-based dispatcher and mobile driver application.
Public Transport
Public transport management software with satellite tracking and route management tools optimises routes, manages schedules, and tracks real-time performance.
Agribusiness Tracking
Controls field works with GPS data, delivering transparent information about fields, crops, and operations for better planning and process improvement.
Track your vehicles, people and assets with advanced IoT telematics
Take control of your operations with advanced telematics from Airacom. Our IoT telematics solutions provide real-time data on location, movement, and status, helping you to improve efficiency, reduce costs, and enhance security and safety. Contact us today to start optimising your business location-based services and unlock the power of data-driven insights.