Enterprise Business Solutions
Unified voice & data solutions for enterprises
Unlock the potential of our UCaaS enterprise business solutions, enhancing communication and collaboration for distributed teams. Streamline workflows with real-time data insights into your operation using our expert-managed services. Propel your organisation forward with our comprehensive offerings today.
Elevate your business through Airacom's adaptable UCaaS and real-time telematics offerings, boosting productivity, effectiveness, and profitability. Discover state-of-the-art cloud-based telephony, connectivity, cybersecurity, and immediate group communication. Our secure communication infrastructure ensures seamless collaboration and data-driven decisions for remote, in-office, or hybrid teams.
We empower corporate customers to leverage safe, scalable, and cost-efficient unified voice and data services, improving productivity while reducing costs. Our UCaaS solutions provide reliable connectivity and cutting-edge security, while real-time location and telematics services enhance asset monitoring and workforce management to gain a competitive edge.
Cloud Contact Centre
Cloud contact centre is the most advanced inbound cloud hosted communications platform for enterprise call centres.
Digital Transformation
Boost the productivity of large organizations with quicker, more secure broadband and SD-WAN services.
Managed Mobile Estates
Refine your business mobile fleet with our managed business mobile services, allowing us to oversee your account.
Corporate cyber security
Safeguard your organisation and IP from cyber threats with our sophisticated suite of managed security and cyber services.
Business Fleet Tracking
Optimize your fleet management with cutting-edge IoT fleet tracking, providing real-time contextual data at your fingertips.
Group Communications
Link your geographically dispersed frontline workers with Airacom PTT and enjoy near-global coverage.
Enterprise managed services
Expert managed voice & data services to support large enterprises
Airacom, a global leader in managed services, supports large corporate clients in optimizing productivity and efficiency with outstanding voice and data solutions. Boasting a robust, scalable infrastructure, Airacom provides uninterrupted business-critical services that fuel growth and progress for corporate entities and multinational organisations.
Managed Enterprise Connectivity
Managed Business Mobile Services
Connect Geographically Dispersed Teams
Cloud-Based VoIP business PBX systems for seamless remote & hybrid workforce connectivity
Multinational organizations depend on sophisticated cloud-hosted PBX systems for communication with clients, partners, and staff. Our cloud-based VoIP phone systems boast 99.999% uptime, providing highly dependable and cost-efficient communication platforms that enhance collaboration and productivity across extensive teams. Rely on us for phone system solutions that enable smooth and effective operations, connecting remote and hybrid working for your expanding enterprise.
Cloud-Hosted VoIP Phone Systems
Microsoft Teams Managed Service
Microsoft Teams Direct Routing
Enhance your network with high-speed fibre connectivity & SD-WANs
Fast fibre broadband is essential for large enterprises running vital cloud services like CRMs, ERP systems, video conferencing, and connecting remote or hybrid teams. Invest in our high-speed fibre broadband and SD-WAN solutions to boost your organization's performance and establish a base for sustained growth. Opt for our connectivity solutions to unleash your organisation's true capabilities.
Full Fibre Broadband Connectivity
Business Mobile Management
Streamlined business mobility through managed mobile services
Ease the management of your organization's mobile infrastructure by entrusting it to us. In collaboration with Vodafone, O2, and Three networks, we provide flexible and dependable mobile solutions tailored to the needs of large enterprises. Our mobile services encompass SIM-only plans, bundled minutes, SIM management, international roaming, SIM swaps, lost phone assistance, and tariff optimization for streamlined mobile administration.
Mobile Connectivity Solutions for SMBs
Mobile Airtime for Mid-Sized Businesses
Comprehensive cybersecurity management for enterprise operations
Robust security measures are vital for large organisations facing complex cyber threats. Our managed cybersecurity services and mobile threat detection protect sensitive data, preserving your organisation's operations and reputation. Collaborate with our cybersecurity experts to proactively tackle potential security breaches and ensure your enterprise remains secure.
Safeguard your Business Mobile Devices
Managed security for Enterprise
Fleet Management Services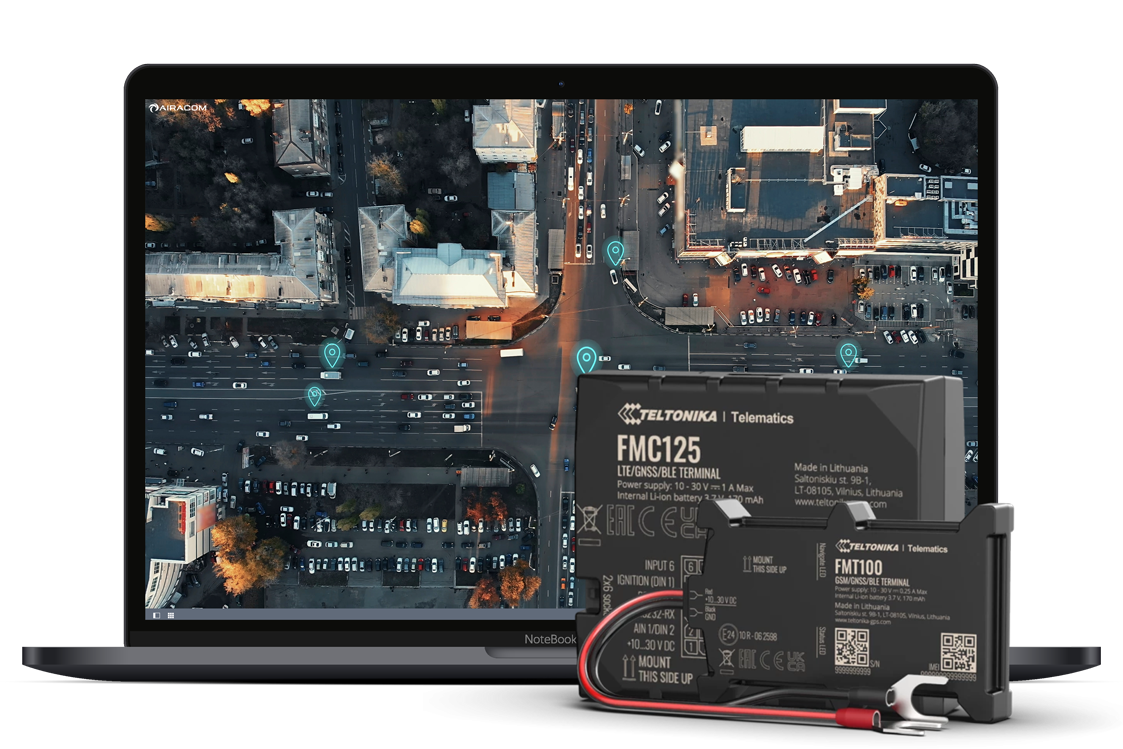 Cutting-edge IoT telematics for enhanced fleet management
Our vehicle and fleet tracking solutions deliver real-time monitoring, driver behaviour analysis, fuel consumption tracking, and route optimisation, enabling large corporations to manage their fleets efficiently. Collaborate with our telematics specialists to outpace competitors and boost profit margins. Bolster your organisation's efficiency with our advanced vehicle and fleet tracking solutions.
Monitor and Manage your Fleet Vehicles
Tailored print solutions and office printers for large enterprises
Our Managed Print Services (MPS) solutions are crafted to assist large enterprises in conserving time and resources while improving workflow efficiency. We offer customized, economical print solutions that cater to growing corporations' print demands and budget limitations. Rely on us for environmentally friendly managed print solutions that deliver outstanding service and substantial cost-saving advantages.
Airacom push to talk: Expansive national coverage across All IP networks
Our push-to-talk solutions offer extensive coverage, replacing traditional two-way radios. Perfect for large enterprises, our group communication solutions ensure immediate, secure connections, cutting-edge features, and efficient operations.