Get the best out of your new business phone system with Airacom
Your phone system can make or break your business. With so many options to consider, choosing the right phone system can be a crucial factor in the success of your operation. With a multitude of options available, it can be challenging to determine which system is best suited for your specific needs.
To make an informed decision on which phone system is the best fit for your business, it's essential to have a good understanding of the various types of technologies available and the benefits each system offers. This will enable you to narrow your options to those that best meet your unique requirements.
You should consider various factors, such as the size and nature of your business, the geographical locations of your employees, and the volume of calls your business receives. This will help you determine the type of phone system that is most appropriate for your business. For example, if you have a distributed workforce or remote workers, a cloud-based phone system may be the best solution.
Phone system architecture
What type of business phone system should we use and what are our options?
Traditional phone systems
A Private Branch Exchange (PBX) system is a private network that uses a communications server that is maintained by you in your office. With this type of system, you can communicate internally within the company and with the outside world using analogue or ISDN lines.
PBX phone systems are typically very expensive to install, maintain and support, but they can offer some benefits. This option is often deemed reliable because it does not depend on an internet connection to work. Traditional phone systems also offer excellent call quality out of the box. However, the sticking point for many clients today is the traditional PBX offers very little in the way of flexibility, remote or hybrid working, application or software integration and can be very expensive.
Virtual phone systems
A virtual phone system is a fantastic option for remote businesses without a physical location. There are many virtual phone system providers (we are not one of them) to choose from. Your virtual phone system provider will provide you with a geographic (local) or non-geographic (national) number, depending on your need.
There are a few notable drawbacks to a virtual phone system option. The first is that the virtual number may be a number your business does not own or cannot take with you should you decide in the future you would like to move away from a virtual phone system. This could cause a degree of frustration and be extremely costly and time-consuming should you have to change your number, especially if this number is advertised on marketing, vehicles, or promotional material. Cost is the other potential deal breaker. You will be charged for all calls made and received using the virtual phone system, and in our experience, these prices can be extremely expensive, especially with some options in this list being free to make and free to receive.
VoIP phone systems
A Voice over Internet Protocol (VoIP) phone system is a hardware or software-based telephone system designed to send and receive phone calls over an IP network, commonly known as broadband or internet connection.
VoIP phone systems, in most cases, are the cheapest type of business phone system you can choose from. They also happen to be the phone system with the most amount of features and flexibility built in as standard. Some of the main advantages of VoIP business phone systems are:
No upfront costs for hardware
Free calls to 01, 02, 03 & 07 numbers*
Supports hybrid and remote working
Compatible with IP desk phones, iOS, Android & Windows devices
Add voice and video conferencing, email, instant messaging, and file sharing
*Each user will get a minimum of 1K minutes to UK 01, 02, 03 & 07 mobile numbers per month, pooled across all users (plan dependent).
Cost plays a pivotal role in business phone system decision making
Budget will play a key factor when choosing a business phone system, and to some degree, you should have an idea as to how much you want to spend.
A traditional PBX system will require a significant initial investment in hardware and possible infrastructure. Whereas Cloud phone systems only really require internet-related costs. Here are some considerations around cost factors that could be incurred:
Initial setup cost
Hardware costs
Licencing costs
Installation costs
Internet bandwidth costs and connection charges
Subscription fees
How important is broadband?
How reliable is your internet, or do we need to look at faster broadband
Leaning towards a VoIP solution?
If you are leaning towards a VoIP business phone system based on features, functionality, cost, and of course, flexibility. Then we need to evaluate the reliability of what broadband your office can achieve.
Fortunately, most businesses in the UK have access to fast reliable internet connections delivering fast upload and download speeds. We partner with some of the UK's biggest voice and data providers, enabling us to take wholesale costs from BT Wholesale, Openreach, Gamma Telecom, and TalkTalk Business to deliver fast fibre, WAN, and LAN solutions.
Compatibility
Another factor to consider when looking to invest in a business phone system is how compatible it is with the software and applications your company uses. You may want to integrate your business phone system with other tools, such as call scripts for staff, your CRM software, live chat, and ticket management software.
You should also take into consideration how your team operates. For example, you may have certain employees operating remotely or from home in a hybrid work capacity. In this instance, a VoIP business phone system is advantageous, enabling hybrid working through smartphone, PC, and laptop compatibility wherever your team works.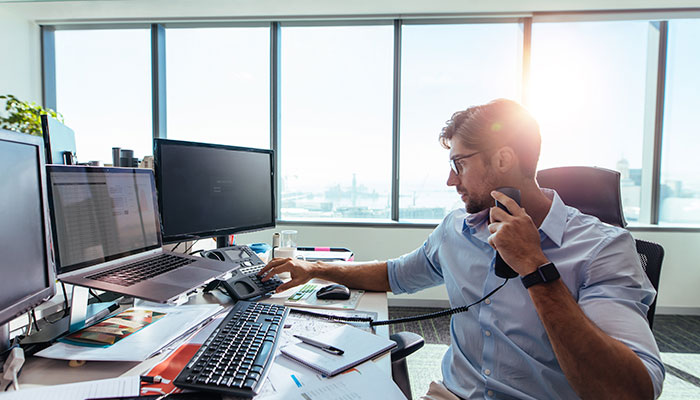 Scalability
How big your business is, combined with how many staff and office locations you have, will ultimately determine the type of technology needed. If your business plans to grow, you need a business phone system to accommodate growth. If you are a growing business, you will need to factor in the features and functionality, not just the ability to scale. As your business grows, so does the demand for integration, better functionality, and more features to keep your teams productive and efficient.
Airacom Unified Communications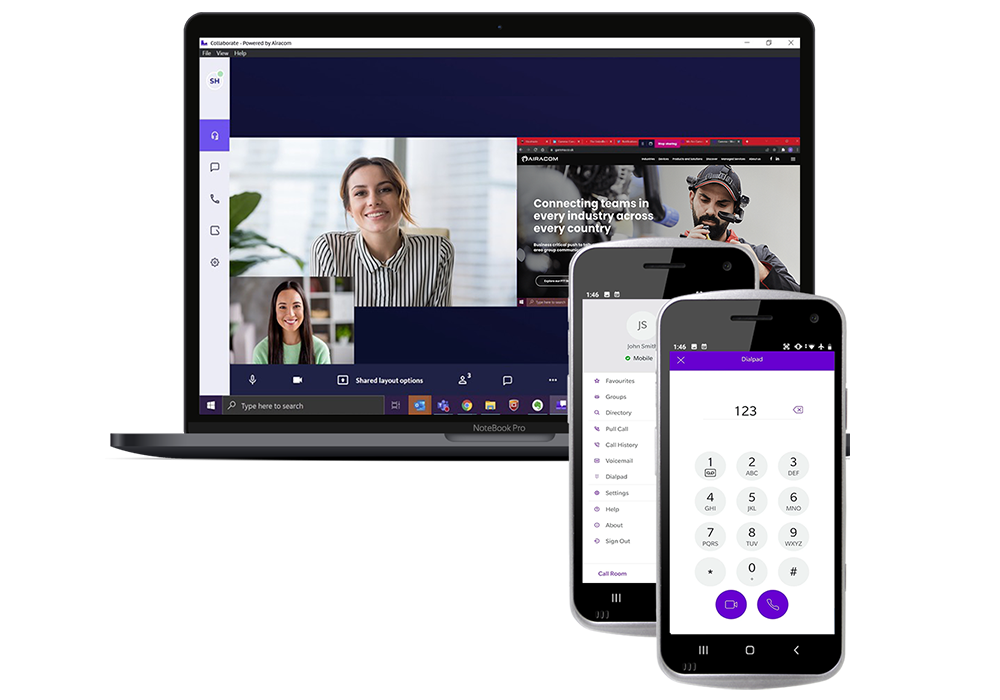 Horizon collaborate the award winning cloud business phone system
Horizon Collaborate is fully integrated with the award-winning Horizon cloud telephony service. You can benefit from business telephony features alongside collaboration tools such as video calling and instant messenger.
Deliver inbound & outbound voice capabilities to Microsoft Teams users with Direct Routing
Why enable Direct Routing for Microsoft Teams? Free calls and enhanced call control over carrier-grade infrastructure enable your organisation to maximise value from your Team's environment.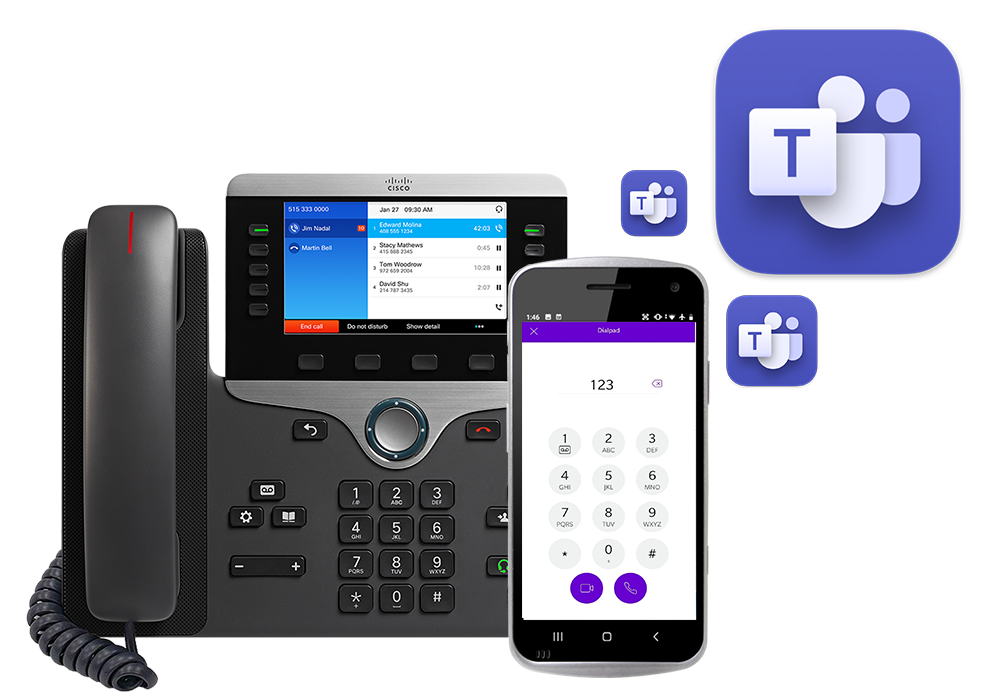 Related Products
Telecom Services
We offer a full range of telecoms services to keep your business connected and your teams collaborating.
Business leased lines
Dedicated Leased Lines offer the fastest speeds with consistent bandwidth for data hungry businesses.
Fast Fibre Broadband
Essential high-speed business fibre broadband for UK companies. Compare our reliable fibre broadband deals.
SoGEA Broadband
Find out if you can get SoGEA in your area and benefit from low cost, fast business broadband.
Migrate to VoIP
Five easy steps to migrate away from outdated PSTN or ISDN systems to VoIP unified comms.
IoT SIM Data Services
Connect your IoT sensors, connected objects, devices and remote and hybrid teams with 4G/5G LTE.