Delivery management software for busy logistics teams
The courier delivery monitoring software that adapts to any global region, supporting over 200 countries. Get real time information on orders, couriers and deliver your own version of outstanding customer service by monitoring everything.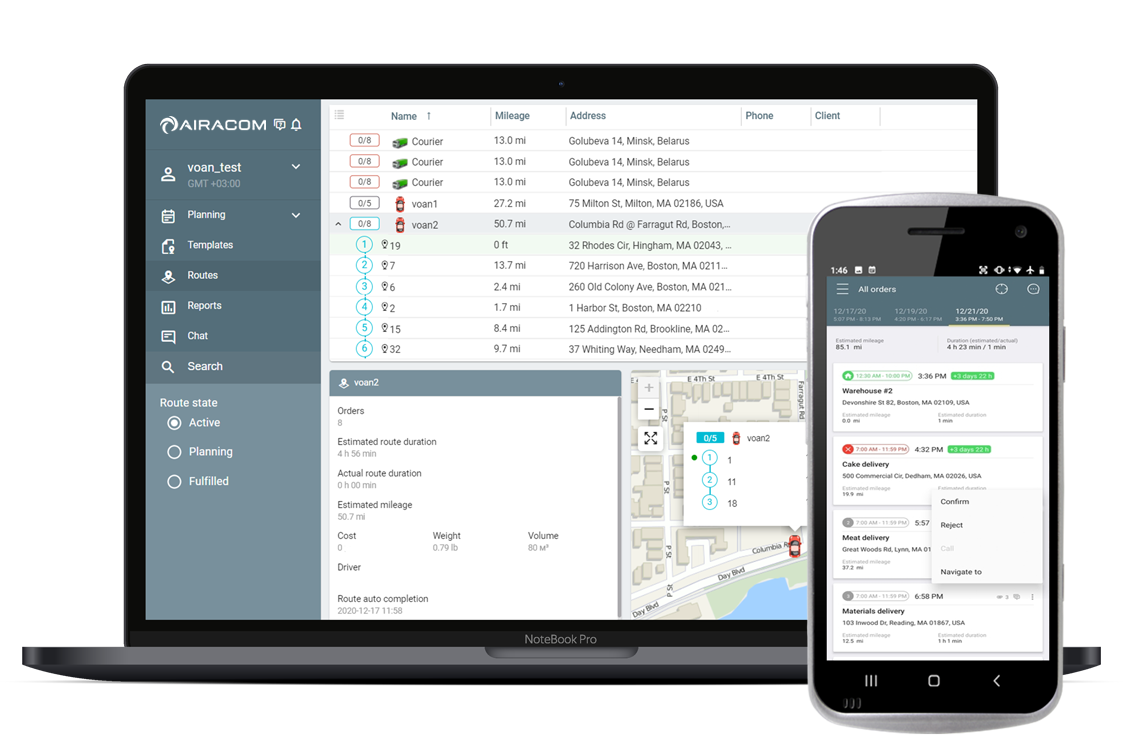 Effortlessly monitor and manage your delivery operations
Organise work at all stages of your courier service and streamline deliveries with Airacom's logistics software. Plan optimised routes, track drivers, and communicate in real-time.
Airacom's delivery monitoring software is a comprehensive solution for managing all aspects of delivery operations, from order processing and routing to driver tracking and performance analysis. The logistics management software streamlines courier services at all stages of the delivery process. Available as a web and mobile version for back office operators and mobile couriers, compatible with Android and iOS mobile devices.
Order management software to streamline your courier and delivery operations
Add Orders
The Logistics application streamlines courier services through two versions: a web version for operators and a mobile version for couriers on iOS and Android smartphones and tablets. It enables users to manage orders from creation to delivery, including order processing, driver assignment, and real-time tracking.
Distribute
Select orders and vehicles and get preliminary routes with estimated arrival time and mileage. Use Google Maps for precise address information and routing. Optimise routes using advanced algorithms to generate the most efficient delivery routes based on order volume, vehicle capacity, traffic conditions, and more.
Monitor Deliveries
Track the delivery process in real-time and respond to issues and communicate through built-in messaging or use the Airacom Push to Talk platform to talk directly with drivers and dispatchers. Monitor delivery performance metrics, such as driving behaviour and on-time delivery rates.
Generate Reports
Get analytics from reports and communicate directly with your clients using e-mail notifications with the built-in HTML editor. Benefit from a wide range of reporting and analytics tools, enabling users to analyse delivery performance and identify areas for improvement to optimise your delivery operations.
Web based logistics management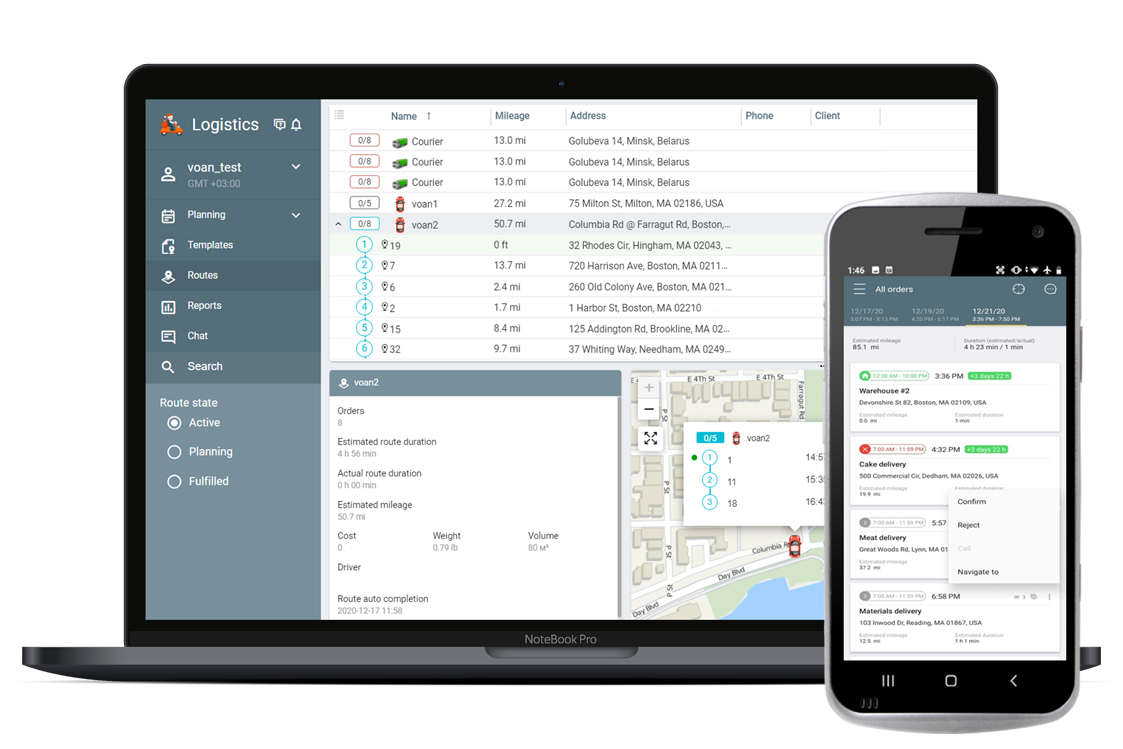 Streamline your deliveries with web-based logistics software
Upgrade your delivery operations with our web-based logistics management software for efficient delivery management. Includes features such as order processing, route planning, driver tracking, and performance analysis. With real-time monitoring, communication, and the ability to make immediate route adjustments, you can ensure timely deliveries and satisfy your customers. Try it now and see the difference for yourself.
Courier enabled logistics app
Optimise your delivery operations with our powerful logistics app
Transform your delivery service with our mobile app, empowering couriers to manage deliveries on the go. Real-time route viewing, progress tracking and communication with customers and operators, digital signature capture, photo documentation, and delivery reports guarantee efficient and satisfactory delivery. Try it now and take your delivery operations to the next level.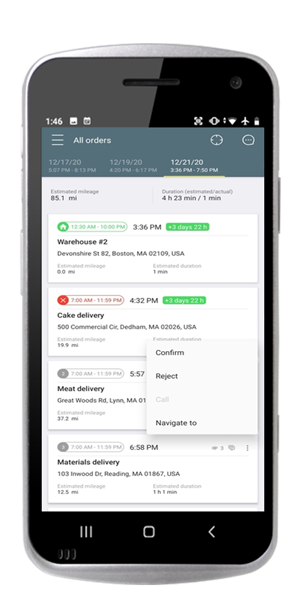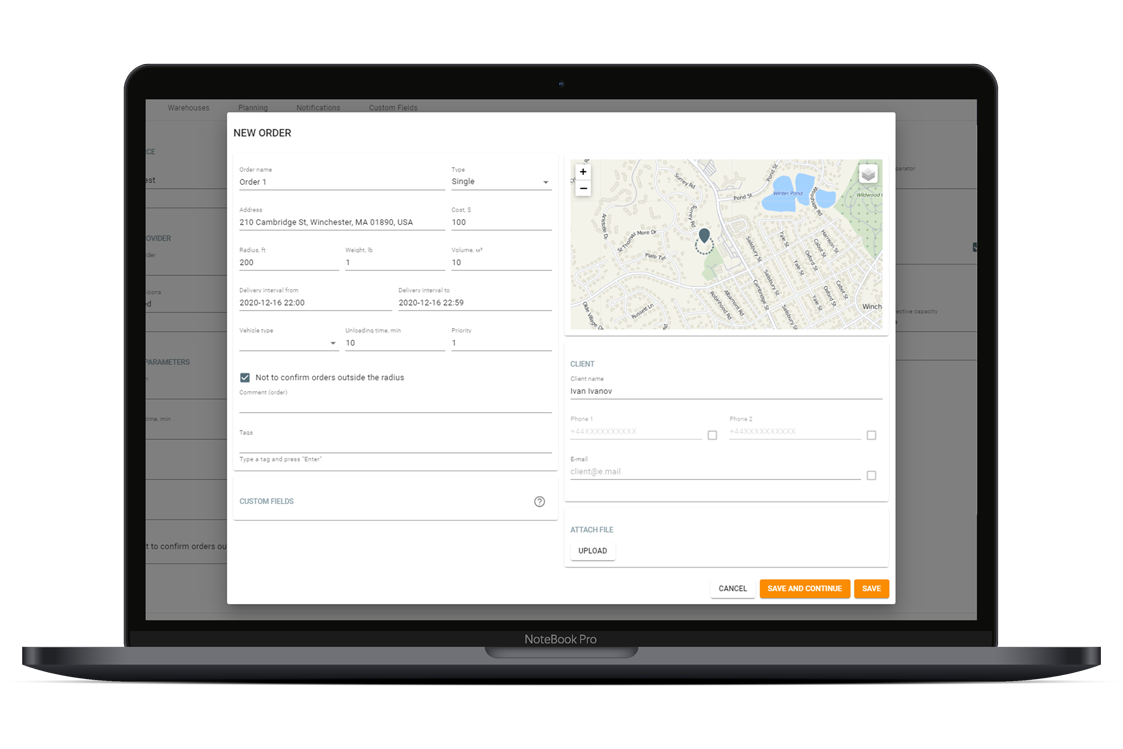 Use order management to effortlessly plan routes
The main function of the application is to work with orders, which include details about goods to be delivered, client contact information, delivery time, and more. These orders are used to plan routes for delivery.
Planning orders in the logistics management web app is simple. Create and import orders from other systems or via API integration. Enter the details for each order, including customer information, costs, cargo, characteristics and unloading time. Attach photos and PDF files to the order to view and conveniently search any order effortlessly. There are two ways to create orders in the system:
Orders can be created manually
Orders can be imported from XLSX or CSV files
Web app dispatcher for better delivery route planning
Routes in the delivery management software are planned paths for delivery vehicles based on orders, vehicle location, and traffic conditions. The software optimises routes to minimise travel time and adjusts them in real-time to ensure timely and efficient deliveries, reducing fuel costs and vehicle wear and tear.
Customise: Configure and customise the system for different delivery scenarios based on factors such as goods weight and volume, and vehicle location.
Link vehicles to zones: Improve your delivery planning by linking certain vehicles to specific zones.
Automatic order distribution: Select orders on the map or in the order table and use automatic order distribution for designated vehicles
Edit routes: Edit routes as needed by cancelling orders, transferring them to other couriers, changing the sequence of execution, and more.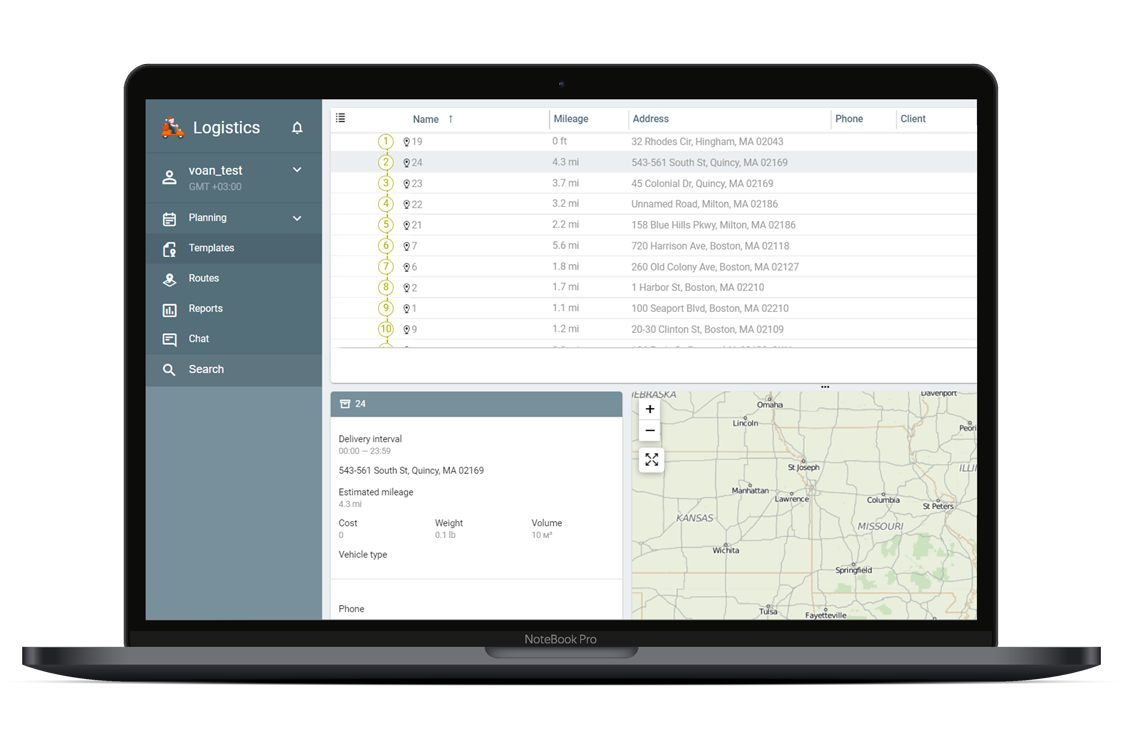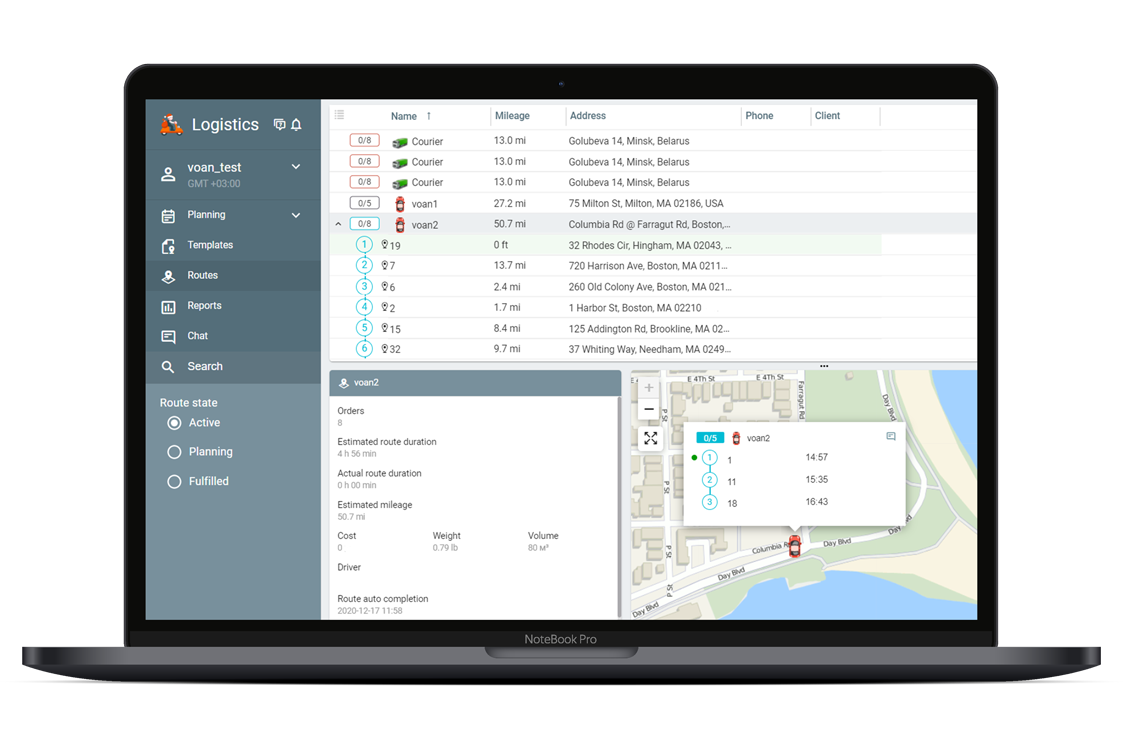 Logistics management software reports
Airacom's logistics software reports provide valuable data insights related to delivery operations. These reports can help your team make informed decisions, optimise delivery processes, and improve overall business performance. Here are some examples of the types of reports that Airacom's logistics software can provide:
Delivery route reports: These reports provide details on the routes taken by delivery vehicles, including travel times, distances, and stops made along the way. This data can be used to optimise routes, reduce travel time and fuel costs, and improve delivery performance.
Delivery performance reports: These reports provide information on delivery times, order status, and other metrics related to delivery performance. By analyzing this data, users can identify areas for improvement, reduce errors and delays, and enhance customer satisfaction.
Driver performance reports: These reports provide data on driver behaviour and performance, such as speeding, harsh braking, and idling time. This information can be used to train drivers, improve safety, and reduce fuel consumption.
Reduced labour costs: Vehicle tracking enables fleet managers to monitor driver productivity and identify areas for improvement, leading to greater driver efficiency and decreased labour time needed for job completion.
Vehicle maintenance reports: These reports provide information on vehicle maintenance needs, such as upcoming service schedules and repair needs. This data can be used to prevent breakdowns, reduce vehicle downtime, and optimise maintenance schedules.
Advanced telematics for tracking vehicles, people and assets
Discover how advanced telematics solutions from Airacom can help you track and monitor your vehicles, people, and assets. Our IoT telematics solutions provide real-time data on location, movement, and status, improving efficiency, reducing costs, and enhancing security. Find out more about our range of advanced telematics solutions today.