Display your data with visual wallboards in real time & improve productivity
Visually display up-to-the-minute call data, statistics and key metrics from within your business and phone system.
Call management software wallboard software provides a real-time display of call centre metrics and performance data, helping managers to track and improve productivity, customer service, and overall efficiency. Companies of all sizes benefit from using wallboard software in call management software are:
Real-time performance monitoring: Wallboard software provides real-time performance monitoring, allowing managers to track critical performance indicators such as average call handling time, queue length, and abandonment rate.
Increased productivity: The use of wallboard software can help improve employee productivity by keeping track of metrics and targets in real-time. Employees can easily see where they stand, identify areas for improvement, and work towards achieving performance goals.
Enhanced customer service: With wallboard software, managers can monitor and analyse customer service metrics such as average wait time and first-call resolution rate, allowing them to identify and address customer service issues quickly.
Improved team communication: Wallboard software can be used to display important messages or alerts to employees, improving team communication and collaboration.
Motivate Agents
Keep your agents motivated with wallboard displays to empower productivity and keep your agent skills sharp.
Gain Insights
Wallboard displays help call centre managers better motivate their teams with real time KPI's and targets.
Try Gamification
Call centre gamification is another way to encourage your agents to go the extra mile for your customer & business.
Track all Metrics
View every critical metric from one single wallboard. Identify negative trends and react faster with real time metrics.
Improve your teams performance with real-time wallboard analytics & dashboards
Wallboards can be configured to show the precise metrics and actionable insights helping your team to make data driven decisions and increase productivity.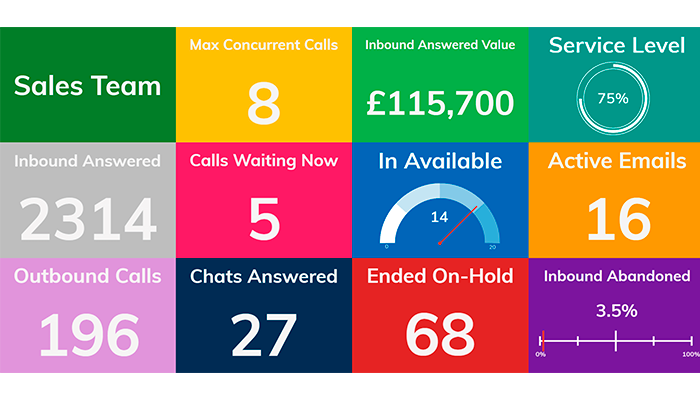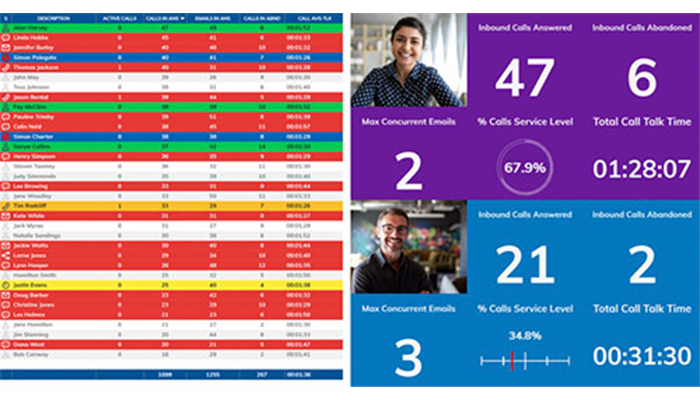 Monitor and respond to real time activity across your business
View all of your call traffic and agent activity with our call and contact analytics software. Respond to real time data across your organisation and increase productivity and customer service.
Unlock critical customer service data & ensure client interactions are logged
Understand what happens to your calls from start to finish. Log all client call interactions to easily diagnose potential routing issues. Gain over 400 statistics for historic and ream to data to increase your operational efficiency.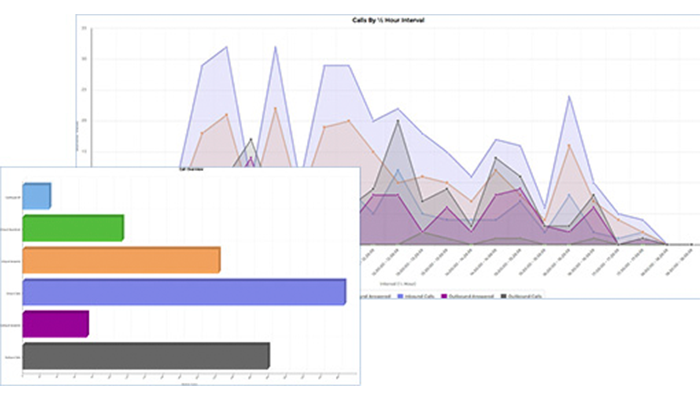 Related Products
Cloud Hosted PBX
Find out why more businesses are moving away from a standard PBX for feature rich cloud hosted telephony.
Business lease Line
Dedicated Leased Lines offer the fastest speeds with consistent bandwidth for data hungry businesses.
Fibre Broadband
Essential high-speed business fibre broadband for UK companies. Compare our reliable fibre broadband deals.
SoGEA Broadband
Find out if you can get SoGEA in your area and benefit from low cost, fast business broadband.
VoIP Phone Systems
Get the best VoIP phone systems that scale with your business offering a full range of features.
Horizon Collaborate
Get the complete business unified communications experience for your business using any device.