Agribusiness IoT tracking solutions & advanced telematics
Advanced IoT telematics for efficient field work control and equipment tracking for the agro-industry. Hecterra can provide precise agriculture GPS data on fields, crop rotation to optimise agriculture operations.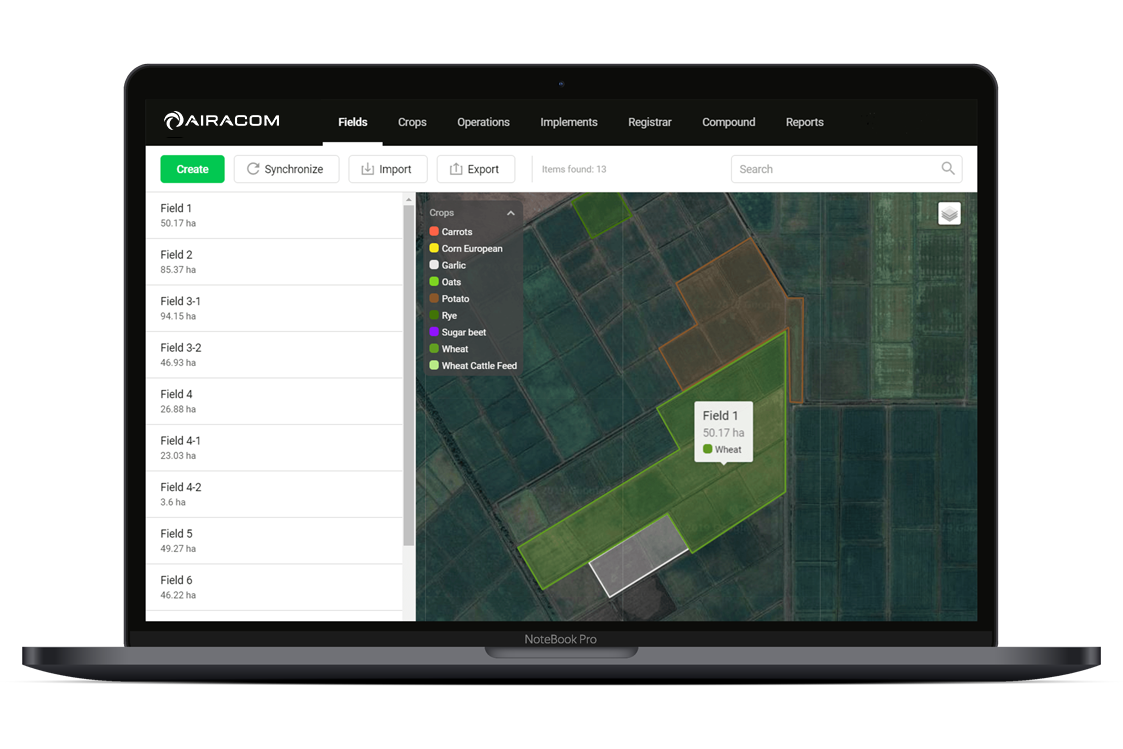 Telematics data for effortless crop rotation control for every field
Hecterra is a comprehensive solution for agriculture businesses enabling farmers to optimise their field operations, improve crop yields, and reduce costs while protecting their farming vehicles from theft and unauthorised use.
Hecterra provides agribusiness solutions that streamline field mapping, crop planning, task management, driver monitoring, and consumable tracking. These tools work cohesively to help farmers enhance operational efficiency and improve crop yields. By leveraging real-time analytics, Hecterra enables farmers to make data-driven decisions, identifying opportunities to optimise resource usage and reduce waste. Valuable insights into fuel, fertilizer, and pesticide usage empower farmers to maximise their resources and drive better business outcomes.
Hecterra Field Monitoring
Stay in control with advanced vehicle tracking solutions
Vehicle Control
Monitor the daily performance of agricultural vehicle operators and obtain clear data on the quality and volume of field operations, as well as the actions of the vehicles.
Reliable Data
Improve work quality and results with Hecterra, which accurately calculates cultivated field areas, including those with complex shapes and uncultivated areas. The solution also detects omissions and overlaps, even when multiple machines are operating in the same field.
Reporting
Hecterra provides detailed information on daily work performance, including cultivated field areas, fuel consumption, and other key parameters. This information can be used for accounting and reporting, saving time for dispatchers and managers on consumables and other related data.
Generate Reports
Hecterra provides API integration with third-party accountancy software, enabling businesses to easily incorporate Hecterra's field management data into their current systems. This integration allows users to save time and streamline field operations.
Solutions for Agribusinesses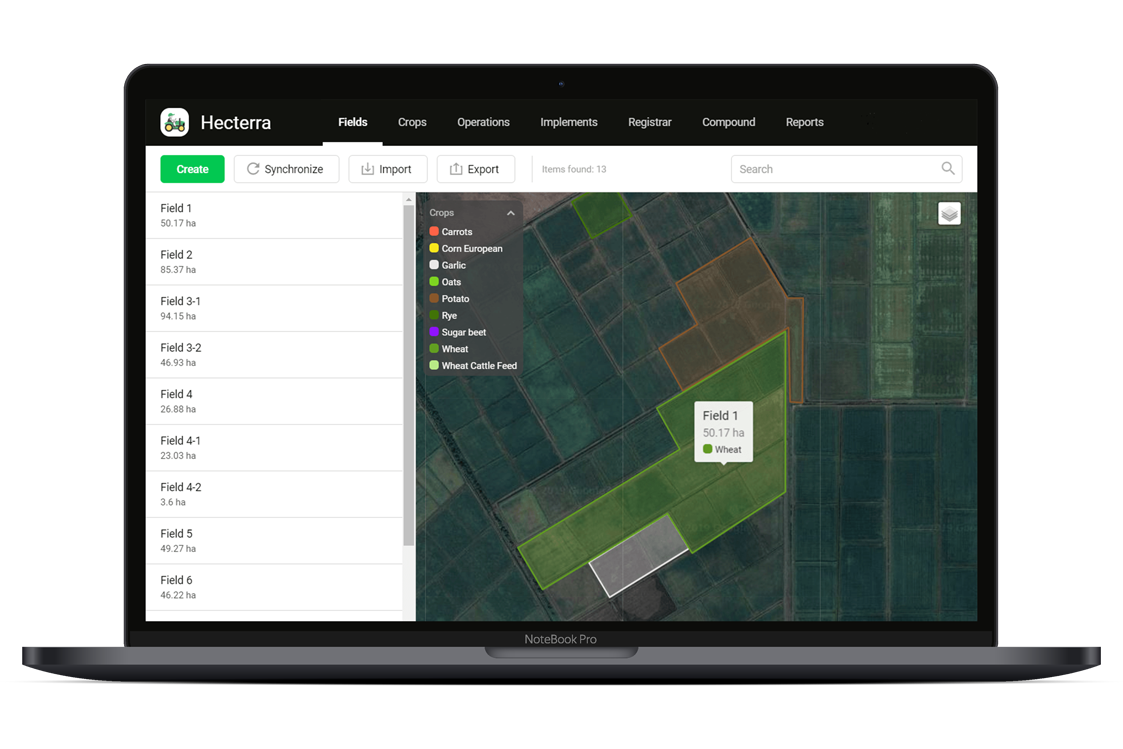 Get more from your crops with advanced field management
The Fields and Crops feature of Hecterra is a tool that helps farmers to manage and monitor their crops effectively. Users can create fields and add information about the crops grown in each field, including crop type, sowing and harvesting dates, and expected yield.
Create fields: Directly in the app or import them from Airacom or the KML, KMZ, SHP files. Export to KMZ and save as PNG.
Create a crop catalogue: The fields on the map are of different colours depending on the crops cultivated, their sowing and harvesting dates.
Crop rotation data: Enter crop rotation data from previous years. Specify the crop, its sowing and harvesting dates. Plan your crop rotation for the upcoming season.
Detailed field history: In the reports section, you can access a comprehensive operation history for each field, providing a detailed record of all the work performed on that field.
Simplify field cultivations with Hecterra IoT telematics
Hecterra's cultivations feature simplifies tracking and managing field cultivation. Get an overview of dates, times, crop types, and areas covered. Assign equipment and operators to tasks, monitor fuel usage and resources, and generate detailed reports. Stay organised with everything in one place for easy access to important information.
Improve efficiency: With real-time tracking and monitoring of field operations, businesses can optimise their workflow, reduce manual errors, and save time and resources.
Enhance crop yields: Accurate monitoring and analysis of field conditions can help identify potential issues and take corrective actions, resulting in better crop yield and quality.
Better decision-making: The detailed reports and analytics provided by the cultivation feature can help businesses make informed decisions based on data and insights, leading to better planning and execution.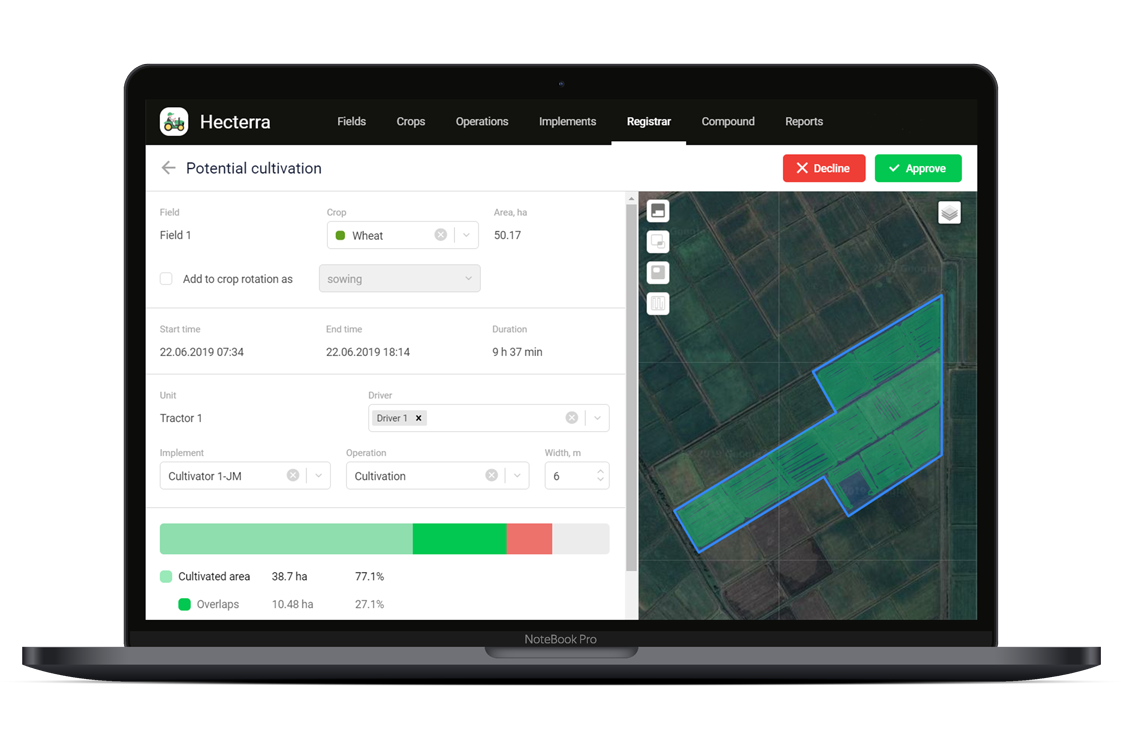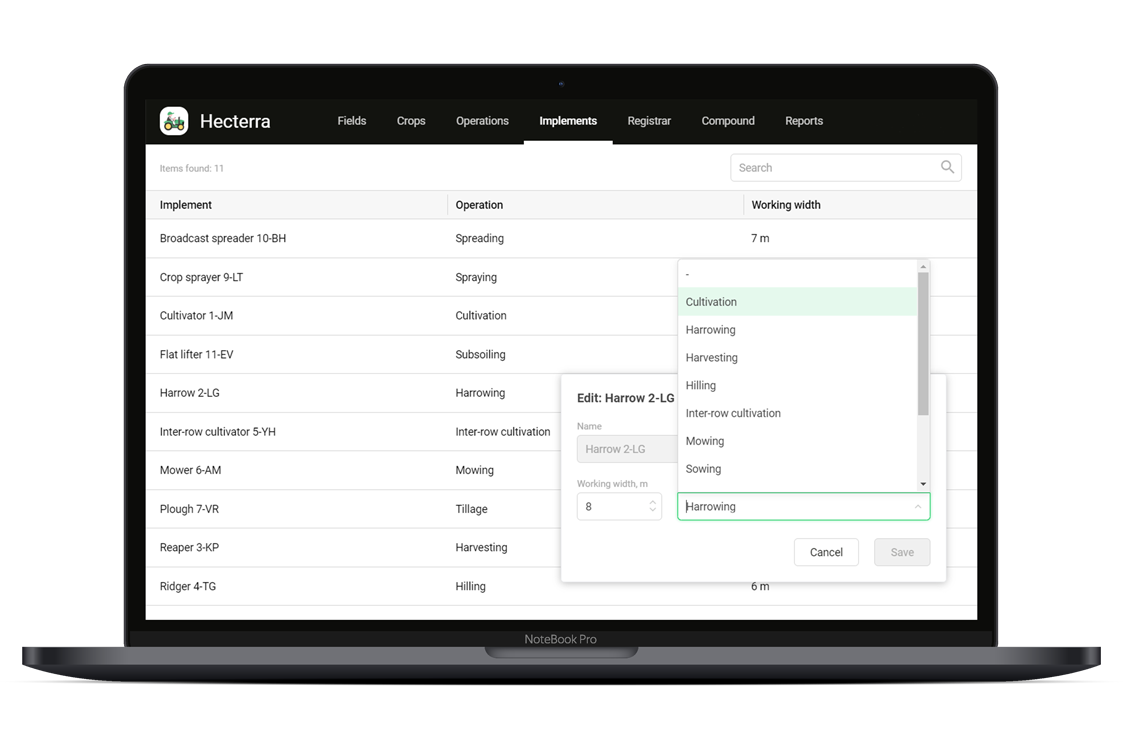 Keep your agriculture vehicles safe & profitable
Hecterra's special vehicles and drivers feature optimises the performance of harvesters, tractors, and agriculture vehicles. It tracks their location and status in real-time, promoting efficient, effective, and safe usage.
Performance monitoring: Monitor driver performance, working hours, and vehicle usage for optimised agriculture fleet performance and productivity.
Data-driven insights: Gain valuable data insights to make informed decisions, improve farming operations, and identify areas for improvement.
Keep track of consumables and run intelligent reports
Hecterra's Consumables feature efficiently tracks and manages the usage of consumable materials in field operations, including seeds, fertilizers, and pesticides. Record consumption amounts per field and generate reports for accurate cost and inventory tracking. Optimise usage and reduce costs for more efficient field management.
Consumable replenishment: Get reminders when your consumables need replenishing, ensuring your field operations are not interrupted due to a lack of supplies.
Unlimited items: Create as many types of consumable items as you need.
Fuel management: Keep track of the fuel being used by each agricultural vehicle.
Edit routes: Edit routes as needed by cancelling orders, transferring them to other couriers, changing the sequence of execution, and more.
Build reports: Reports contain all the data on cultivations, including mileage, omissions, operations duration, fuel consumption, overlaps, maximum and average speed, and additional parameters.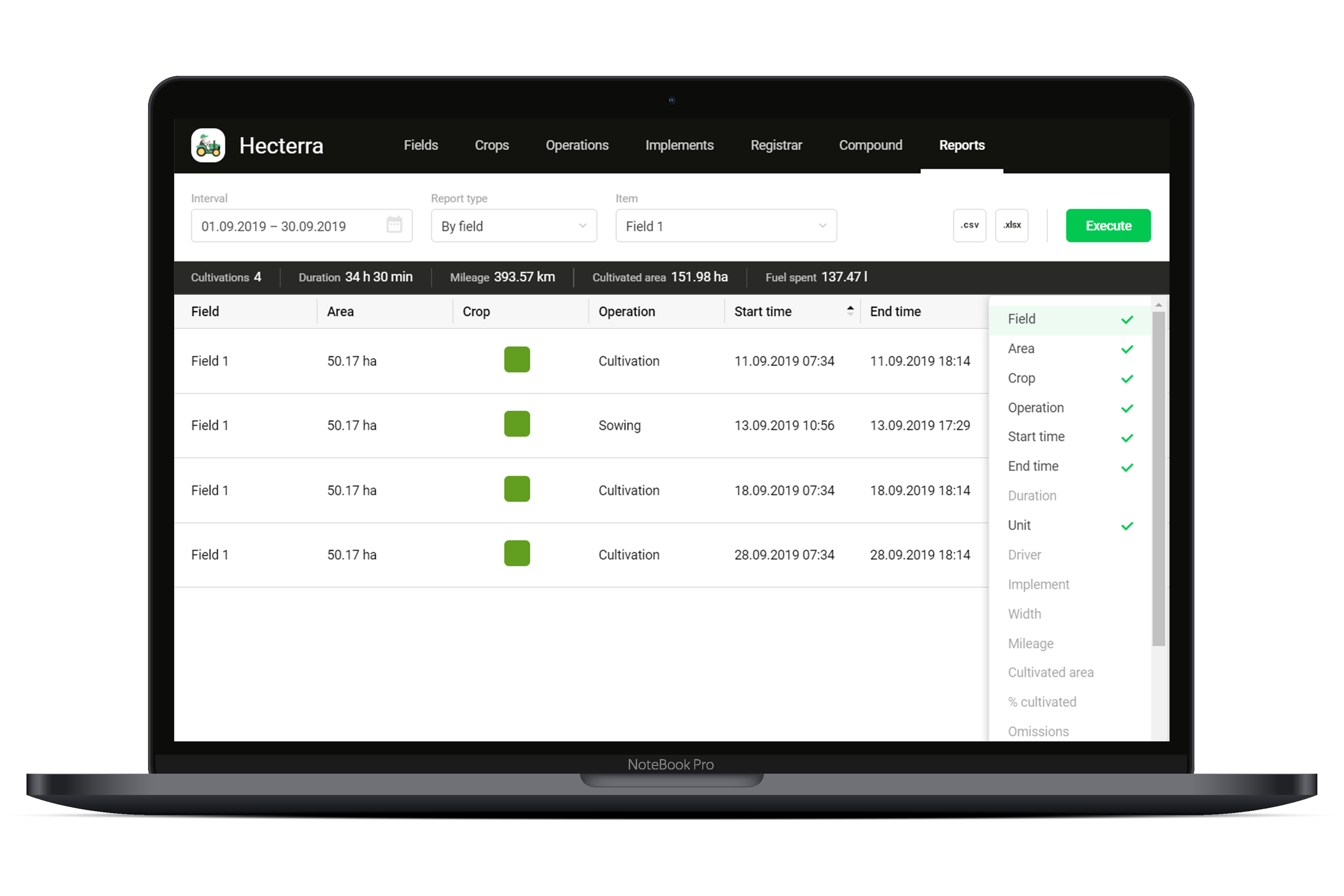 Advanced telematics for tracking vehicles, people and assets
Discover how advanced telematics solutions from Airacom can help you track and monitor your vehicles, people, and assets. Our IoT telematics solutions provide real-time data on location, movement, and status, improving efficiency, reducing costs, and enhancing security. Find out more about our range of advanced telematics solutions today.