Driver Behaviour Monitoring
Gain a competitive edge with vehicle and driver monitoring
Improve your fleet's safety, sustainability, and efficiency with software that monitors driver performance, identifies risks, and highlights opportunities for training. By analysing driver behaviour and identifying areas for improvement, the software can help reduce risks and promote safer driving practices. In turn, this can lead to more sustainable and efficient fleet operations.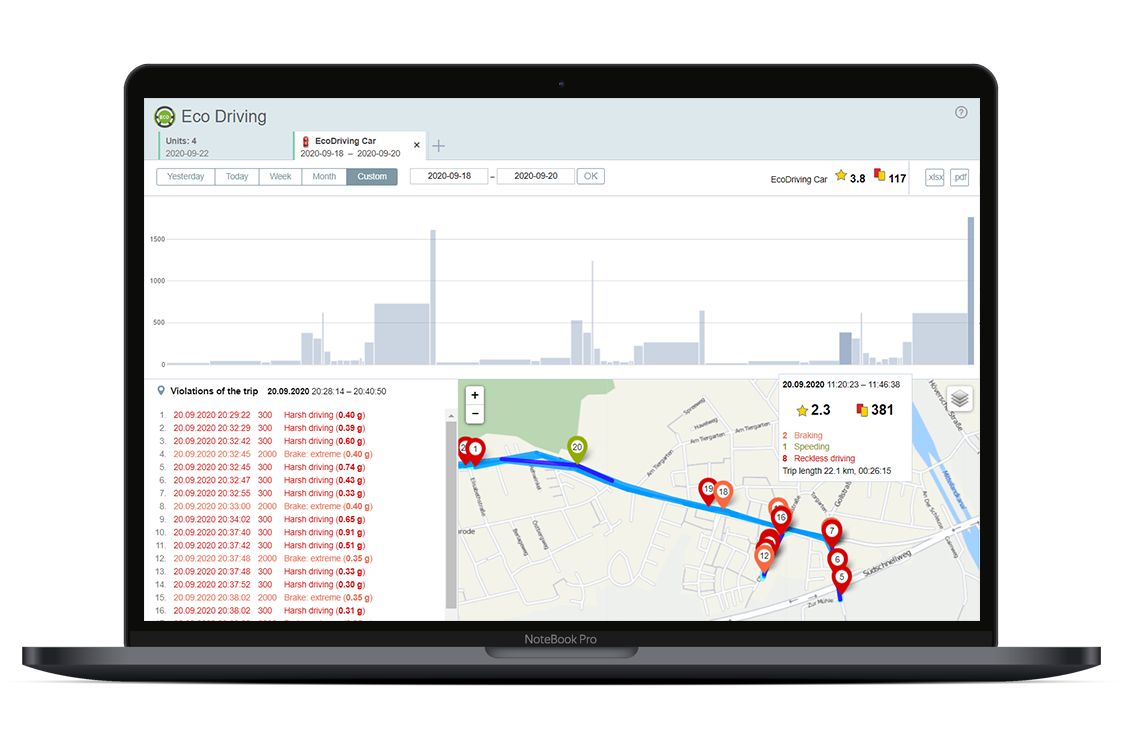 Behaviour monitoring technology can help businesses improve efficiency
GPS tracking solutions have long enabled businesses to track vehicle locations on a map. However, data analysis has become more sophisticated, offering insights into how driver behaviour affects operational efficiency, costs, and overall business performance.
Today, businesses can leverage real-time data to optimise fleet management, promote safer driving practices, and achieve a more sustainable and efficient operation. By embracing driver behaviour monitoring, companies can assess driver performance and track driving violations, including speeding, harsh acceleration and braking, and cornering acceleration, using Airacom's advanced IoT telematics.
Driver monitoring telematics
Gain a competitive advantage with driver & vehicle monitoring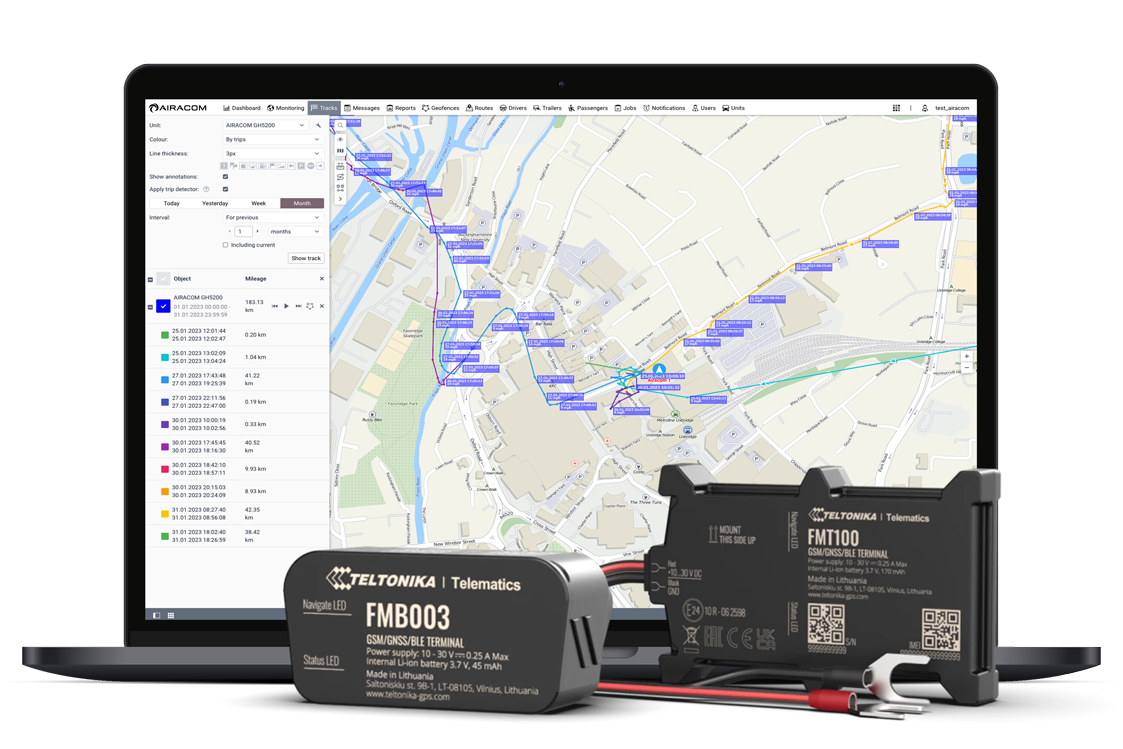 Reduce Fuel Consumption
Driver monitoring tracking can reduce fuel consumption by identifying areas for improved driving behaviour, such as harsh acceleration and speeding.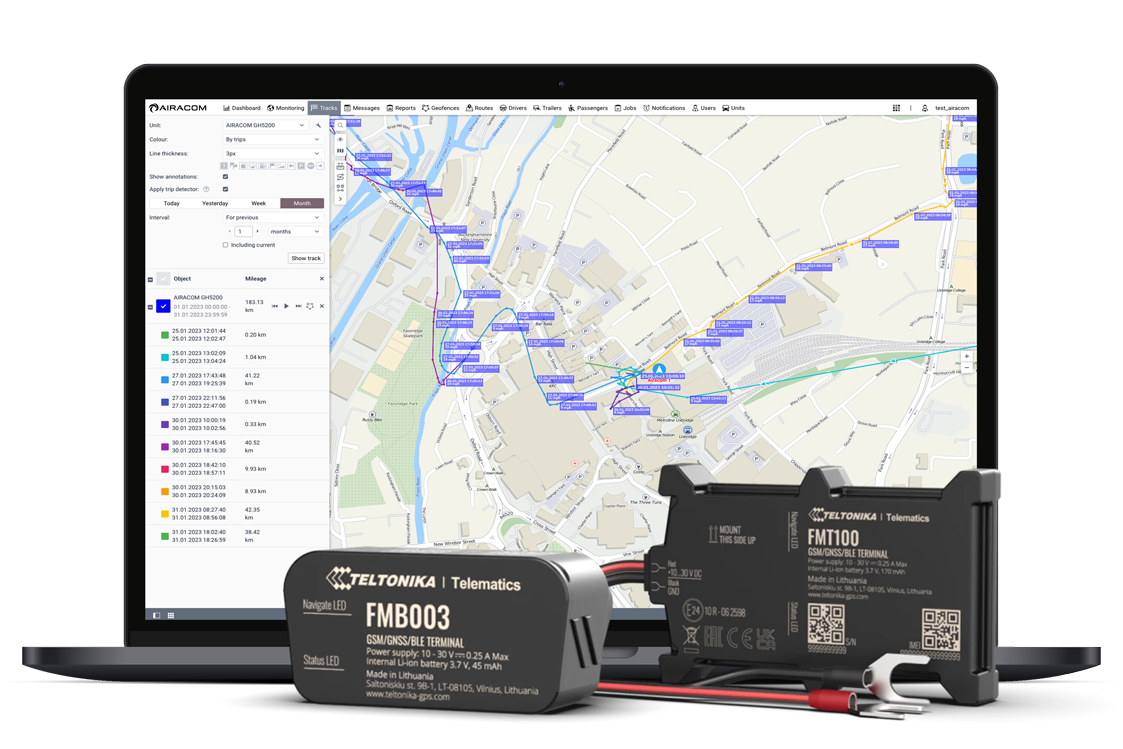 Fleet Safety
Driver monitoring and Eco Driving improve fleet safety by controlling driving behaviour, analysing on-road activity in real-time, and ensuring compliance with safe driving practices.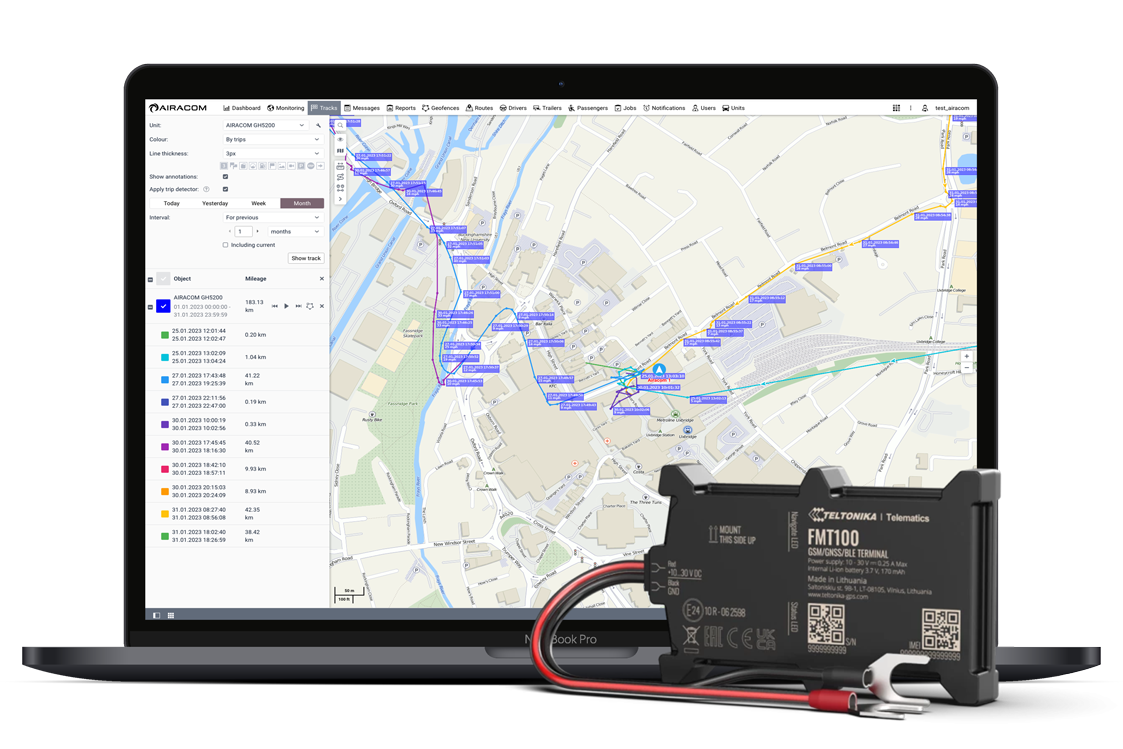 Reduce Maintenance Costs
Reduce vehicle maintenance costs by identifying and addressing behaviours that cause wear and tear, such as harsh acceleration and braking, reducing the frequency of repairs and prolonging the lifespan of the vehicles.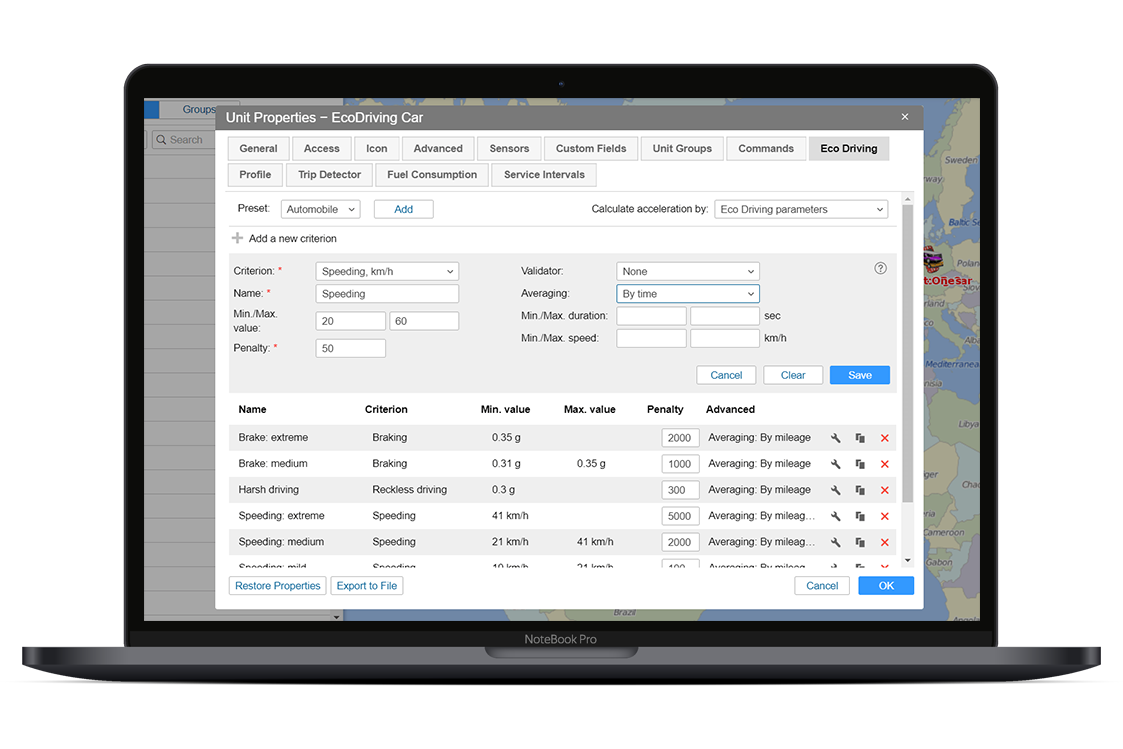 Points based driver scoring to encourage safer, more efficient driving
Take control of your fleet's safety and efficiency with our points-based driver behaviour assessment scoring. By identifying areas for improvement, you can promote safe and efficient driving, leading to reduced fuel consumption and extended vehicle lifespan. Get Real-time feedback on driving habits such as excessive speed and harsh braking. Don't wait to make your fleet more sustainable and efficient – try our driver assessment feature today.
Trip analysis data to optimise your fleet performance with Eco driving solutions
Trip analysis is essential for optimising fleet management, enabling businesses to track driver behaviour and fuel consumption. Airacom's Eco Driving app offers a detailed report with a map and violations table, providing insight into driver ratings based on trip duration. By identifying areas for improvement, companies can promote safer and more efficient driving practices, achieving a more sustainable and efficient fleet operation.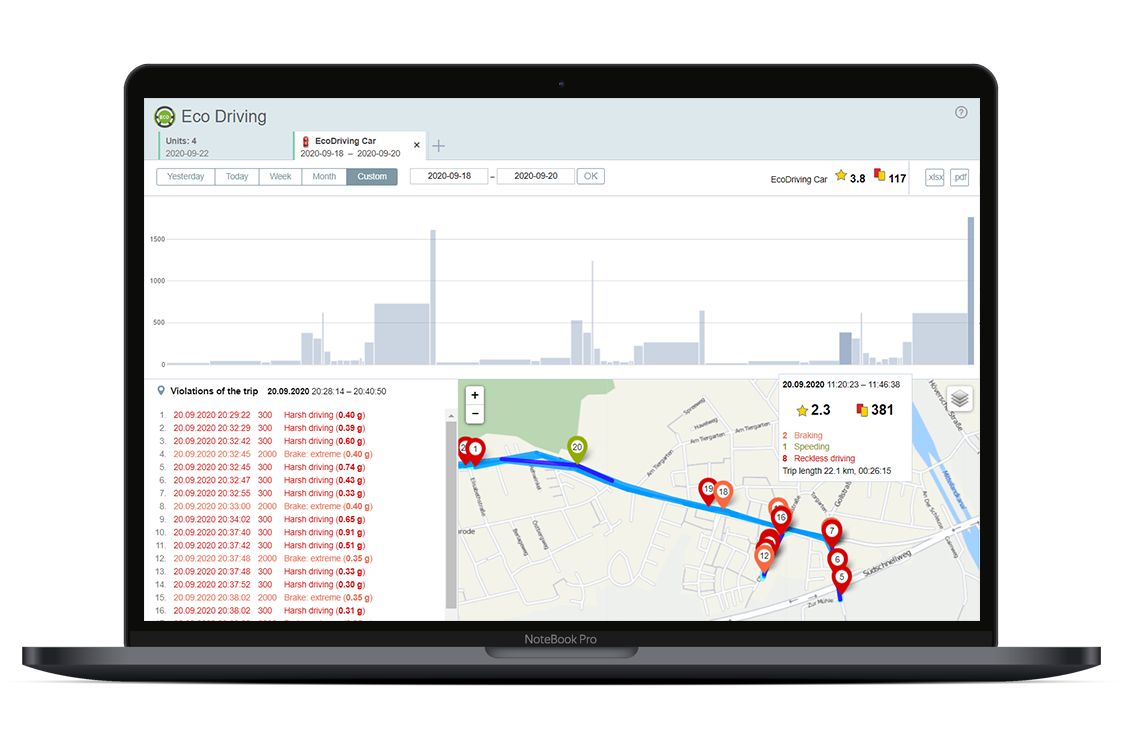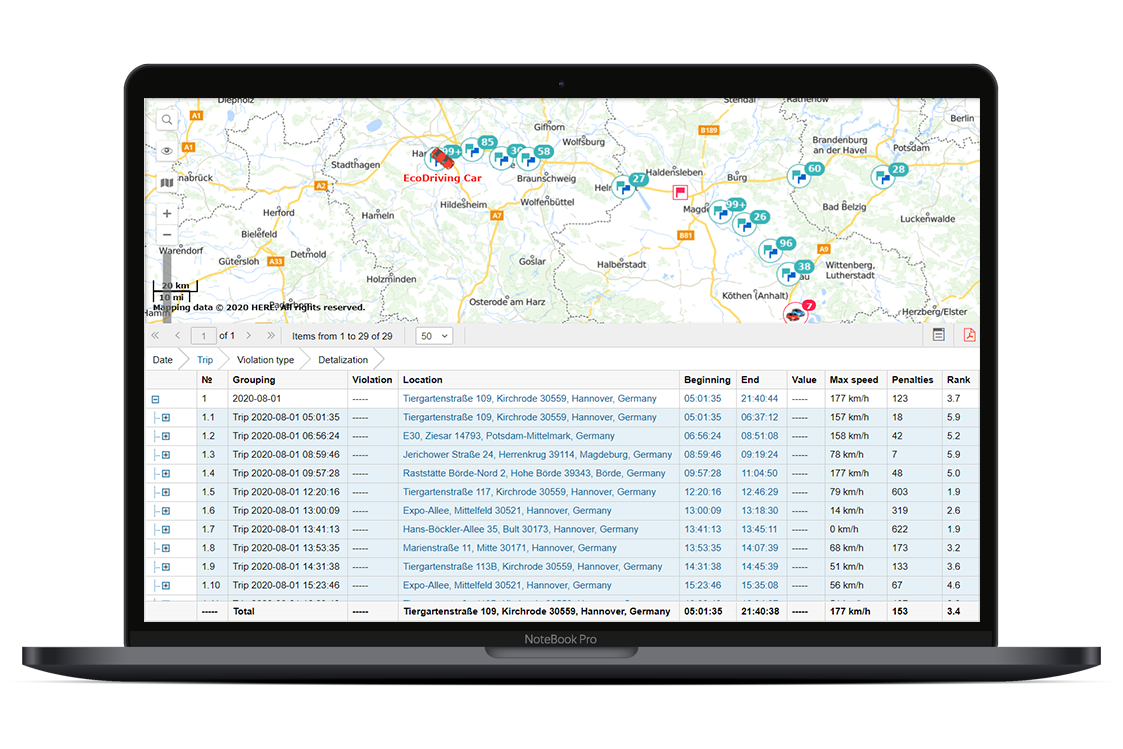 Unlock insights into your fleet's performance with comprehensive driver behaviour reports!
Driver behaviour reports are vital for fleet management, offering valuable insights into driving habits and performance. Airacom's Eco Driving app provides various report types, enabling comprehensive analysis by driver, group, or unit for any period. These reports can be exported for easy review and sharing, allowing companies to identify areas for improvement and promote safe and efficient driving practices. With driver behaviour reports, businesses can achieve a more sustainable and efficient fleet operation.
Optimise your fleet operations with advanced IoT tracking boxes and telemetry!
Advanced vehicle telematics offers valuable information on total miles driven, fuel consumption, idle time, maintenance, driver stops, start and end times, time spent at job sites, and lunch breaks. With data-driven insights into your vehicles, companies can optimise fleet performance, promote safe driving practices, and identify areas for improvement, leading to cost savings and improved operations. Telematics solutions can help businesses achieve long-term success by providing insights contributing to a more efficient and sustainable fleet operation.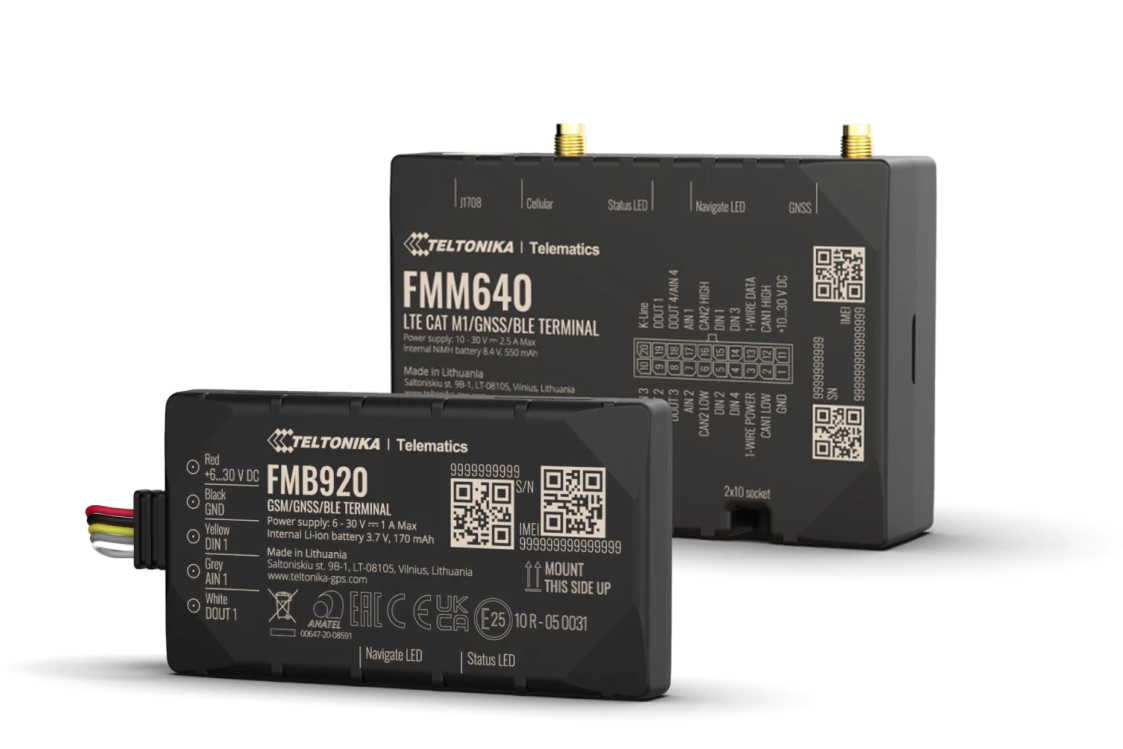 Advanced telematics for tracking vehicles, people and assets
Discover how advanced telematics solutions from Airacom can help you track and monitor your vehicles, people, and assets. Our IoT telematics solutions provide real-time data on location, movement, and status, improving efficiency, reducing costs, and enhancing security. Find out more about our range of advanced telematics solutions today.