4G LTE PoC radio hire, evolve from short to ultra long range voice communications
Planning an event or looking to enhance your business communications? Look no further than our 4G LTE PoC radio hire, designed to provide seamless, reliable, and efficient instant group communication wherever your teams are working.
Discover the numerous advantages our 4G LTE PoC radio rentals offer for both events and businesses and see why the public and private sectors have trusted Airacom for over a decade with professional two-way radio communications.
Why hire airacom lte poc radios
8 Reasons to choose us for your next event two way radio hire
Unparalleled Geo Coverage
Experience seamless push to talk communication across vast distances with 4G LTE PoC radios utilising cellular networks, ideal for events and businesses of all sizes.
Robust Network Capacity
Benefit from uninterrupted voice communication with multiple connectivity modes for network resilience over any 2G, 3G, 4G, LTE, 5G and WiFi network without compromising call quality.
Crystal-Clear Audio Quality
Digital audio encoding delivers noise-free, crystal-clear audio even in challenging conditions, ensuring effective and efficient communication between your events and business teams.
Real-Time Location Tracking
Enhance your team's safety, logistics, and operational efficiency by monitoring the real-time location of personnel and assets with GPS-enabled PoC radios.
Seamless Mobile Device Integration
Effortlessly connect PoC radios with various communication systems, including mobile phones, tablets, and computers for seamless collaboration from the field to your control room.
Advanced PoC Radio Features
Get flexibility with instant group collaboration features, including desktop PC dispatchers, secure encrypted group voice and messaging, and call recording tailored to how you work.
Radio Hire Cost Efficiency
Rent 4G LTE PoC radios from Airacom and access advanced communication features while minimising your expenses and avoiding long-term two way radio infrastructure costs.
Businesses in the UK Choose Us
UK businesses prefer Airacom for 4G LTE PoC radio rentals due to our exceptional service, advanced communication solutions, and cost-effective, plans that boost efficiency.
Hire 4G LTE Poc Radios today
Meet our professional 4G LTE PoC radio hire team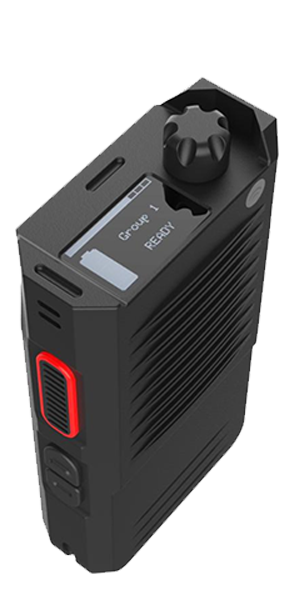 SD7 WiFi
Long-Term PoC Radio Hire
Monthly from
£29.95
/month incl charger
All prices ex VAT, unless stated otherwise. Finance subject to status on long-term radio rentals and subject to a credit check, 18+, Direct Debit. Standard 36-month contract, SD7 Plus PTT only, does not include SIM services.
Who's hiring PoC radios? Explore the businesses who benefit from 4G LTE push to talk solutions
Airacom push to talk over cellular (PoC) radios have revolutionised the way businesses communicate, providing a reliable and efficient communication solution that can be utilised across large geographical areas without the need to buy and maintain expensive two-way radio infrastructure, or two-way radio licences.
Construction Companies
Managing remote work sites, coordinating complex teams, and maintaining worker safety pose significant challenges for construction companies. Hiring 4G LTE PoC radios can provide reliable seamless communication between teams and subcontractors onsite and offsite. Enhancing collaboration is critical to project delivery, increasing efficiency and ensuring safer working environments.
Remote and changing job sites often lack stable communication infrastructure.
Coordination between multiple teams and subcontractors can be complex.
Ensuring worker safety in hazardous environments is critical.
Transportation and Logistics
Coordinating drivers, adapting to changing conditions, and managing safety is a top priority for transport managers. PoC radios facilitate real-time communication between dispatchers and drivers, enabling efficient route updates and rapid responses to emergencies. This leads to improved safety, customer satisfaction, and overall operational efficiency.
Facilitate real-time communication between dispatchers and drivers, regardless of distance.
Enable immediate updates on traffic conditions or delivery changes, increasing efficiency.
Provide an instant communication channel during emergencies, allowing for quicker response times and potentially saving lives.
Event Management Companies
Coordinating multiple teams, overcoming communication barriers, and addressing safety concerns make running events challenging. Airacom's instant 4G LTE PoC radio hire can improve coordination ensuring seamless event execution and prompt responses to safety or security issues between event organisers, teams, and vendors,
Allow event organizers to communicate with teams, vendors, and volunteers instantly, enhancing coordination and efficiency.
Provide a stable communication network that can overcome physical barriers or signal interference.
Enable rapid communication during emergencies or security incidents, ensuring prompt response and resolution.
Oil and Gas Companies
Remote locations, complex operations, and worker safety make the oil and gas industry one of the most dangerous operations in the world. Airacom PoC services can be seamlessly integrated across rugged and intrinsically safe mobile devices, giving oil and gas companies the flexibility of reliable ultra-wide area communications to connect their team, supervisors, and emergency services in real-time across high-risk environments.
Offer reliable connectivity even in remote areas with poor or no cellular coverage.
Facilitate real-time communication between workers, supervisors, and emergency services, enhancing collaboration and operational efficiency.
Provide instant communication during emergencies, allowing for quicker response times and potentially saving lives.
Hospitality Industry
Staff coordination, guest needs, and safety concerns are major reasons why the hospitality industry can benefit greatly from PoC radios, particularly in large resorts and hotels. Hiring the right PoC radios, enables hotel staff to communicate with each other in real-time, improving response times, responding to security incidents and increasing overall guest satisfaction.
Enable hotel staff to communicate in real-time across departments, improving collaboration and response times.
Provide instant communication channels for addressing guest needs and requests, increasing guest satisfaction.
Allow security teams to quickly respond to incidents, enhancing the overall safety of guests and staff.
Airacom PoC radio hire solutions for teams
PoC Radio Leasing
Our PoC radio leasing offers a cost effective, flexible and tax efficient method of purchasing 4G LTE PoC Radios.
Rent or Hire PoC Radios
Working on a project and need to build in a reliable comms solution, request a quote today and we'll be in touch.
Upgrade your Radio System
Looking to upgrade your existing outdated two way radio sysetm? – Our team can help advise what's best for you.
Vehicle Push to Talk
Airacom's vehicle push-to-talk PoC radio leasing allows seamless communication on the go, improving fleet management.
Two Way Radio Rental
Two-way radio rental offers a reliable, scalable, and cost-effective communication solution for short-term projects and events.
People Tracking
People tracking software provides real-time location data, improving safety, productivity and asset management utilisation.
Airacom push to talk: Expansive national coverage across All IP networks
Our push-to-talk solutions offer extensive coverage, replacing traditional two-way radios. Perfect for large enterprises, our group communication solutions ensure immediate, secure connections, cutting-edge features, and efficient operations.