Drive productivity and reduce costs: Resource management software
Resource management software to help organisations efficiently allocate and manage their people, tasks and locations. Changing workforce dynamics, hybrid working and remote operations are forcing companies to change how they work, leading to better resource management technology to help them plan.
Airacom resource management software is purpose-built to meet the needs of a distributed workforce, offering a feature-rich suite of tools to manage employees while reducing manual tasks. Enhance your field operations with voice collaboration, compliance, checklists, incident reporting, task creation, and time and attendance monitoring in one platform.
According to a study by the Aberdeen Group, companies that utilise workforce management software see a 22% increase in productivity and a 30% decrease in labour costs. In addition, a report from McKinsey Global Institute found that companies that embrace digital technologies such as workforce management software see a 5-15% increase in productivity and a 20-50% reduction in employee turnover.
Design checklists to meet onsite processes and compliance procedures
Reduce the risk of non-compliance with checklists to help streamline your compliance efforts by providing a clear, concise, and standardised set of guidelines for your team to follow. This helps to reduce the time and resources required for compliance activities, enabling your workforce to focus on their job.
Set checklist reminders before, during, and at the end of shifts. Completed checklists can be stored and used as evidence or reference points or provided to customers within your reports to demonstrate work completed.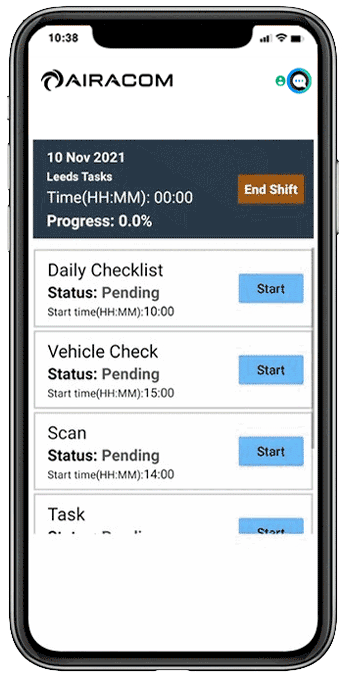 Manage your team's tasks in one flexible platform
Stay organised and efficient with powerful task management. Make it clear who's responsible within your team for what and when. Task templates are easier and more efficient than emails for keeping track of your work.
Engineering – Issue tasks to complete jobs or oversee and sign off mechanical projects or stages. Prioritise tasks, set due dates and check statuses at a glance
Construction – Constructing a building takes a lot of work. Automate tasks to keep track of your construction jobs and keep your sites running smoothly with daily tasks.
Security – Security guards act as a first line of defence for a property or premises. Keep your guards proactive with building and perimeter checks.
Retail – Collaborate seamlessly with your team from the shop floor to the back office and assign tasks to complete store audits, stock checks, visual merchandising, and simplify back office tasks.
When situations occur, give your teams the fastest and easiest way to document and log incidents
According to a report by SafetyCulture, only 35% of workplace incidents are reported within 24 hours, and 14% of incidents are not reported until over a week has passed. Reduce the need for manual processes and build customised incident report forms to handle any scenario.
Customise incident report templates to fit how you work
Each incident report captures location data and time
Preconfigure your site locations
Incident reporting with compliance built-in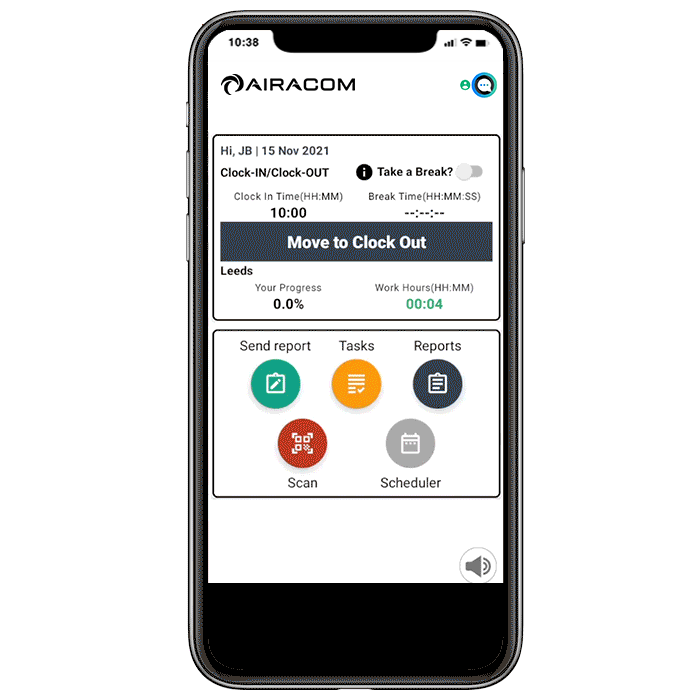 Connect frontline workers with back office operations for streamlined collaboration
Establishing a culture of collaboration within your organisation can foster a deeper connection between frontline workers and back office operations. Our multi-channel workforce management contact centre offers powerful instant voice, messaging, and resource management features that take the guesswork out of managing geographically dispersed teams of hundreds or thousands of workers.
Dispatch console two-way voice communication
Emergency alerting and man down
Broadband push to talk with near global coverage
Combine Airacom's push to talk with the resource management platform for near-global collaboration between your 3G, 4G, LTE, 5G and WiFi network with resource management software to better plan your daily operations.
Real-time communication: PTT enables instant communication across global teams, speeding up decision-making, issue resolution and improving overall efficiency.
Improved collaboration: PTT enhances collaboration, increases productivity, and reduces errors by enabling real-time communication and coordination among team members.
Enhanced safety and security: PTT enhances safety and security for workers in hazardous locations by enabling quick and easy real-time communication, emergency response, and accident prevention.
Resource management features to maximise workforce efficiency
Workforce & user management
One integrated solution to combine user task & shift management with Push to talk, SMS, video, reporting and more.
Professional guard patrol system
Capture QR, NFC, BT, and GPS checkpoints in the field or inside the building with randomised routes & real-time user location.
Skills based assignments
Put your most qualified personnel on every job and assign tasks to the most suitable person with the relevant skill set.
Role-based alert architecture
Alert the right people at the right time according to their role with advanced role based alerting to increase efficiency & safety.
Real-time user tracking
Track users outdoors and indoors via Bluetooth beacons, GPS and mobile signals for user safety and business efficiency.
No connection offline mode
When your teams enter a location without coverage, data is stored locally and updated once connectivity is restored.
Advanced (BI) intelligence
Running busy field-based teams requires reports, dashboards and predictive data analytics to fully understand probabilities.
User attendance monitoring
Get real-time location of your staff with smart geofence shift clock in and outs, break start and return times with reports.
Explore services to help your team connect and collaborate more effectively
Push to talk over WiFi
Push to talk (PTT) over WiFi uses the existing wireless network and access points for resiliency and redundancy.
Real Time Location Services
Real time location services for indoor and outdoor tracking of personnel, assets and vehicles.
Push to Talk Software
Group communication over a highly secure wide area cellular network with national & international coverage.
LTE PoC Radios
Buy, rent or lease the latest next generation LTE PoC radios, or combine them with our PTT plans.
Rugged Smartphones
Save money on your industrial rugged smartphones and get the best tech for your business.
PoC Radios
Reduce your costs and remove your dependency on two way radios with Airacom LTE PoC radios with near national coverage.
Enhance your team's performance with fast business broadband
Efficient resource management software relies on reliable high-speed business broadband. Airacom's on-premise business connectivity services provide the speed, coverage and resilience needed to run critical applications to streamline your operations.
Scalable Coverage
Managed WiFi Services
Push to Talk over WiFi
Access Point Installation & Management
Security and Wireless Network Resilience