Optimise your field operations with real time data and voice collaboration
Outdated infrastructure, inefficient labour utilisation, data-gathering obstacles, poor communication, and inherent unpredictability pose significant challenges for the utility sector.
The utility sector faces significant challenges related to its outdated infrastructure, inefficient labour utilisation, data-gathering obstacles, poor communication, and inherent unpredictability. These challenges can result in service disruptions, safety concerns, and environmental impacts, which can harm the utilities' reputation and result in financial losses. Outdated infrastructure, in particular, can lead to failures and outages, which can cause significant inconvenience to customers and may even threaten public safety. Inefficient labour utilisation can result in additional expenses, reduced productivity, and suboptimal service delivery. Poor communication can lead to delays and errors, while data-gathering obstacles can limit utilities' ability to make informed decisions and predict demand.
To address and overcome these challenges, utilities can adopt a unified communications and enterprise mobility approach. This approach involves integrating different communication channels, such as voice, video, and messaging, into a single platform that employees can access from any location and device. This enables real-time collaboration, quicker decision-making, and more efficient communication, which can help utilities respond more effectively to service disruptions, safety incidents, and environmental issues. By providing employees with mobile devices and apps, utilities can also improve their mobility and enable them to access critical information, work remotely, and report issues from the field. This can lead to improved efficiency, productivity, and service quality, as well as better employee satisfaction and retention. In addition, unified communications and enterprise mobility can enable better data collection and analysis, which can help utilities optimise their operations, forecast demand, and reduce costs.
Utility operator Challenges
Legacy Systems:
legacy IT and communication systems pose significant challenges for utilities, including difficulty in integrating new technologies, lack of scalability, security risks, and limited mobility. These challenges can hinder innovation, limit agility, and result in higher costs and suboptimal performance. It is important for utility operators to address legacy systems and invest in new cloud based solutions, mobile applications and IoT devices and technologies that can replace and compliant legacy systems.
Skilled Labour :
Utility companies are facing a skilled labour shortage as experienced workers retire, making it challenging to attract and retain talent in a competitive labour market. To address this, utilities must invest in training and development programs to ensure their workers have the necessary skills. Rugged mobile devices can provide significant benefits, enabling engineers to access critical site information and gain support in real time, improving their efficiency and accuracy in diagnosing and addressing issues.
Communication:
The lack of communication and collaboration tools can be a significant challenge for frontline utility engineers, particularly when it comes to managing assets and coordinating activities in the field. Airacom push-to-talk, unified communications, and rugged mobile devices can all play a role in overcoming these challenges with real time voice and messaging collaboration combined with access to internal ERP systems, customer information and diagrams to work on the problem on the first visit.
Unpredictability:
The impact of extreme weather and natural disasters can result in reactive maintenance and worker safety risks, requiring utility companies to balance the need for restoring services with safety and access challenges. Adopting digital transformation can help companies stay ahead by enabling predictive maintenance and real-time data analysis, while mobile devices provide access to critical information and intrinsically safe tablets ensure worker safety in hazardous environments.
Maximise your field worker collaboration with push to talk technology
Airacom Push to Talk (PTT) is a communication solution that enables instant, one-to-one or one-to-many voice communication over cellular or Wi-Fi networks. Utility companies use Airacom PTT to improve field worker collaboration and increase operational efficiency
Instant communication: Airacom PTT enables utility field workers to communicate instantly with their head office and dispatch teams to coordinate tasks or respond to service requests leading to improved customer satisfaction and operational performance.
Group collaboration: Utility projects often require multiple engineers working across large distances. Airacom PTT enables multiple engineers to communicate using talk groups, facilitating the coordination of large-scale projects or responding to emergency situations.
Location monitoring: Dispatch operators can get real-time location visibility of your engineering team to provide engineers with technical support or respond faster to emergency situations or service requests.
PoC Radios
POC radios offer instant communication over cellular or WiFi networks, improving worker safety and productivity for utility field operations.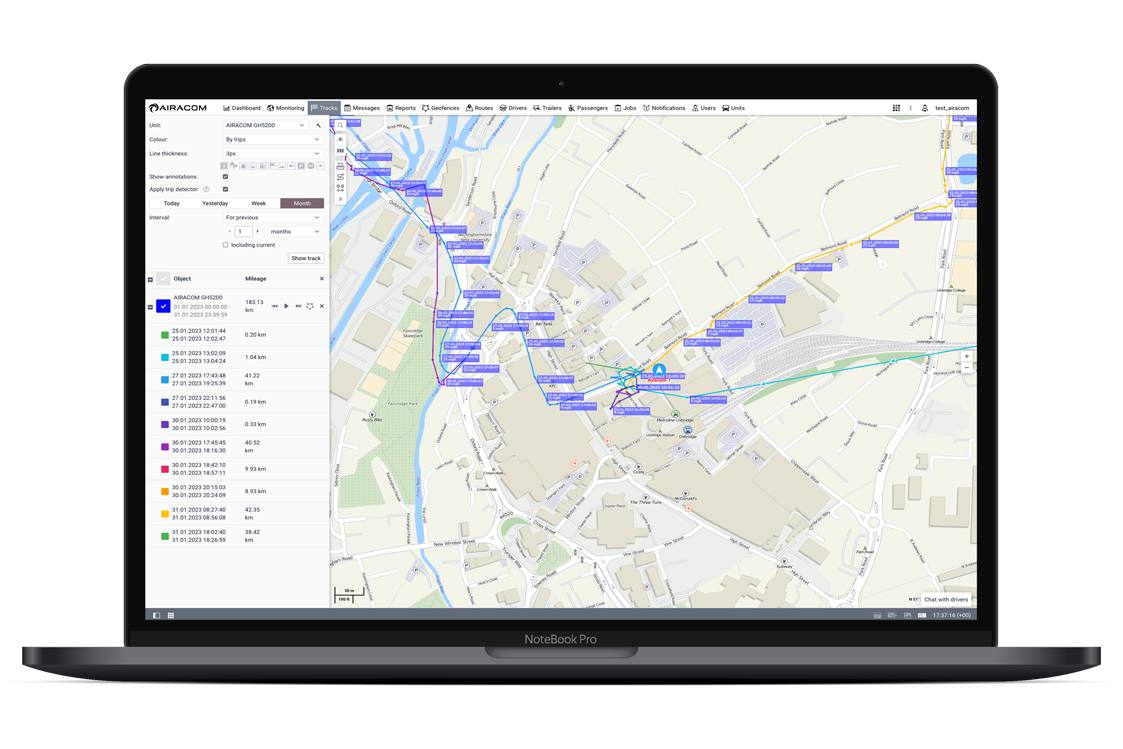 Advanced fleet tracking for utility field operations to improve vehicle & asset visibility
The reliable operation of public and private utilities is essential, but it can be a challenging task for utility companies to monitor a large number of vehicles, and equipment regionally or nationally. Airacom's GPS tracking system provides the live location of all vehicles and assets tracked and can improve your operational efficiency, reduce costs, and deliver better service to your customers.
Track your manufacturing vehicle fleet
Real time people tracking and resource management
According to data from the UK Health and Safety Executive (HSE), there were approximately 69,000 non-fatal injuries and 16 fatal injuries to workers in the manufacturing sector in the UK in 2020/21. In addition to 342K nonfatal injuries and 416 fatal injuries in 2019 according to data from the US Bureau of Labor Statistics (BLS) within manufacturing.
The high incidence of workplace injuries in the manufacturing industry underscores the importance of using personnel location systems to monitor the location and safety of employees. We provide a wide range of personnel location systems which can provide real-time data on the whereabouts of workers, allowing managers to quickly identify and respond to safety incidents, such as accidents or emergencies. By using personnel location systems, manufacturing companies can improve their safety performance and reduce the risk of workplace injuries and fatalities.
Manufacturing location ID badge
services for utility operators
Professional voice and data services for manufacturing
Push to Talk
Replace two way radios with Airacom APTT push to talk offering near national coverage over any IP network.
Workforce Management
Enhance frontline safety with location monitoring, geofence clock, clock out, incident reporting, and job allocation.
Cloud VoIP
Reliable cloud hosted phone systems for your manufacturing companies looking to establish a hybrid and remote work model.
Connectivity
Get superfast business broadband to run your manufacturing facility, software and cloud applications and services from Fibre to SD-WAN.
Business Mobile
Improve site productivity with the right mix of rugged devices using a business only 4G and 5G superfast network.
Manufacturing WiFi
Manufacturing business WiFi is packed with features, security and flexibility your business needs with built-in failover.
Featured Resources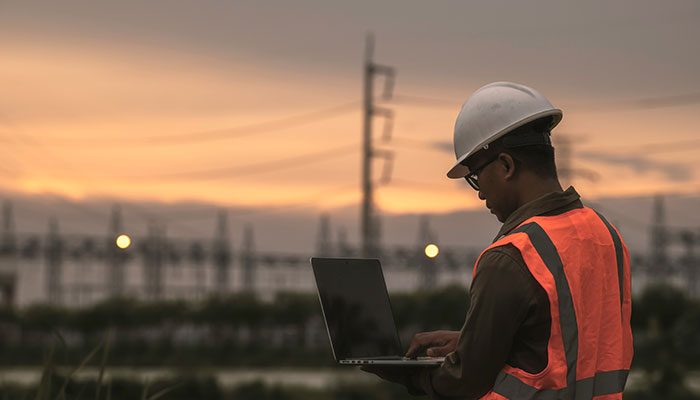 Mobilise your workforce
Replace two-way radios with Airacom push to talk offering near national coverage over any IP network.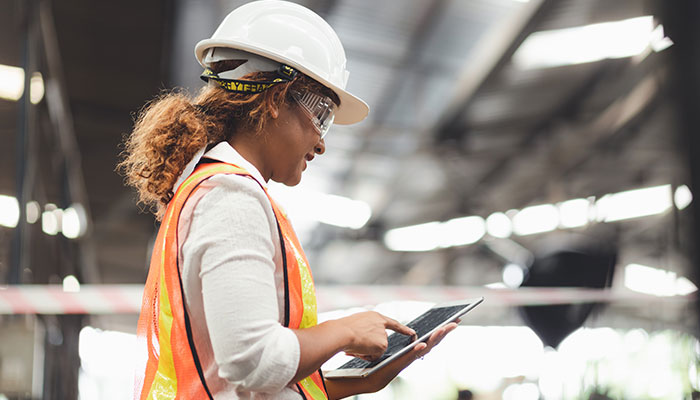 Connect your project site
Utilise IoTs and Sensors to gain real-time data analytics across your sites to make informed business decisions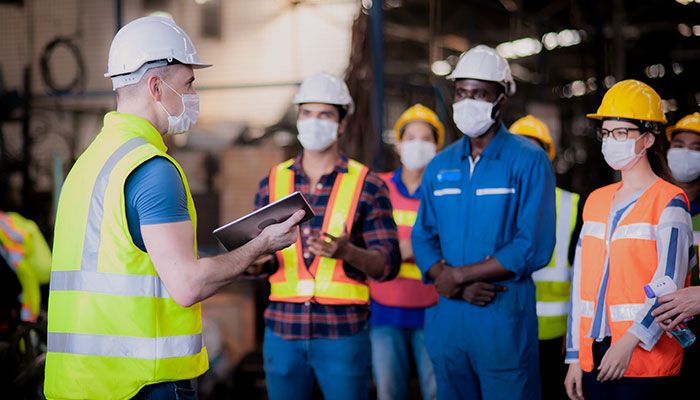 Protect your team
Enhance workforce safety with location monitoring to better manage employees operating remotely or alone