Maximise your fleet efficiency & minimise costs with our fleet tracking system
Experience the power of our next-generation IoT fleet tracking system to comprehensively manage your entire vehicle fleet. Gain real-time monitoring and data analytics by leveraging IoT telematics technology to optimise your resource allocation, enhancing productivity and efficiency effortlessly.
Fleet tracking provides real-time information on the location, speed, and direction of multiple vehicles in a fleet. This allows fleet managers to optimise routes, monitor fuel consumption, and improve driver behaviour. Fleet tracking also provides visibility into the overall health of the fleet, such as maintenance schedules and repair needs.
From small vans to heavy goods vehicles and plant equipment, we can track it all

Transport
This includes trucking, delivery, and courier services, where fleet tracking is essential for managing routes, monitoring driver behaviour, and ensuring timely and accurate deliveries.

Construction
Fleet tracking monitors heavy equipment and vehicles, schedules maintenance, and improves safety on job sites while keeping operations moving forward with real-time decision-making.

Field Service
Companies with a mobile workforce, such as those providing HVAC, plumbing, or electrical services, use fleet tracking to manage their vehicles and workers in the field.

Utilities
Energy, water, and telecom's companies use fleet tracking to manage their mobile workforce and ensure efficient and effective service delivery while maintaining engineer safety compliance.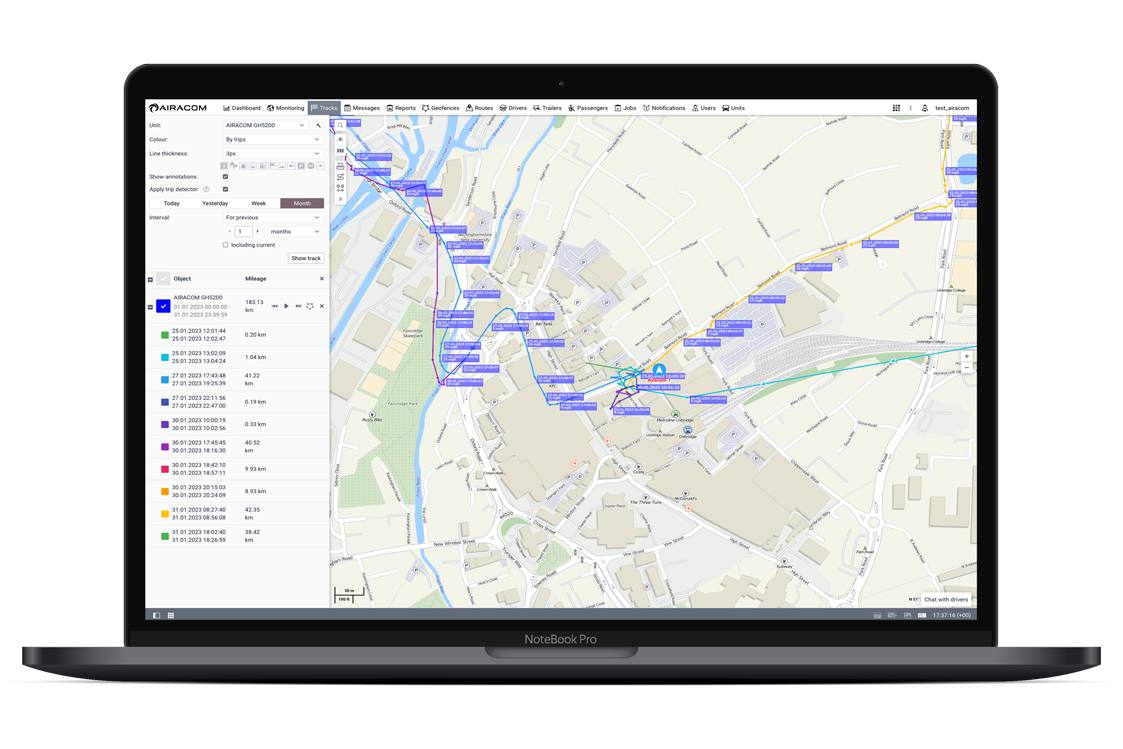 Comprehensive vehicle fleet management solution
Monitoring and managing your fleet vehicles is crucial for improving safety, increasing efficiency, and saving money. Fleet tracking systems are essential for companies with transport, logistics and field services to optimise their operations and maximise profitability.
Increase driver safety
Reduce fuel consumption
Precisely track fleet vehicles
Optimise routes
Improve fleet sustainability
Monitor vehicle fleet health
Cut your fleet management costs today! with Airacom fleet tracking for professional drivers
A survey by the Aberdeen Group indicates 80% of service organisations implementing fleet management solutions have seen a 28% improvement in driver compliance and an 11% reduction in maintenance costs. These organisations have reported a 12% increase in overall service profitability, highlighting the importance of fleet tracking.
Fleet tracking system: A GPS fleet tracking system offers real-time vehicle location data to monitor and manage your entire fleet.
Driver behaviour: Encourage safe driving habits to reduce the risk of accidents and lower fuel consumption by identifying driver behaviour and areas for improvement.
Vehicle maintenance: Prevent breakdowns and prolong the life of your vehicles. Use fleet tracking to track maintenance schedules.
Optimise routes: Use real-time data to optimise routes and reduce travel time, saving on fuel costs and increasing overall efficiency.
Improve collaboration: Combine fleet tracking and Airacom Push to Talk to improve communication between drivers and dispatchers, leading to faster response times and improved customer service.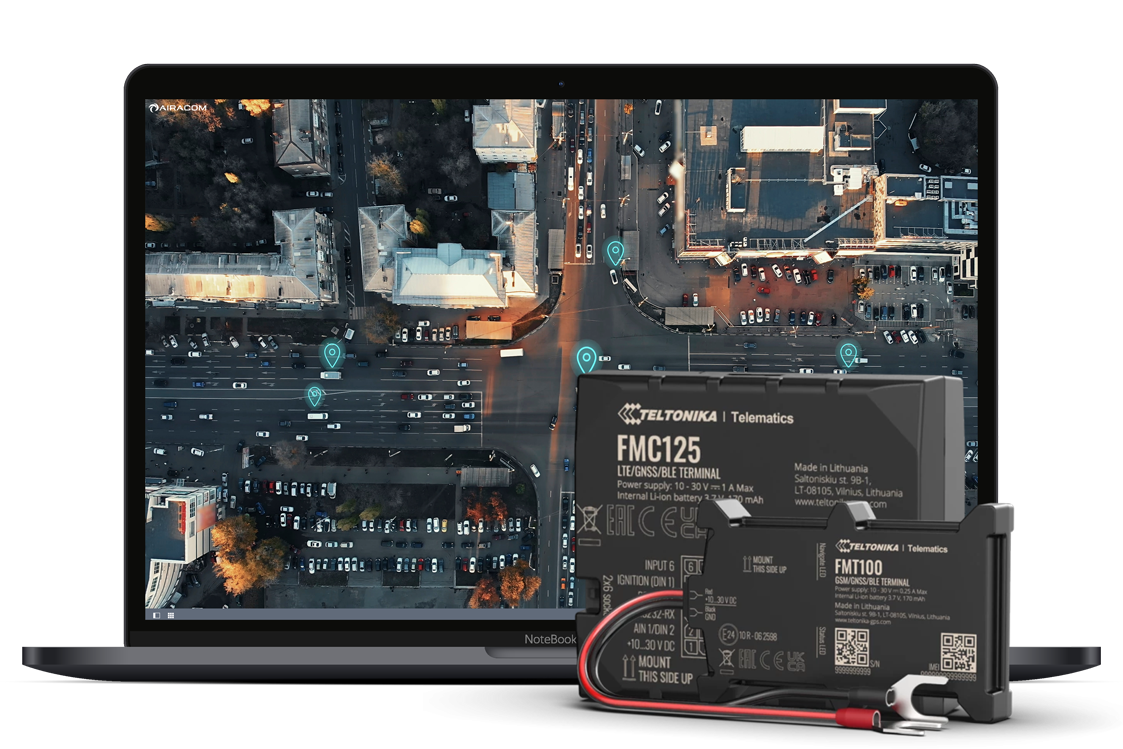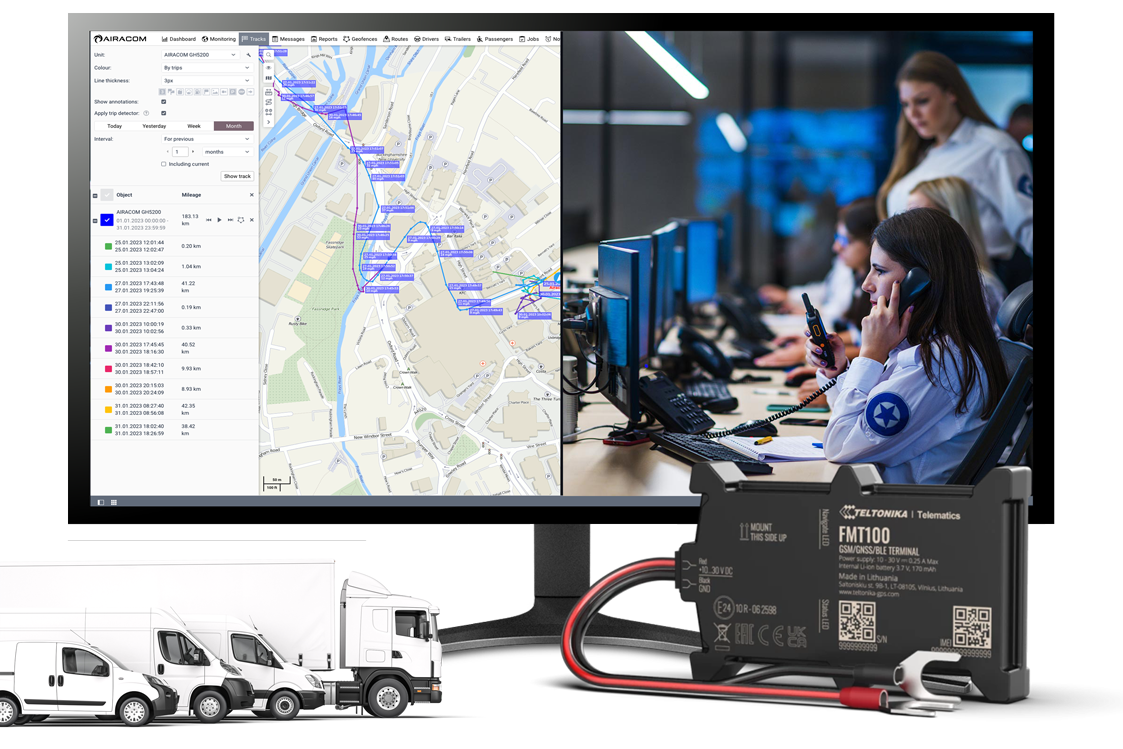 Fleet dispatchers face a range of challenges on a daily basis
Fleet dispatchers must manage multiple tasks, from optimising routes and monitoring driver behaviour to handling emergencies and customer service issues. Real-time vehicle data and effective communication are crucial for efficient fleet operations.
Route optimisation: Dispatchers must plan the most efficient routes for their drivers, considering traffic, road conditions, and delivery schedules.
Vehicle breakdowns: When a vehicle breaks down, it can disrupt the entire schedule, leading to delays and lost productivity.
Driver safety: Dispatchers must ensure their drivers are safe on the road and adhere to traffic laws and company policies.
Communication: Keeping lines of communication open between drivers, dispatchers, and customers can be challenging.
Meeting customer expectations: Dispatchers need to ensure that deliveries are made on time and in full and that customers are satisfied with the service they receive.
Managing costs: Dispatchers must balance the need for efficient operations keeping costs under control, including fuel, maintenance, and resource management.
Compliance: Dispatchers must ensure that their operations comply with regulations and industry standards, such as driver hours of service and vehicle safety.
Better customer service through advanced fleet tracking
Real-time fleet tracking enhances business efficiency and customer service. It allows for proactive client management, prompt responses, and streamlined field services and delivery operations. Fleet managers can access live mapping in a browser for minute-by-minute updates and utilise detailed reports on speeding, idling, and much more to make informed decisions.
Give more accurate delivery estimates to your customers
Quickly locate the nearest vehicle to a job or emergency
Track driver behaviour leading to safer driving habits
Use tracking data to improve delivery or service routes
Get more visibility into your fleet's daily operations
Monitor and enforce compliance with SLAs
More flexibility to Improve dispatch and response times
Essential fleet tracking for hazardous vehicle cargo
Real-time fleet tracking enhances safety and operational efficiency for vehicles with limited communication and emergency response capabilities in remote and hazardous locations. Airacom's advanced telematics can track the vehicle and the driver with instant push-to-talk voice communication with dispatch centres.
Hazardous Area Smartphone Tracking
Hazardous Area Tablet Tracking
Take your fleet to the next level with our innovative fleet tracking solutions
What is fleet tracking?
Fleet tracking is a technology that uses GPS or Global Positioning System to monitor the location of a vehicle in real-time. The information gathered is used to improve operational efficiency, security, and customer service.
What are the benefits of fleet tracking?
Fleet tracking has several benefits, including improved route planning, enhanced driver safety, reduced fuel costs, increased productivity, better customer service, and reduced maintenance costs.
How does fleet tracking work?
Airacom's fleet tracking system utilises GPS technology to track a vehicle's speed, location, and status in real-time. The data is then transmitted to a central server, which allows fleet managers or business owners to access and analyse the tracking data through live dashboards and reports.
What kind of vehicles can be tracked?
Fleet tracking can monitor any type of vehicle, including cars, vans, trucks, coaches, and plant equipment. We have yet to find a commercial vehicle we are unable to track the vehicle.
Is fleet tracking legal?
As long as the company adheres to data protection and privacy laws, fleet tracking is legal for individuals and businesses.
How much does fleet tracking cost?
The cost of fleet tracking depends on several factors, including the type of system, the number of vehicles being tracked, and the features included. Generally, the cost of fleet tracking is a small price for the benefits it can bring to a business.
How can fleet tracking help to reduce fuel costs?
One way fleet tracking can aid in decreasing fuel costs is by identifying inefficient driving habits, such as excessive idling, hard acceleration, and speeding, which fleet managers can correct through awareness and training, ultimately lowering fuel consumption.
Can fleet tracking be used to monitor driver behaviour?
Yes, fleet tracking can monitor driver behaviour, such as speeding, harsh braking, and idling. Fleet managers can use this data to identify drivers who need additional training and support and can also use it to incentivise safer and more efficient driving styles.
Can fleet tracking be integrated with other systems?
Yes, fleet tracking can be integrated with other systems, such as fleet management software, telematics devices, and maintenance management systems. This integration can provide additional insights into the performance and health of a fleet, enabling fleet managers to make more informed decisions.
Additional fleet tracking solutions for distributed workforces
Online Tracking
Access your real time tracking data 247-365 via any internet connected browser or our Android or iOS apps for live tracking.
Vehicle Tracking
Improve fleet efficiency, reduces costs, enhance safety, optimise routes, and simplify asset management.
Fleet Maintenance
Streamline maintenance, reduce downtime, extend vehicle life, improve safety, and optimise operational costs.
Delivery Monitoring
Delivery management software with web dispatching, driver app, route planning, and real-time monitoring.
Public Transport
Software to create stops, optimise routes, distribute vehicles across routes, manage schedules, and track route performance.
Fuel Control
Fuel control software calculates fuel consumption across vehicles and machinery to reduce theft and increase efficiency.