Mobilise your workforce and boost teamwork
Empowering your workforce is crucial for maintaining a competitive edge in today's dynamic business landscape. Equipping your employees with appropriate tools and solutions fosters productivity and connectivity, regardless of location, ensuring seamless collaboration with the office.
A robust enterprise mobility strategy enhances workforce productivity, fosters collaboration among geographically dispersed teams, and streamlines business processes. Speed is essential for business success in today's rapidly evolving digital environment. Equipping employees with suitable mobile devices and cloud-based solutions enables your organisation to respond swiftly, providing a competitive edge.
Increase your Productivity
Our solutions enable employees to work from anywhere, anytime, using mobile devices and cloud-based solutions, leading to increased productivity.
Streamline your Processes
Our solutions can automate repetitive tasks, reduce manual data entry, and eliminate paperwork, leading to streamlined business processes.
Improve your Collaboration
Our solutions enable real-time communication and collaboration between geographically dispersed teams, fostering better decision-making and idea sharing.
Enhance your Response Times
Our solutions enable employees to access business and customer data to action and respond to daily challenges and customer requests in real-time, improving customer service and satisfaction.
Connecting remote workforces
Overcome challenges in mobilising your workforce
Mobilising your workforce with the right gear and technology offers many significant benefits, such as increased productivity and flexibility. However, there are also many challenges companies face. Here are the top six most common challenges we help companies overcome when deploying an enterprise mobility strategy to streamline their business.
Security
Infrastructure
Training and Support
Compliance and Regulation
Communication
Implementing Cloud Solutions
Security
One of the main challenges of mobilising the workforce is to ensure the security of company data and resources. Mobile devices, applications, and cloud-based solutions can increase the risk of data breaches, making it crucial for companies to implement appropriate security protocols and tools to safeguard against cyber threats.
Infrastructure
Companies need to have the proper infrastructure in place to support a mobile workforce. This may include upgrading networks and servers, implementing remote access protocols, and providing the necessary hardware and software to support mobile devices and apps.
Training and Support
Employees may require additional training and support to use mobile devices, apps, and cloud-based solutions effectively. Companies must provide ongoing training and support to ensure their workforce is adequately equipped to use these tools. We can provide extensive and ongoing training for your management and field teams on using the equipment and services, maximising your return on investment and increasing user adoption.
Compliance
Companies must ensure that they comply with relevant regulations and laws, such as data privacy laws and industry-specific regulations, when mobilising their workforce. This may require additional investment in compliance tools and software. Our team can help guide you through the process of digital transformation.
Communication
With employees working remotely or on the go, it can be challenging to maintain effective communication and collaboration. Companies need the right communication tools and protocols to ensure that teams can work together effectively, regardless of location.
Implementing Cloud Solutions
Cloud-based solutions enable employees to access company resources from anywhere, anytime. This includes cloud-based email, file sharing, and collaboration tools. Moving from legacy systems and software to cloud-based solutions can be complex and challenging. Still, it can significantly benefit businesses looking to stay competitive and innovative.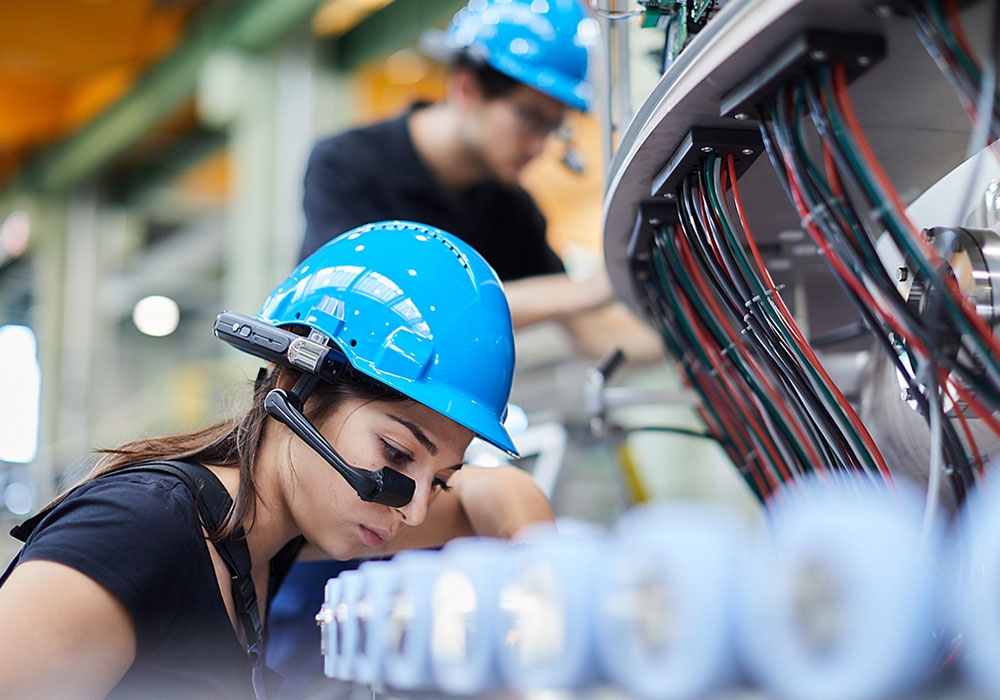 BView next generation (AR) assisted reality headset
Brochesia's BView AR headset offers remote assistance and collaboration for field workers in manufacturing, logistics, healthcare and emergency response using the latest RealWear rugged headsets.
Real-time assistance with remote experts
Bring engineers onsite from anywhere in the world
Access digital information & diagrams to speed up work
Operate handsfree to increase safety and efficiency
Solutions to connect people, places and projects
Remote Working
Remote working is here to stay, so get ahead with our remote and hybrid working solutions for SMEs and large businesses.
Microsoft Teams Direct Routing
Make and receive phone calls to or from landlines and mobiles via Microsoft Teams with Direct Routing.
Teams Managed Service
Get all the professional help and support to set up, manage and run your Microsoft Teams business services.
Business Connectivity
Review our dedicated business connectivity services. Adopt solutions that scale with your business.
IoT SIM Data Services
Connect your IoT sensors, connected objects, devices and remote and hybrid teams with 4G/5G LTE.
Migrate to VoIP
Migrate from outdated PSTN/ISDN to VoIP UC in 5 simple steps, future-proofing your business in time for the 2025 switch-off.
Switch to SoGEA & future proof your communications
Today, companies don't always require a phone line and broadband connection. SoGEA allows you to enjoy high-speed hybrid fibre broadband without a traditional phone line.
Unlimited data usage
Download speeds of up to 80 Mbps
24/7/365 UK-based support and customer service
12, 24, or 36-month contracts available
Single order for phone and broadband
FREE WiFi route and static IP address