Business Intelligence Console
Surface critical IoT data in realtime using insightful dashboards
In order to make informed operational decisions on a daily basis, critical communications necessitate the use of critical data, analytics, and business intelligence throughout your technology stack.
Integrating and surfacing data from IoTs, sensors, CRMs, and ERP systems can significantly enhance operational efficiency, providing your team with a competitive advantage through greater operational insights. With Airacom's BI console, you can collect data from across your organization in real-time, enabling you to monitor and analyse critical data using customisable dashboards in the way that suits your business best.
By combining data from various sources, you can gain a more complete and accurate understanding of your operations, identify inefficiencies, and make informed decisions that drive continuous improvement. With real-time data visualisation, you can monitor key performance indicators (KPIs), identify trends, and gain deeper insights into your operations. These insights can help you to streamline processes, reduce costs, and optimise performance across your organisation.
Surface business critical information from anywhere across your technology stack in one platform
Airacom's BI console is designed to be flexible and customisable, allowing you to create dashboards that meet the unique needs of your organisation. By providing access to real-time data in a user-friendly format, the BI console enables your team to stay informed and make data-driven decisions that improve efficiency and productivity.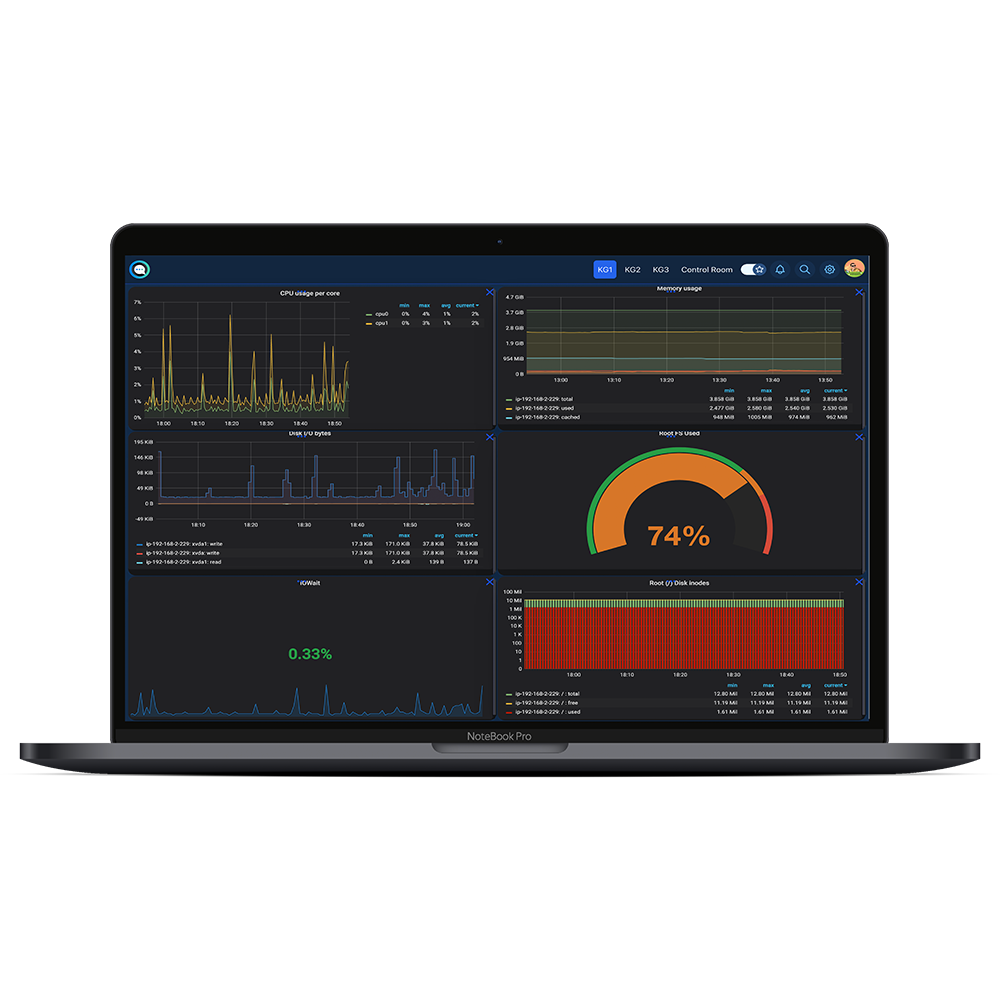 Speed up the journey from critical data delivery to effective decision making
Enable your team to make data-driven decisions with access to multiple data sources across their environment within one platform. We provide simplified business-critical data analytics with a lower total cost of ownership.
Improved understanding: By using charts, graphs, and other visual aids, data visualisation provides a clear and concise representation of complex data. This makes it easier for people to understand the data and draw meaningful insights from it.
Enhanced communication: Data visualisation makes it easier to communicate data to a wide range of audiences. It helps to make data more accessible and understandable, which leads to more effective communication.
Faster decision-making: Data visualisation allows quick and efficient decision-making by presenting information in an easily digestible format. This helps to identify trends and patterns and make informed decisions more quickly.
Identify outliers and anomalies: Visualising data can help to identify outliers and anomalies that might not be immediately apparent in raw data. This can lead to more accurate analysis and decision-making.
Improved data quality: Data visualisation can help to identify data quality issues, such as missing or incorrect data. This can lead to better data management practices and improved data accuracy.
Group communication
For modern teams
Push to talk over WiFi
Push to talk (PTT) over WiFi uses the existing wireless network and access points for resiliency and redundancy.
Real Time Location Services
Real time location services for indoor and outdoor tracking of personnel, assets and vehicles.
Push to Talk Software
Group communication over a highly secure wide area cellular network with national & international coverage.
LTE PoC Radios
Buy, rent or lease the latest next generation LTE PoC radios, or combine them with our PTT plans.
Rugged Smartphones
Save money on your industrial rugged smartphones and get the best tech for your business.
Resource Management
Manage your remote and frontline workforce with our all in one resource management solutions.
Powerful wifi solutions to better serve your businesses more effectively
For many businesses, WiFi is classed as the fourth utility and is deemed critical to their infrastructure no matter the location or size of the business. Airacom WiFi ensures businesses have the coverage and speed to run critical applications like Airacom WiFi PTT to keep connected and collaborating. Our on-premise WIFi services include:
Scalable Coverage
Managed WiFi Services
Push to Talk over WiFi
Access Point Installation & Management
Security and Wireless Network Resilience