PhoneLine Plus a simple phone line replacement service for SMEs
PhoneLine+ has been specifically designed to replace your traditional landline service using VoIP technology to deliver voice calls over the broadband network, all at a highly competitive price.
For small businesses, your phone number is the lifeblood of your organisation, and to be without it is unimaginable. From December 2025, Openreach will switch off the existing copper network as the UK switches to a full-fibre digital future. PhoneLine+ is the ideal phone line replacement service for small businesses, allowing you to keep all important business numbers while switching to a small business phone system in the cloud.
PhoneLine+
Make and receive calls from anywhere
Manage calls on the device of your choice from desk phones, smartphones or soft phones.
PhoneLine+ can manage multiple numbers
Choose the number you want to present when dialling out to customers.
Handle out of hours calls from your mobile
You can choose where out of working hours calls are delivered to for every day of the week.
Combine PhoneLine+ with SoGEA broadband
We can help you switch with first-class support, plus PhoneLine+ & superfast SoGEA broadband.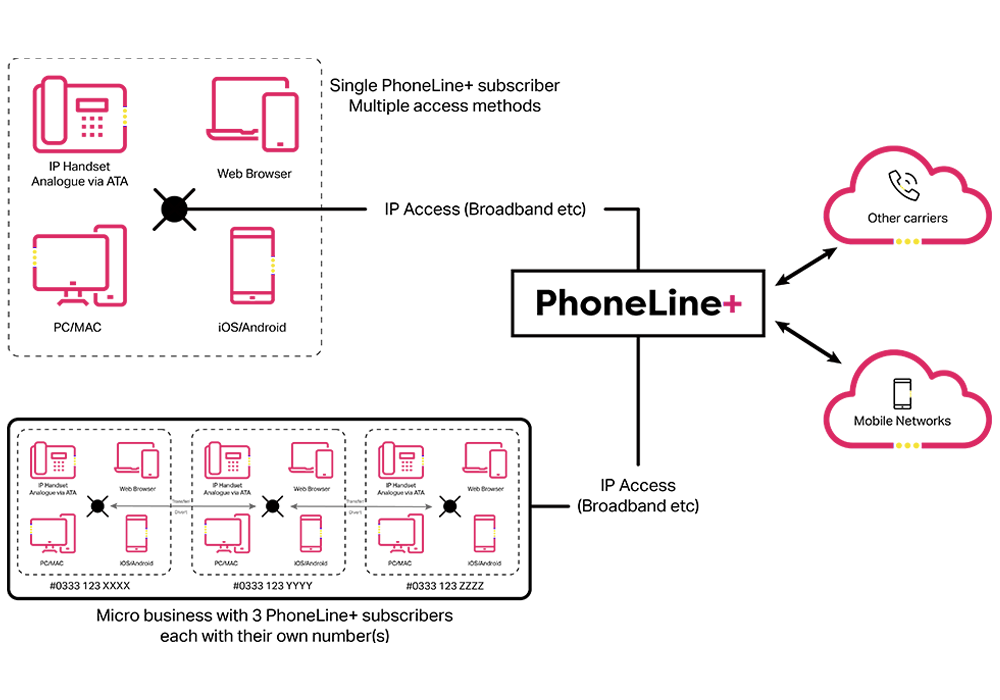 Get ahead of the PSTN switch off with PhoneLine+ & ensure your business is ready for a full fibre future
The legacy Public-Switched Telephone Network (PSTN) is being turned off by December 2025. To keep your phone and your number working, you must switch to the new digital network, where voice calls are delivered using the same infrastructure as data using VoIP, offering everything you can do with your traditional phone line, at much lower costs.
How does PhoneLine+ work & how do we switch?
Simply, PhoneLine+ takes your existing 01 or 02 phone numbers and converts them from being traditional numbers using the legacy PSTN network (which is being switched off) to digital numbers in the cloud. Once the switch has happened, your numbers route calls of a digital VoIP network over your broadband. Providing you with a feature-rich platform, able to route calls faster while future-proofing your business communications.
Switching is incredibly simple. We deliver PhoneLine Plus via email. There's no waiting for an engineer, simply download the app to your device and immediately start making and receiving calls. Speak to our team or request to switch to PhoneLine+ below, and we will take care of the rest.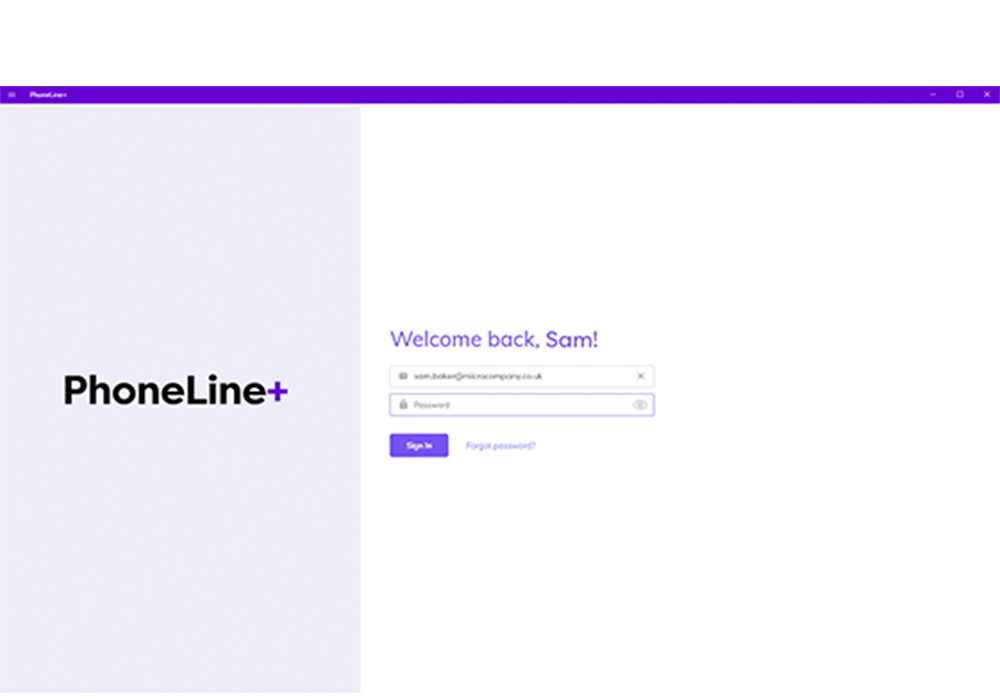 Make your business comms easy to manage to give you less to worry about
PhoneLine+ makes it incredibly easy to switch to a software-based solution while keeping your existing telephone number or having new numbers for small business startups. Benefit from no disruption when switching and no need to change existing signage, stationary or business advertising by using the numbers your business promotes and your customers know.
PhoneLine + designed simple, built smart for any device
Small business owners do not have the time to waste reading manuals. PhoneLine+ has been designed with a simple user interface and is compatible with most Android, iOS and Windows laptops, tablets and smartphones. On the road, in the office or working from home. Take your business communications everywhere your smartphone goes and manage your customers and communications easily using PhoneLine+.
Manage more than one number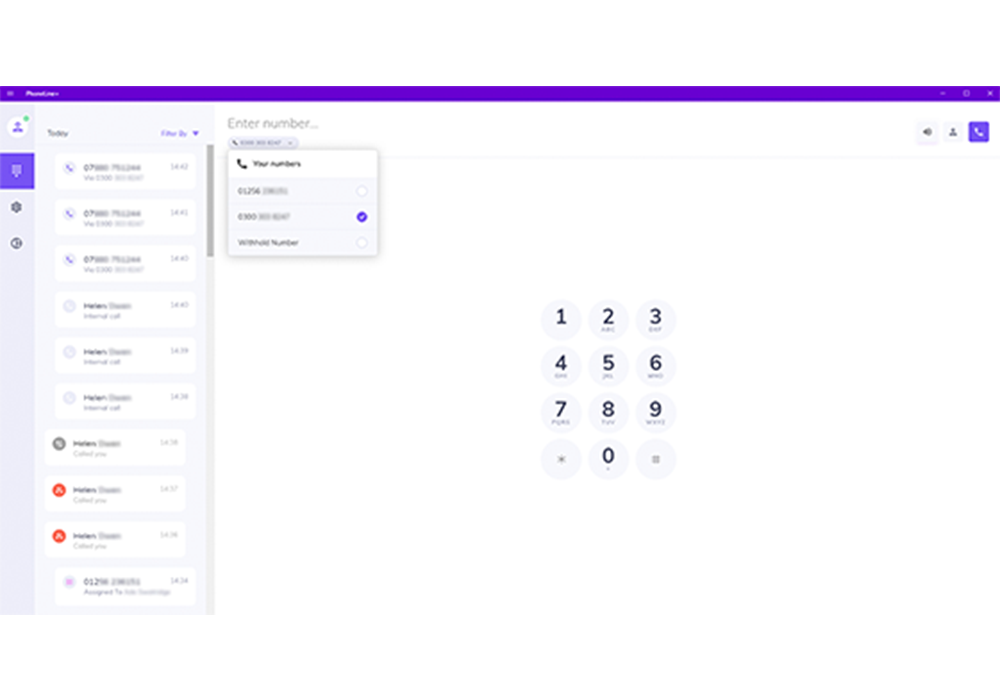 PhoneLine+ allows you to have more than one phone number per subscriber. Choose to use dedicated numbers for different scenarios. You may offer more than one product or service, so multiple numbers enable you to answer the call accordingly, giving the impression of being a bigger business.
Key features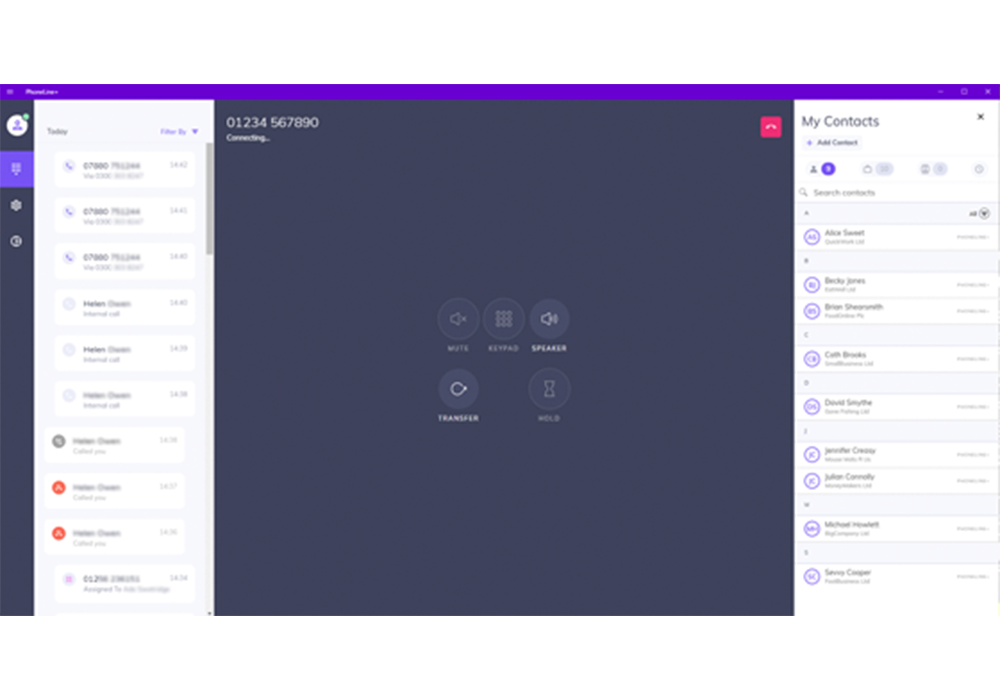 With PhoneLine+, you get all of the key features of a traditional telephone line which you are used to, including; voicemail, call divert, call hold, contact directory (phone book), call transfer, call forwarding and number withholding. Plus, all the benefits of a cloud-hosted VoIP system.
Out of hours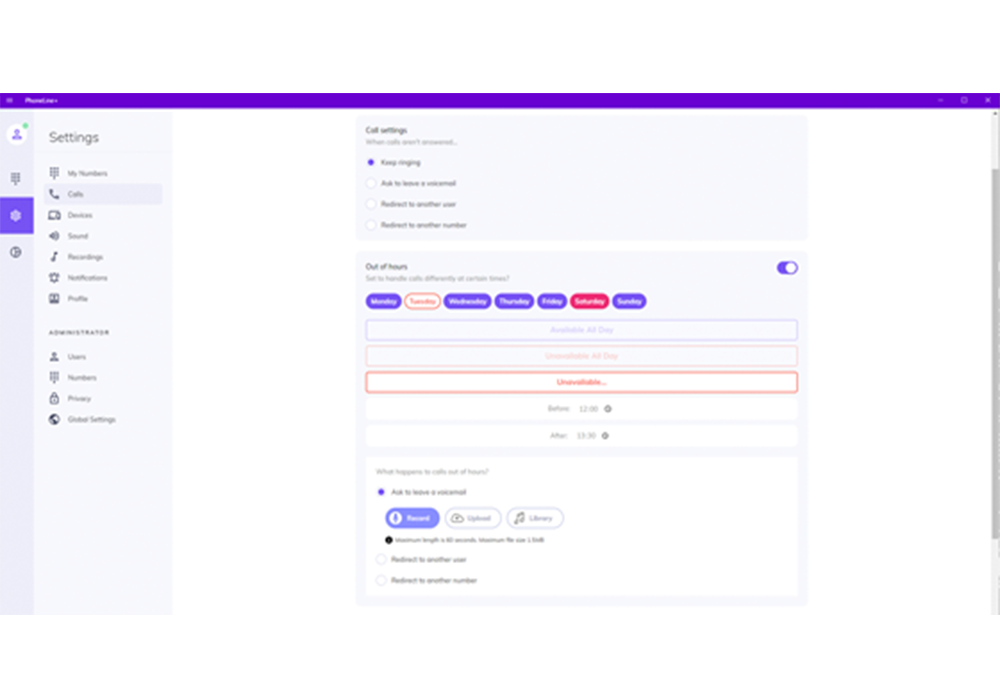 PhoneLine+ allows your business to set your Out of Hours profile for every day of the week. You can also customise and define the PhoneLine+ Out of Hours message for when you are closed rather than unable to answer a call so that your messaging is consistent around your business opening and closing times for inbound calls.
Call stats & analytics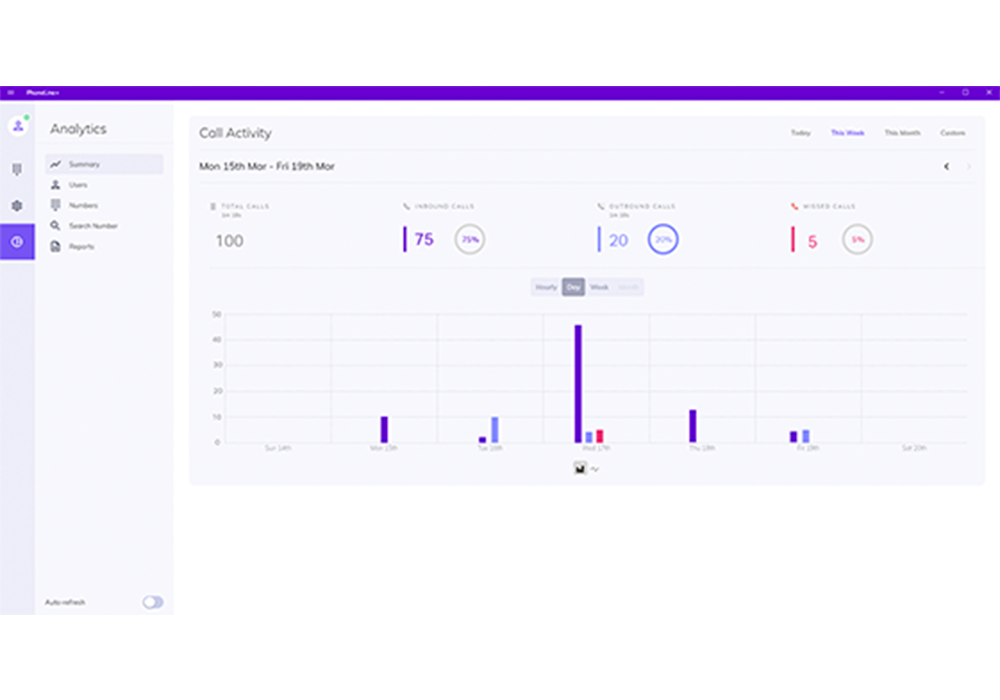 Built-in reporting with PhoneLine+ allows you to see your call patterns and usage trends and check that calls are being answered in your absence. PhoneLine+ enables you to monitor progress against your goals which could include optimising your availability, and reports can be filtered by time period, users and numbers.
PhoneLine+ why switch and what are the benefits for my business?
Improve your customer experience
PhoneLine+ allows you to make and receive calls using any device, increasing the service levels between you and your customers. Easily divert calls when you are busy to colleagues or redirect calls to external numbers, manage your out-of-hours and review your call stats and reports while on the move.
PhoneLine+ is easy to use
Business owners have little time to understand new technology. PhoneLine+ keeps it simple with an easy-to-use interface and compatibility across various devices, from web browsers to smartphones and PC/MAC.
PhoneLine+ offers flexibility
PhoneLine+ is a cost-effective small business phone system that provides business owners with an efficient way to manage telephone calls without being limited to their office. Small businesses need reliability and flexibility within communications and the ability to adapt and make changes using simple interfaces from any internet-connected device while being able to connect and collaborate with their teams and their customers quickly. PhoneLine+
What makes PhoneLine+ good for SMEs
Phone Line Plus removes the complexity of a small business phone system with a telephony platform that requires no heavy infrastructure or installation. The best small business phone system is one that only requires an internet connection and is software-based, enabling you to use any device to make and receive calls from any location. The right business phone system will come packed with all the features you need as standard such as call queuing, voicemail, call diverting, out-of-hours messages and more.
Why must we switch before 2025?
Openreach is switching off the Public Switched Telephone Network (PSTN) by December 2025, which means all businesses using PSTN or ISDN telephone landlines will need to upgrade to a digital fibre network or risk losing their numbers and having disruption to their services. PhoneLine+ is a product designed for small businesses and is an alternative solution to a traditional phone line offering more functionality while future-proofing your business communications.
What are the main benefits of switching to PhoneLine+
Flexibility
Make and receive calls wherever you use any internet-connected smartphone, tablet or laptop.
Quick Installs
Setup is done via email, with no engineers, and no waiting for install dates. Start making & receiving calls immediately.
Easy to Use
No long learning time, simple interface with easy-to-understand icons and menus, plus unlimited support from Airacom.
Instant Changes
Keep on top of your phone system changes with a wide range of smart business functions.
Future Proof
The PSTN network will be switched off in 2025. PhoneLine Plus is the next-generation small business phone system.
Built for Business
Small businesses need the flexibility & functionality to make changes on the fly without incurring engineer visits.
Feature Rich
PhoneLine Plus has all the functionality of a traditional telephone line, plus you benefit from much more to keep your business moving forward.
Keep you Number
Keep your existing business numbers, and make or receive voice calls from your mobile, tablet, desktop computer or desk handset.
Related Products
SoGEA Broadband
Help your business achieve its potential with superfast SoGEA business broadband from Airacom.
4G Backup Broadband
Keep your business running smoothly with 4G Back-Up in the event of a network issue or moving office temporarily.
Hosted Cloud PBX
Find out why more and more businesses are moving away from a standard PBX for cloud hosted telephony.