Engage employees through text push to talk messaging
Airacom push-to-talk messaging provides a secure and convenient way for businesses of all sizes to engage with their employees through internal messaging. While calling or emailing frontline personnel may not always be feasible, ubiquitous SMS ensures no opportunity for communication is missed.
SMS messaging is a fast and efficient way of two-way communication, particularly for businesses with fieldworkers who are often on the move and not seated at a desk. With over 90% of texts being opened within the first five minutes, it provides a ubiquitous means of communication. The convenience of business texting is further enhanced by the fact that it requires minimal training and can be used on virtually any mobile device. Our push-to-talk messaging platform is specifically designed to meet the needs of businesses by allowing for private one-to-one and large group messages, which saves time and increases efficiency within your organisation.
Make your business mobile friendly with secure SMS messaging
Send secure and encrypted SMS, MMS and files using our GDPR-compliant business messaging platform to propel your business. Coordinate operations in real-time and share critical information between back-office teams and frontline personnel.
Schedule shifts and reminders
Communicating announcements
Troubleshoot onsite challenges
Verify business-critical information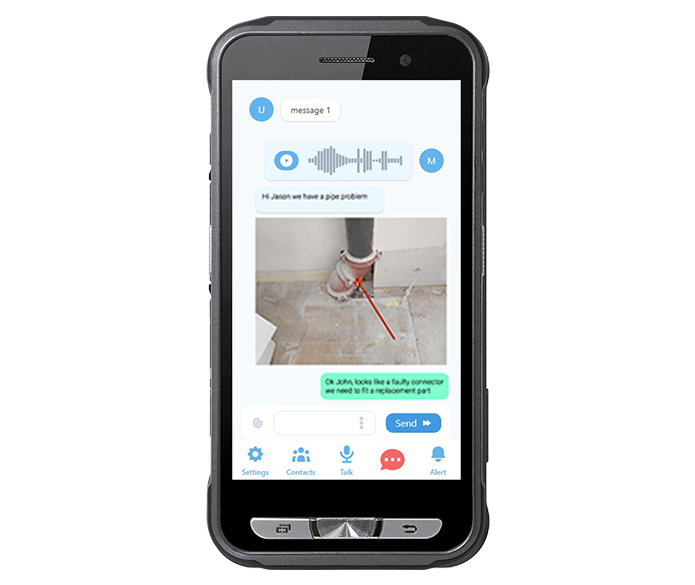 Get the message out with group wide message broadcasting
When information is critical and time-sensitive, save time and instantly send messages to individuals or large groups. From important alerts to day-to-day jobs and tasks, SMS is a quick and alternative way to communicate effectively across your teams.
Faster Communication: SMS messaging with Airacom PTT is a quick and efficient way to communicate with your team members, allowing you to respond to inquiries or resolve issues promptly.
Improved Efficiency: Push to talk SMS messaging can help streamline business operations, reducing the need for time-consuming phone calls or emails.
Quicker Response Rates: PTT SMS messaging has a higher open rate than emails, leading to quicker decision-making for remote and field personnel.
dispatch console MESSAGING
Back office dispatch console messaging platform
Want your back office teams to collaborate directly with your field teams and frontline workers? In some industries and scenarios, SMS messaging may be the fastest, safest and best way for employees to communicate with frontline and remote workers. A text message can be read and responded to in seconds.
Employee engagements
Support & information
Jobs, tasks, and updates
Security and emergency alerts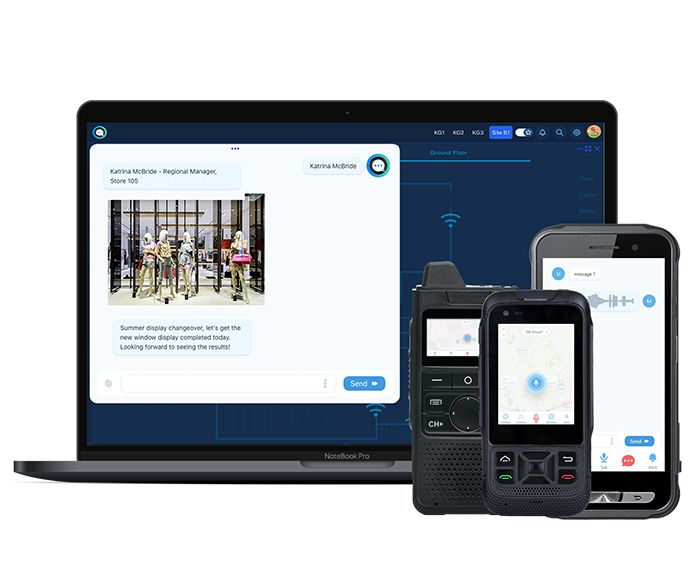 Workforce solutions to Put your team front and centre
Push to Talk over Cellular
Two way radio alternative with near national and international coverage over any 3G, 4G, 5G and WiFi network.
Push to Alert
SOS emergency alerts and man down notifications to protect your back office, remote and geographically dispersed teams.
Push to Locate
Simplify your operations, protect your employees with live location monitoring, and make faster decisions.
Solutions for your mobile workforce and control room operations
Scalable business solutions which stay in sync with your operation and adapt as your organisation grows. We constantly refresh our infrastructure and network services to give you options for the future. Unified communications to bring teams, customers, partners and suppliers together.