IoT & M2M global SIM cards for every IoT use case in 200+ countries
We offer dependable 4G LTE data SIMs to link businesses to even the most challenging connectivity environments. We aim to streamline your worldwide IoT and M2M deployments with constant mobile connectivity.
Airacom IoT SIM data services are the provisioning of SIM cards with data plans designed specifically for Internet of Things (IoT) devices. These services enable IoT or M2M (Machine to Machine) devices to connect to cellular networks and transmit data, enabling remote monitoring, tracking, and automation. Our global IoT SIM data services include global coverage, low latency, and scalability to support large-scale deployments of any connected devices
Airacom partners with global IoT and M2M carriers to deliver cutting-edge flexible rental SIM card services, enabling you to extend your network and provide backup and redundancy solutions to manage critical systems for fixed, moving and temporary locations.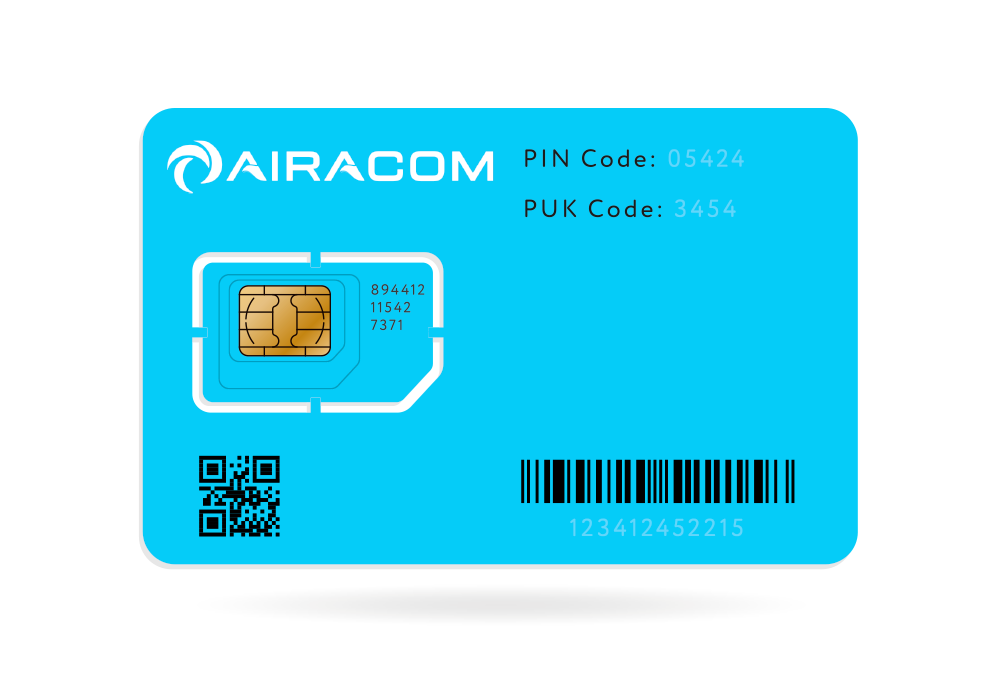 Our IoT SIM card boasts global coverage with connectivity in over 200 countries
Airacom offers ubiquitous coverage in over 200 countries with more than 600 carriers using One-SIM across all 2G, 3G, 4G LTE, CAT-1, and CAT-M available networks. Connect your IoT and M2M devices seamlessly for every application, no matter how harsh or hostile the conditions. Airacom IoT SIM cards are reliable and dependable.
One SIM with coverage in over 200+ countries
Multi-IMSI SIM with built-in automatic carrier select
Static IP Private or Public and private networking
Airacom SIMs mini, micro, nano and SIM-on-Chip
Temporary 4G LTE broadband & WiFi rental services
Connect your team with fast, reliable pop-up 4G connectivity and temporary WiFi. We can provide short and mid-term WiFi services to help your teams overcome day-to-day challenges like moving office, running events or bridging and extending connectivity within your office or home office with temporary broadband solutions.
Event WiFi Broadband
Office Move Temporary WiFi Internet
Hybrid & Remote Working Broadband
Construction Site 4G LTE WiFi Internet
*Airacom provides short-term and long-term internet router devices for hire. Download speed can depend on your location and how far/near you are to the closest telecom mast.
4G LTE failover & backup broadband when disaster strikes
The continuity of any business is crucial. Having a super-reliable broadband service is the backbone of any business. Prevent network outages and increase network availability by deploying our 4G 5G Backup internet services.
4G Fast Start Broadband
4G & 5G Backup Broadband
Industrial Grade 4G LTE IoT SIMs
Business Failover 4G Broadband
Onsite Delivery & Self-Service Options
IOT & M2M SIM CARD BENEFITS
Comparing IoT and M2M data SIMs, understanding the technology
The terms IoT and M2M are both different products. While they share the same common goal 'to deliver connectivity' and exchange information among machines without human intervention, both services differ in how they achieve this.
Internet of Things (IoT)
The Internet of Things (IoT) defines the network environment consisting of consumer and industrial products. It is the next phase in the evolution of the internet connecting electronics, software, and sensors, enabling these objects to collect and exchange data. IoT takes the basic concepts of M2M and expands them by creating large cloud networks of devices that communicate with one another through cloud networking platforms. The data can be accessed from various connected devices, including mobile phones, laptops and vehicles, or sent to cloud-based Software as a Service (SaaS) platforms for analysis.
Machine to Machine (M2M)
Machine to Machine (M2M) is a system that allows machines to communicate with each other and humans. M2M is a point-to-point connection between two network devices that transmit information via public network technologies such as Ethernet and cellular networks. The main use cases for M2M communication are sensors and telemetry where M2M is used to remotely monitor temperature, energy, consumption, moisture, pressure and a whole range of metrics through sensors.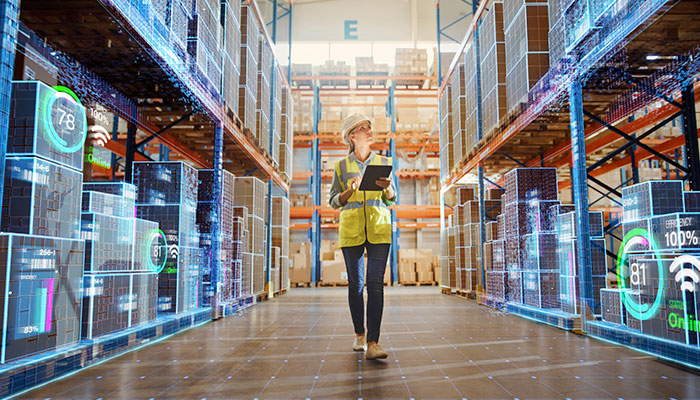 IoT vs M2M key differences
IoT is a subset of M2M technology; however, the biggest difference between both services is M2M uses point-to-point communication. Whereas IoT systems utilise the global cloud network enabling IoT to scale larger and integrate easier with more sophisticated applications. M2M devices can be labour-intensive to support and manage since new point-to-point connections must be created for each M2M device. IoT, on the other hand, is designed to be highly scalable, with devices being added to the network and integrated into your existing systems with minimum hassle, making it quicker to deploy and more cost-effective to manage and support.
M2M SIMs vs standard SIMs
When most people think of SIM cards, they think of the SIM card in a phone. M2M SIMs operate using the same wireless mobile networks, but they offer benefits that standard mobile SIM cards do not:
M2M SIMs are durable
M2M SIMs are remotely manageable
M2M SIMs support data plan aggregations
M2M SIMs may have fixed IP addresses
IoT & M2M SIM Benefits
IoT M2M SIMs built for maximum resilience in the most challenging environments, lasting longer than standard consumer SIM cards. Using a dedicated private Access Point Name APN we can ensure that you have 99.9% uptime, and uninterrupted IoT connections.
Temporary 4G LTE
Flexible and temporary 4G LTE WiFi and 4G wireless router rental to overcome short and mid-term connectivity problems.
Failover 4G LTE
When disaster strikes, you can count on Airacom to keep your critical system running with 4G failover broadband. Get an IoT SIM solution with single and multi-network options for redundancy.
Industrial Durable SIMs
M2M SIMs can survive in harsh conditions, exposed to strong winds, extreme temperatures & excessive movements.
Long Lifespan SIMs
M2M & IoT SIMs are highly durable & capable of lasting for up to ten years, compared to 3 years with a standard SIM.
Steered SIMs
Steered SIMs will stay connected to the chosen mobile network operator until there is no service if a fallback is not selected.
Non-Steered SIMs
Non-Steered IoT & M2M SIMs do not prioritise the available networks and will connect to the strongest network available.
SIM Options
Consolidate billing across multiple SIMs, data plans and countries on a single invoice with one currency.
Static IP
Airacom M2M and IoT SIMs have a Static IP, both Private or Public and private networking is available as standard.
Related Products
WFM Software
Plan, track, manage & collaborate with your frontline teams with effective workforce management software.
Airacom Push to Talk
Communicate with your team from anywhere with a single press of a button. No ringing, no waiting and no delay.
Fast Fibre Broadband
Essential high-speed business fibre broadband for UK companies. Compare our reliable fibre broadband deals.
Flexible IoT deployments
Support your business with global roaming across more than 200 countries and territories. At the heart of any successful IoT and M2M deployment is bespoke network connectivity customised to meet your application use case. Airacom offers extensive IoT and M2M SIM services with tailored provisioning and plans to fit any use case.
Affordable standard data bundles
Shared and pooled IoT and M2M plans
No network steering
Private data SIM networks

Energy & Utilities
Many energy companies operate remote locations like oil and gas fields or water metering in hard to reach and hazardous locations which require continuous monitoring.

Retail
Secure WiFi and resilient failover with backup systems are critical for the retail sector. IoT enables smart stores, payment systems, CCTV and supply chains remain connected.

Healthcare
IoT applications in the healthcare sector can help to save lives, distribute critical information and remove manual processes so that healthcare teams can provide better patient care.

IT & Business
Connect your people and remote workers with critical data using 4G and 5G IoT cellular backup and fixed-line broadband solutions to increase efficiency and add resilience & redundancy.

Transport
Transport & logistics are using IoT to monitor their driver's behaviour, the wear and tear of vehicles and run fleet management and logistics more effectively using IoT and sensors.