Contact Centre Workforce Management
Smarter contact centre WFM for better customer experiences
Having the right people with the right skill sets in the right places to successfully handle customer interactions is critical for the success of any service-orientated business.
Whether your WFM call centre dispatches engineers or first responders, you always want to put the most suitable person on site. The main goal of any WFM call centre should be to schedule the best available reps, agents, engineers or first responders for the job while having complete visibility of their location in real time. Your call centre agents need a unified communications platform with instant voice, video and messaging to inform, update and communicate with your frontline workers.
contact centre wfm benefits
Optimise your call centre & field service teams with our contact centre WFM
Effective contact centre workforce management (WFM) is essential for business success, improving customer satisfaction, and reducing costs, while boosting employee engagement and retention. By optimising staffing, enhancing agent performance, and improving the customer experience, WFM can enable businesses to stay profitable in today's hyper-competitive marketplace.
Forecasting: Predict the volume of incoming customer interactions, such as calls, emails, or chats, and estimate the amount of staff required to handle the demand.
Scheduling: Assign staff to specific shifts and ensure that there is adequate coverage to meet your customer needs.
Performance monitoring: Measuring and evaluating an individual's performance using data to identify areas for improvement.
Coaching and training: Provide coaching and training to agents where improvement is needed to boost productivity and performance.
Reporting and analysis: Generate reports and analyse data to identify trends, opportunities, and areas for business improvement.
Why use contact centre WFM
Better Forecasting for Contact Centres
Improve your contact centre workforce management with 360-degree reporting and data interaction, featuring live dashboards and analytics. Gain real-time insights and make informed decisions to optimise staffing, improve agent performance, and boost customer satisfaction.
Manage Remote and Frontline Teams
Improve the management of remote and frontline teams with contact centre workforce management to monitor service levels and agent availability. Optimise staffing, track agent performance, and enhance customer satisfaction.
Benefit from Improved WFM Scheduling
Airacom's resource management software enhances scheduling with real-time visibility of your mobile resources, enabling efficient allocation of tasks and jobs, leading to more efficient and effective workforce management and better use of your time.
Flexible Contact Centre WFM Solutions
Our contact centre WFM platform can be customised to meet specific business needs, providing a scalable and adaptable solution with voice, messaging, location, task management, mobile forms and many more features for any field services or frontline workforce.
Contact Centre WFM Features
Workforce & user management
One integrated solution to combine user task & shift management with Push to talk, SMS, video, reporting and more.
Professional guard patrol system
Capture QR, NFC, BT, and GPS checkpoints in the field or inside the building with randomised routes & real-time user location.
Smart skills based assignments
Put your most qualified personnel on every job and assign tasks to the most suitable person with the relevant skill set.
Role-based alert architecture
Alert the right people at the right time according to their role with advanced role based alerting to increase efficiency & safety.
Real-time user tracking
Track users outdoors and indoors via Bluetooth beacons, GPS and mobile signals for user safety and business efficiency.
Keep working with no connection in offline mode
When your teams enter a location without coverage, data is stored locally and updated once connectivity is restored.
Advanced (BI) intelligence
Running busy field-based teams requires reports, dashboards and predictive data analytics to fully understand probabilities.
User attendance monitoring
Get real-time location of your staff with smart geofence shift clock in and outs, break start and return times with reports.
Track and deploy hundreds of remote workers with contact centre
Airacom's multi-channel workforce management contact centre empowers back office and hybrid working teams to manage hundreds or thousands of remote workers across geographically dispersed areas with powerful resource management features.
Run 360 ̊ reporting
Use dashboards to populate and review data
Run predictive analytics to measure metrics
Use business intelligence (BI) to run your operation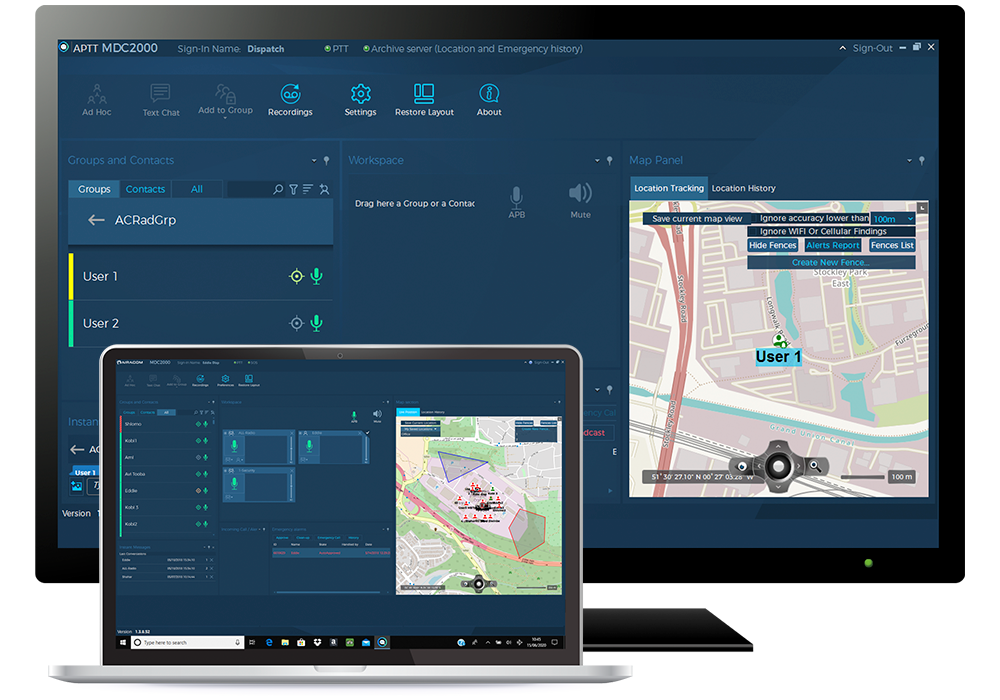 Respond to issues in real time as they unfold & deploy your best assets
Contact centre agents need the tools to deliver exceptional customer service and react to daily unfolding situations. Airacom Contact Centre WFM, with incident-resolving engines and active unified communications, enables your contact centre agents to react quickly.
Optimise your call centre & field service teams with contact centre workforce management
Airacom Call Center WFM solutions help your business ensure a consistent service level and meet your contractual service lead agreements (SLAs). The focus of WFM call centre software is to provide your agents with the tools to schedule, manage and support your field operations while reducing manual tasks and lowering your operational cost while maintaining high customer service levels.
Service Engineer Software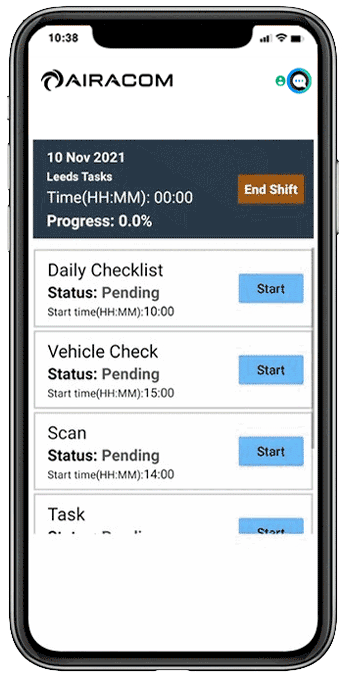 Centralised platform to create, assign and track tasks
Bring your workforce closer with effective field workers solutions to manage task allocation, compliance checklists and forms, incident reporting and time and attendance monitoring.
Technology to safeguard your operation and boost productivity
Employee Tracking
Enhance employee safety, productivity and accountability with our advanced people tracking and monitoring technology.
Fleet Management
Optimise your fleet's performance with our advanced fleet tracking and vehicle telematics services.
Faster Office Broadband
Faster broadband increases productivity and efficiency for businesses allowing you to run cloud services effectively.
Adapt to the demands of a distributed workforce: Embrace hybrid working
Get clearer lines of communication between your office-based teams and remote and hybrid workforce with Unified Communications (UC) and improve your customer service levels while boosting productivity and reducing your business telecom costs.