Cloud based vehicle fleet maintenance software
Exhausted from the hassle of handling your company's vehicle fleet maintenance? Discover our all-inclusive fleet maintenance solution. Our software is tailored to assist fleet operators in efficiently managing every maintenance task, guaranteeing that your vehicles consistently operate at peak performance.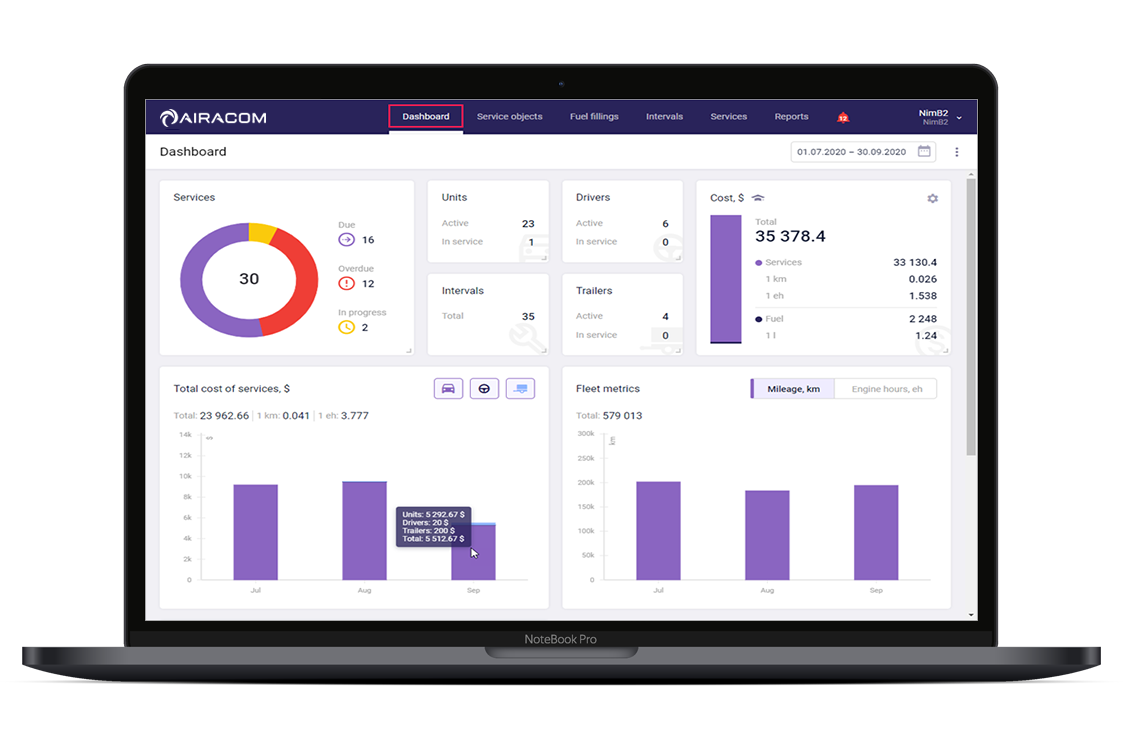 All in one vehicle fleet maintenance software to cut costs and save time
Fleet maintenance software provides fleet managers with a comprehensive platform to manage their company's entire vehicle maintenance and cost-related aspects in one centralised system.
By streamlining fleet operations, expenses can be lowered, major breakdowns can be prevented, and repair durations can be shortened, improving your vehicle fleet's efficiency. Fleet maintenance software is purposefully designed to assist fleet operators in proficiently handling vehicle fleet maintenance responsibilities. Access to cutting-edge fleet maintenance software is essential for successfully managing a well-maintained vehicle fleet. Ensuring that vehicles operate at their best enables fleet operators to reduce downtime, extend the life of their assets, and bolster safety.
Vehicle maintenance software
Benefit from web-based fleet maintenance software with core functionality as standard
List of Units
Access to data on mileage, engine hours, services, and advanced information on each unit.
Intervals
Automated service creation by time, mileage, and engine hours for the specified units.
Services
Registration of works in the system: types, durations, spare parts, prices, and results.
Reports
Analysis of the performed services by fleets, units, and intervals.
Fleet Maintenance Software
Streamline fleet maintenance management with Fleetrun
Streamline your fleet maintenance process, guaranteeing timely servicing and vehicle repairs and an optimised maintenance schedule for peak efficiency. Cloub-based maintenance software enables your team to monitor your vehicles' maintenance history, plan routine services, and obtain notifications for impending maintenance tasks.
Track your maintenance expenses and costs with less paperwork
Efficiently manage your vehicle expenses by monitoring all maintenance costs, such as parts, labour, and external services. Utilise data to pinpoint areas for cost savings and make informed decisions regarding your maintenance budget.
Accurate tracking: Maintenance software can record all fleet maintenance tasks and costs, enabling you to identify trends, predict future expenses, and make informed budget decisions.
Timely maintenance: Maintenance software automates scheduling and provides timely servicing to minimise vehicle downtime, reduce breakdown risk, and improve fleet performance.
Reduced paperwork: Maintenance software can help reduce the paperwork involved in fleet maintenance management, streamlining the process and saving time.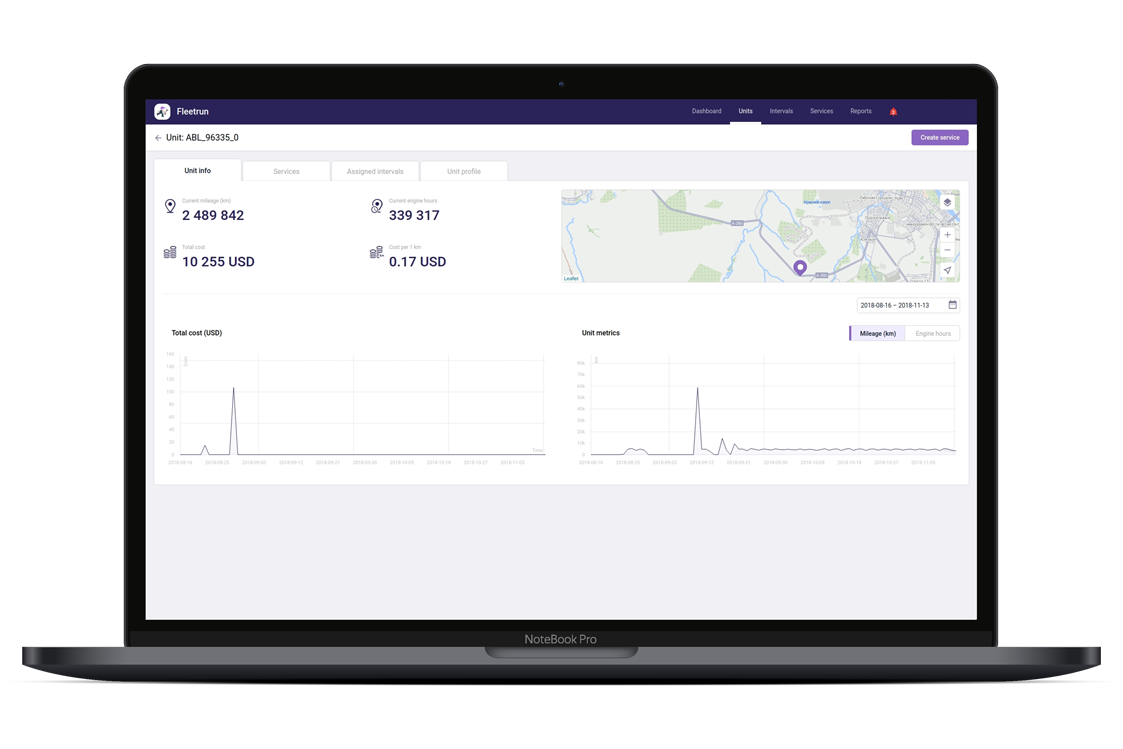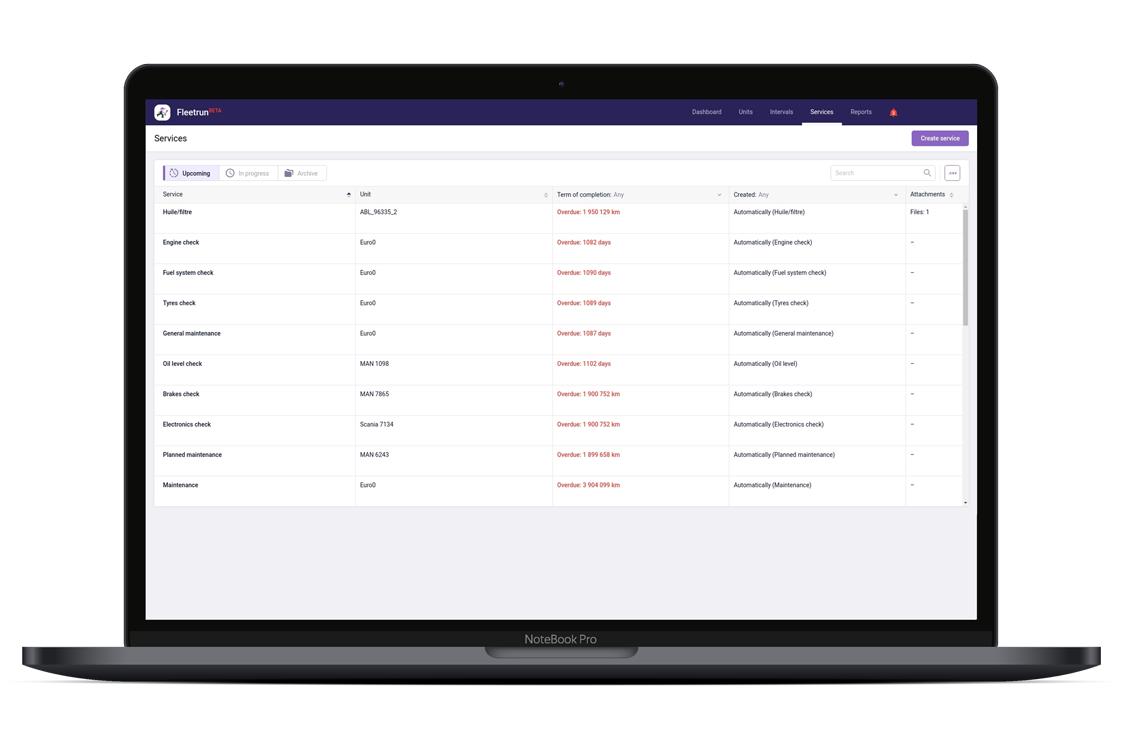 Enhance fleet performance and safety with data-driven maintenance reports
All-encompassing fleet management software featuring driver management, fuel management, and robust reporting and analytics capabilities. Effortlessly collect crucial data and insights about your vehicles to fine-tune operations and boost the overall performance of your vehicle fleet.
Improved maintenance scheduling: Fleet maintenance software optimises maintenance schedules, reducing breakdown risk, minimising downtime, and enhancing fleet performance.
Cost savings: Fleet maintenance software can identify cost-saving opportunities, minimise maintenance expenses, optimise your budget, and boost your bottom line.
Enhanced safety and compliance: Fleet maintenance software helps ensure regulatory and safety compliance, addressing potential issues like faulty equipment or parts. This mitigates the risk of accidents and enhances overall safety.
Streamlined maintenance process: Fleet maintenance software streamlines maintenance by automating work orders, tracking inventory, and providing real-time updates on maintenance tasks. This saves time and reduces administrative work for your maintenance team.
Better data insights: Fleet maintenance software provides data on maintenance trends, vehicle performance, and costs. This informs your decisions and optimises your fleet maintenance strategy.
Deliver better customer service with advanced vehicle tracking solutions
A Software Advice survey revealed that 57% of fleet managers observed a decrease in customer complaints and an increase in satisfaction due to fleet maintenance software. This improvement resulted from minimized unforeseen breakdowns, reduced vehicle downtime, and optimized overall vehicle performance. Fleet management and maintenance software can substantially enhance customer service by ensuring prompt deliveries, elevating customer satisfaction, and bolstering brand reputation.
Minimise unexpected breakdowns and reduce vehicle downtime.
Optimise fleet performance for improved operations.
Enables timely deliveries to improve customer satisfaction and loyalty.
Enhance fleet management and maintenance processes for streamlined operations.
Improves customer service and builds a strong brand reputation.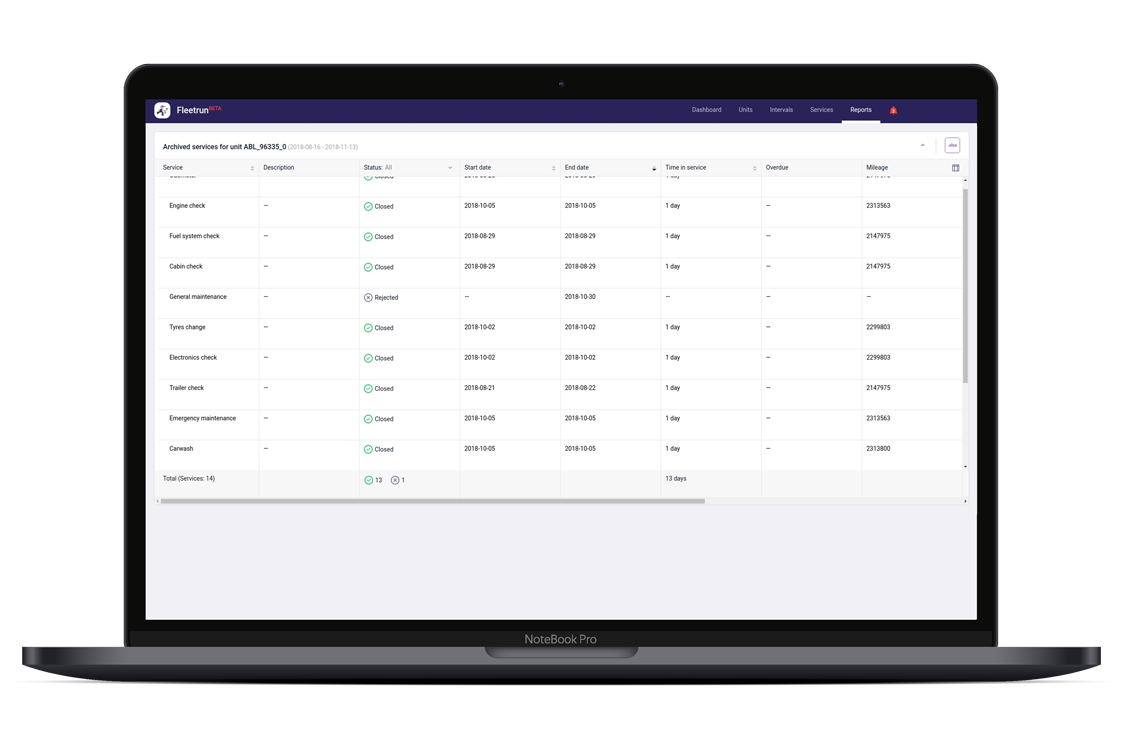 Advanced telematics for tracking vehicles, people and assets
Discover how advanced telematics solutions from Airacom can help you track and monitor your vehicles, people, and assets. Our IoT telematics solutions provide real-time data on location, movement, and status, improving efficiency, reducing costs, and enhancing security. Find out more about our range of advanced telematics solutions today.