Motorola EVX S24 Digital radio
The EVX-S24 offers precision, feature-rich engineering and a compact design. It delivers value, quality and uniqueness to the market. The radio operates in both analogue and digital modes and can be used with any existing analogue two-way radio system. This makes it perfect in assisting the transition from analogue to digital. The portables can operate in direct mode enabling two communication paths without the need for a repeater. With its rich portfolio of features, the EVX-S24 is well suited across the market place, particularly in fields such as Education, Retail and Hospitality.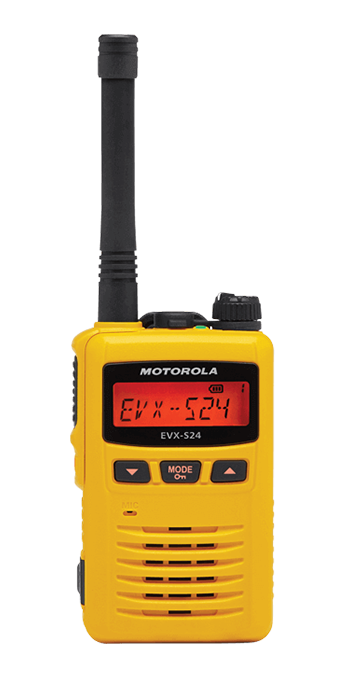 EVX-S24 RADIO PACKAGE
EVX-S24 radio
Choice of antenna
FNB-V142LI 2300 mAh Li-Ion Battery
Rapid Charger
Belt clip
Accessory socket dust cover
User Guide incorporating safety leaflet
---
DIGITAL RADIO FEATURES
All, Group and Private Call
Basic and Enhanced Privacy
Radio Check
Radio STUN/REVIVE
Remote Monitor (Decode)
CALL Alert
Text Message
Call History
Simplex Only and Repeater
Capable Encryption
Direct Mode
Emergency
Radio Enable / Disable [Decode]
Scan (Mixed Mode – Analogue/Digital Channels)
Transmit Interrupt (Decode Only)
Scan (Operator Selectable On/Off )
Site Search
---
ADDITIONAL FEATURES
Compact and Discreet
Dimensions (H x W x D): 3.58 x 2.17 x 1.24 inches
Weight: 215g with belt clip
Comes in Black or Yellow casing
Battery Life: Estimated at 12 hrs (digital) 10 hrs (analogue)
8 character alphabetic display, 4 programmable buttons
Dual mode of operation – analogue and digital, perfect for migration
Direct Mode of operation enables 2 communication paths on a single frequency without the need of a repeater
Transmit Interrupt
Site Search both manually and automatically, great for operations in multiple locations or on multiple floors
Fully Water Submersible up to 1 meter with IP67 and dust proof
Emergency Alert
Battery status indicator & auto power off to reserve battery
Low Power & Whisper mode
BCLO
Time out Timer & Key Lock
Lone Worker Alert
Escalating Alerts
---
UHF MODEL
EVX-S24-G6-3 UHF 403-470MHZ YELLOW
EVX-S24-G6-3 UHF 403-470MHZ BLACK
---
WARRANTY
12 month warranty applies to the physical radio only and does not apply to the batteries or accessories shipped within the package.
---