DP2400e Digital Radio
The DP2000e Series is designed for the everyday worker who needs effective communications. With systems support and loud, clear audio, these next-generation radios deliver cost-effective connectivity to your organization. With support for trunking, as well as legacy analogue technology, you can keep your organization connected as it grows. The latest energy technology delivers up to 28 hours of battery life for 3-shift working, and the optional IMPRES Over-the-Air Battery Management tool helps you maximize battery lifetime.
TIA4950 certified models are available for use in hazardous locations where flammable or explosive materials are present.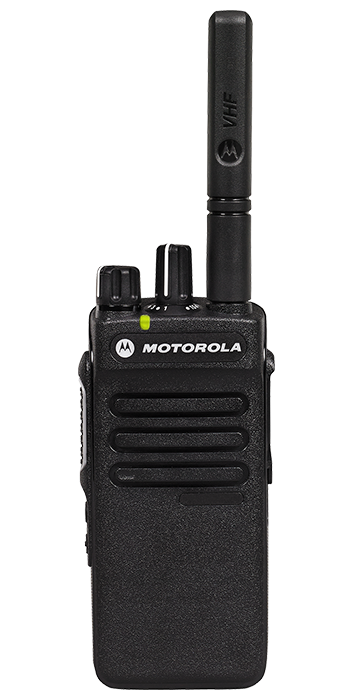 DP2400e RADIO PACKAGE
DP2400e Digital Radio
Battery Options
Standard or IMPRES Single-Unit Charger Options
Antenna options
Belt Clip options
Dust Cover
In-box Documentation
---
MAIN RADIO FEATURES
VHF (136-174MHz); UHF (403-527MHz); 300R1 (300-360MHz); 300R2 (350-400MHz)
16 channels
Tri-colour LED for clear visual feedback on radio operating status
Large, textured push-to-talk button for ease of use
2 programmable buttons to improve ease-of-use and increase operator efficiency
Quick, easy-to-use Group, Individual and All-call capability
PTT ID helps improve communications efficiency and system discipline
Remote Monitor features
Elegant channel scanning schemes
New accessory connector enables quick and easy attachment and removal of accessories without the need of a tool
Digital Emergency via programmable button to help ensure rapid response to critical incidents
5 Tone Functionality
Basic Privacy
Enhanced Privacy
VOX Capability
Transmit Interrupt
SINC+ Noise Cancellation
Mute Mode (Button Only)
Received Audio Levelling
Digital Telephone Patch via Software Purchase
Intelligent Audio allowing the radio volume to automatically adjust to compensate for background noise
IP67
TIA4950 HazLoc certification options
Direct Mode (including Dual Capacity Direct Mode)
IP Site Connect (Single and Multi-Site)
Capacity Plus (Single and Multi-Site) via Software Purchase
Support for vibrating belt clip
---
VHF MODEL
DP2400E 136-174 5W NON KEY-PAD
---
UHF MODEL
DP2400E 403-527 4W NON KEY-PAD
---
WARRANTY
24 month warranty applies to the physical radio only and does not apply to the batteries or accessories shipped within the package.
---