Motorola DP4601e Digital Radio
The DP4000e Series is designed for the skilled professional who refuses to compromise. With high performance integrated voice and data, and advanced features for efficient operation, these next-generation radios deliver complete connectivity to your organisation. Bluetooth audio lets you communicate without wires, there is support for trunking options and legacy analogue radio capabilities to give the customer the flexibility and adaptability required.
The series features a prominent emergency button with Transmit Interrupt to clear the channel. The radio is tested to military standards and is waterproof to IP68. TIA4950 certified models are available for use in hazardous locations where flammable or explosive materials are present.
The new technology offers up to 28 hours of battery life for 3-shift working and an improved receiver boosts range by up to 8% on previous models.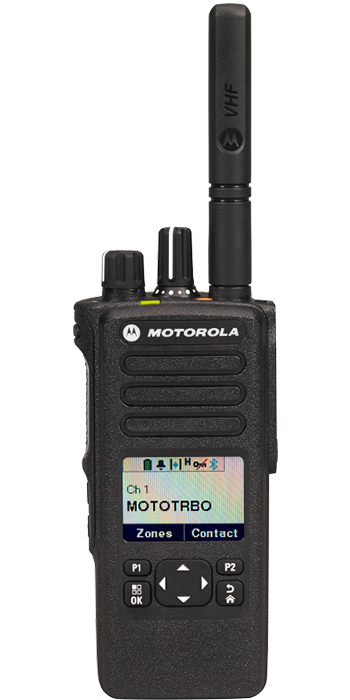 DP4601e RADIO PACKAGE
DP4601e Digital Radio
Battery Options
Single-Unit Charger Options
Antenna Options
Dust Cover
Belt Clip Options
In-box Documentation
---
MAIN RADIO FEATURES
VHF (136-174MHz); UHF (403-527MHz)
1000 channels
Large Full-colour, 5-line display – operating in Day or Night mode for easy viewing
Tri-colour LED for clear visual feedback on radio operating status
Easy-to-use menu navigation keys enable intuitive user interface
Large, textured push-to-talk button for ease of use
5 programmable buttons to improve ease-of-use and increase operator efficiency
Emergency button to help ensure rapid response to critical incidents
Quick, easy-to-use Group, Individual and All-call capability
Digital Phone Patch capability
Sophisticated Emergency Calls
PTT ID helps improve communications efficiency and system discipline
Remote Monitor features
Elegant channel scanning schemes help ensure calls are received first time every time
Basic / Enhanced Privacy
AES256 Encryption via Software Purchase
VOX Capability
Transmit Interrupt
SINC+ Noise Cancellation
Mute Mode
Received Audio Levelling
Text To Speech
Lone Worker
5 Tone Signalling
Option Board Capability
Integrated GNSS (GPS and GLONASS)
Integrated Bluetooth 4.0 LE for wireless and data
Integrated Wi-Fi (OTA Software Updates and ADK)
Integrated man-down
Indoor Location Tracking
Intelligent Audio allowing the radio volume to automatically adjust to compensate for background noise
IP68
New TIA4950 HazLoc certification options
Direct Mode (including Dual Capacity Direct Mode)
IP Site Connect (Single and Multi-Site)
Capacity Plus (Single and Multi-Site)
Capacity Max via Software Purchase
Connect Plus via Hardware and Software Purchase
Memory (128MB RAM & 256MB Flash memory)
Support for vibrating belt clip
VHF MODEL
DP4601E 136-174 5W LKP GNSS BT WIFI
---
UHF MODEL
DP4601E 403-527 4W LKP GNSS BT WIFI
---
WARRANTY
24 month warranty applies to the physical radio only and does not apply to the batteries or accessories shipped within the package.
---