Motorola DP4801 Ex Digital Radio Full Keypad
Workers can confront threats from explosive gas or combustible dust, on an oil rig or in an open mine, daily. Safe, reliable communication is absolutely critical in such dangerous environments. That's where the power and performance of MOTOTRBO digital radio stands out.
The DP4401 Ex ATEX-certified portable delivers unrivalled voice and data communications with integrated GPS plus best-in-class audio that includes Intelligent Audio and customizable voice announcements.
Available in UHF and VHF frequency bands, the DP4401 Ex is easy to use and features up to 32 channel capacity, three programmable buttons, emergency button, mandown and lone worker functions and IP67 specifications for submergibility.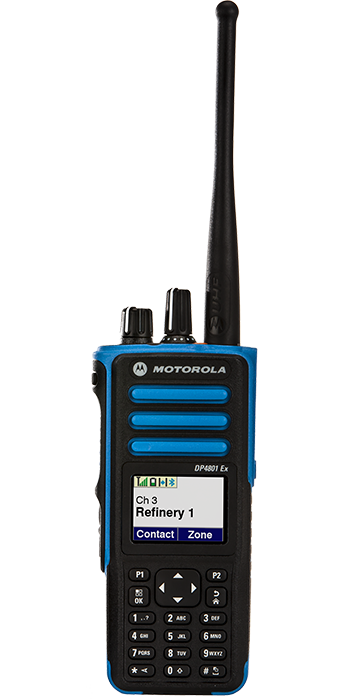 DP4801 EX RADIO PACKAGE
DP4801 Ex Digital Radio
2075mAh (Typical) Li-ion Battery (NNTN8359_)
IMPRES Single-Unit Charger
Antenna
Dust Cover (15012157001)
2.5″ Belt Clip (PMLN6086_)
In-box Documentation
---
MAIN RADIO FEATURES
VHF (136-174MHz); UHF1 (403-470MHz)
1000 channels
Large Full-colour, 5-line display – operating in Day or Night mode for easy viewing
Tri-colour LED for clear visual feedback on radio operating status
Easy-to-use menu navigation keys enable intuitive user interface
Full Alphanumeric Keypad enables flexible radio operation and text messaging
Large, textured push-to-talk button for ease of use
5 programmable buttons to improve ease-of-use and increase operator efficiency
Emergency button to help ensure rapid response to critical incidents
Quick, easy-to-use Group, Individual and All-call capability
Digital Phone Patch capability
Sophisticated Emergency Calls help ensure employee safety
PTT ID helps improve communications efficiency and system discipline
Remote Monitor features help ensure employee safety and enable fast assessment of remote user status
Elegant channel scanning schemes help ensure calls are received first time every time
Privacy Features
VOX Capability
Transmit Interrupt
SINC+ Noise Cancellation
Mute Mode (Button Only)
Received Audio Levelling
Text To Speech
Man Down
Lone Worker
Analogue Mode Compatible
5 Tone Signalling
Factory Installed Option Board
Integrated GPS
Over the Air Programming
Intelligent Audio allowing the radio volume to automatically adjust to compensate for background noise
IP67 ingress protection (also certified to the highest ingress protection available under ATEX/IECEx test conditions – IP64)
Direct Mode (Including Dual Capacity Direct Mode) / Repeater Mode
IP Site Connect (Conventional Multiple Site Coverage)
Capacity Plus (Single Site Trunking)
Linked Capacity Plus (Multi Site Trunking)
Capacity Max via Software Purchase
TECHNICAL DATA
Potential Self-quieting Frequencies to be avoided:

VHF:
139.200MHz±10KHz, 144.000MHz±10KHz, 148.800MHz±10KHz, 151.000MHz±10KHz,
151.740MHz±10KHz, 153.600MHz±10KHz, 158.400MHz±10KHz, 163.200MHz±10KHz,
168.000MHz±10KHz, 171.900MHz±10KHz, 172.800MHz±10KHz
UHF:
403.200MHz±10KHz, 408.000MHz±10KHz, 412.800MHz±10KHz, 416.000MHz±10KHz,
422.400MHz±10KHz, 432.000MHz±10KHz, 440.000MHz±10KHz, 441.600MHz±10KHz,
449.550MHz±10KHz, 451.200MHz±10KHz, 456.000MHz±10KHz, 460.800MHz±10KHz,
468.000MHz±10KHz
---
VHF MODEL
DP4801 EX 136-174 1W FULL KEYPAD GPS, MAN DOWN
---
UHF MODEL
DP4801 EX 403-470 1W FULL KEYPAD GPS, MAN DOWN
---
WARRANTY
24 month warranty applies to the physical radio only and does not apply to the batteries or accessories shipped within the package.
---
CERTIFICATION
Gas: ATEX: Class II 2G Ex ib, IIC T4 Gb, IECEx: Ex ib IIC T4 Gb

Dust: ATEX: Class II 2D Ex ib, IIIC T130°C Db, IECEx: Ex ib IIIC, T130°C Db

Mining: ATEX: Class I M2 Ex, ib I Mb, IECEx: Ex ib I Mb
---