Motorola SL1600 Digital Radio
Motorola's SL1600 Radio benefits from advanced technology and an innovative radio display. The radio is ultra-slim at just 22mm thick and has a number of features, including:
Range Max Receiver. An advanced radio design and patented antenna, delivering enhanced range whilst maintaining a slim profile and long battery life.

Advanced Technology providing louder audio and reduced maintenance.

Active View Display. A new shatterproof display using a matrix of LEDs behind the radio housing.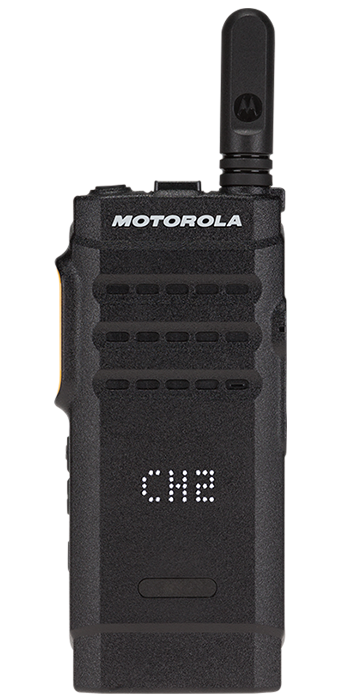 SL1600 RADIO PACKAGE
Li-Ion 2300mAh (Typical) Battery
Charger
Antenna
Carry Solution
In-box Documentation (QRG option, Safety Booklet, RTTE Leaflet and Accessory Leaflet)
---
MAIN RADIO FEATURES
VHF (136-174MHz); UHF1 (403-470MHz)
99 channels
An innovative LED matrix display that efficiently communicates important radio information
Large, textured push-to-talk button for ease of use
1 programmable button to access an action list with multiple programmable features
Tri-colour LED for clear visual feedback on radio operating status
Digital Emergency via programmable button to help ensure rapid response to critical incidents
Sophisticated Emergency Calls help ensure employee safety
Quick, easy-to-use Group and Individual call capability
PTT ID helps improve communications efficiency and system discipline
Elegant channel scanning schemes help ensure calls are received first time every time
5 Tone Functionality via Software Purchase
Basic Privacy
VOX Capability
Lone Worker
Voice announcement of channel change and feature activation
IP54 environmental sealing helps ensure continued operation in tough working conditions
IP Site Connect via Software Purchase
VHF MODEL
SL1600 136-174M 2-3W DISPLAY
---
UHF MODEL
SL1600 403-470M 2-3W DISPLAY
---
WARRANTY
Standard and Extended warranty options available
---