Motorola R7a Non-Keypad
The MOTOTRBO™ R7 represents the latest line of two-way radios, designed to enhance the user's experience with improved Bluetooth and WiFi connectivity. This digital handheld radio delivers clear, customizable audio in tough environments, ensuring reliable connectivity at all times.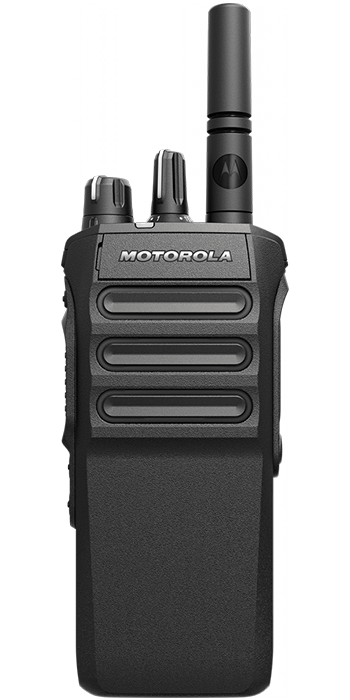 R7 SERIES RADIO PACKAGE
Mototrbo R7a No Keypad
Battery Options
IMPRES Single-Unit Charger Options
Antenna Options
Belt Clip
In-box Documentation
---
MAIN RADIO FEATURES
Max. Number of Channels 64
Side Programmable Buttons 3
Front Programmable Buttons No
Top Channel knob Positions 16
Top Programmable (Orange) Button Yes
Ingress Protection Rating IP66 and IP68
---
SOFTWARE FEATURES
GNSS No
Wi-Fi No
Bluetooth 5,2 No
Indoor Location No
Man Down (Fall Alert) No
Transmit Interrupt Encode Yes
Enhanced Noise Cancellation (SINC+) Yes
Mute Mode Yes
Receive Audio Levelling Yes
Text to Speech Yes
Transmit Inhibit Yes
Response Inhibit Yes
MDC and 5-Tone Yes
Digital Telephone Patch Yes
Radio Inhibit/Radio Disable Yes
Authenticated Radio Disable/Remote Monitor Yes
Third-Party Applications Yes
Intrinsically Safe Models (UL/TIA4950) Yes
Base Privacy (*Not in TIA R7a Model) *Yes
Enhanced Privacy Yes
AES256 Privacy Optional
---
SYSTEMS SUPPORTED
Analogue Conventional Yes
Digital Conventional Yes
IP Site Connect Yes
Capacity Plus (Single & Multi) Yes
Capacity Max (Advantage & Full) Option
---
VHF MODEL
R7a VHF 136-174MHZ PORTABLE, 5W
---
UHF MODEL
R7a UHF 400-527MHZ PORTABLE, 4W
---
WARRANTY
24 month warranty applies to the physical radio only and does not apply to the batteries or accessories shipped within the package.
---